Lindsey Graham Has A Strong Message For Mitch McConnell About Donald Trump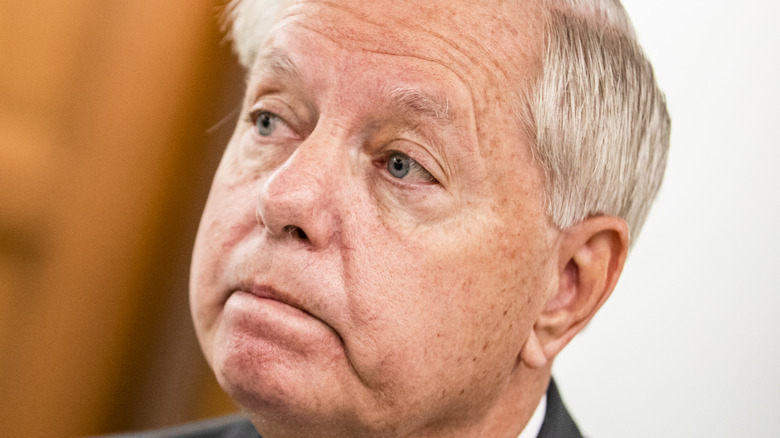 Samuel Corum/Getty Images
There was a time when South Carolina Senator Lindsey Graham warned Americans against Donald Trump. That was in 2015 and 2016, when both Trump and Graham were vying for the Republican presidential nomination. 
In 2015, Graham appeared on CNN's "New Day" and called the man who would become president a "race-baiting, xenophobic, religious bigot."
However, he didn't stop there, and, by the time it looked like Trump was the presumptive nominee, on May 5, 2016, Graham issued a strong warning for his entire party via tweet. "If we nominate Trump, we will get destroyed...and we will deserve it." 
In the end, the GOP did nominate Trump, and he won in 2016. But he lost the party the presidency, the House of Representatives, and the Senate by 2020. 
Still, despite all his disparaging remarks against the former president, Graham chose to become a Trump ally by October 2017 when he played golf with him at the Trump National Golf Club in Virginia, according to The Washington Post. 
After Trump left office, he and Graham have remained friends, with Graham still playing golf with him at Mar-a-Lago (via the Daily Mail). 
Now, Graham has a warning for Senate Minority Leader Mitch McConnell regarding Trump.
Lindsey Graham may abandon his support for Mitch McConnell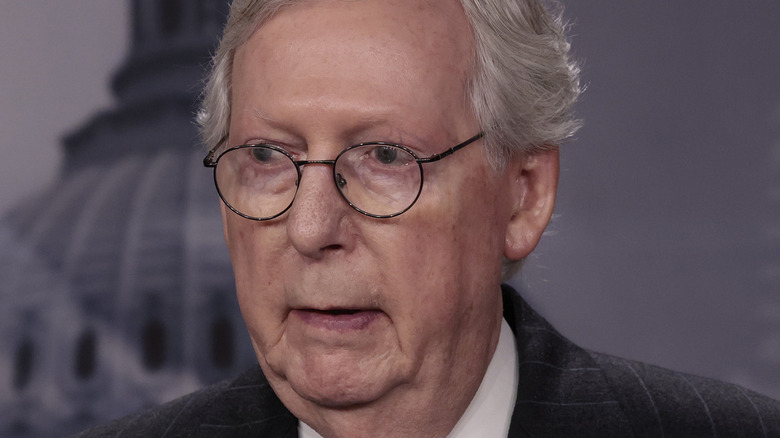 Anna Moneymaker/Getty Images
After the Senate failed to convict Donald Trump in his second impeachment trial over inciting the Jan. 6 Capitol riot, Mitch McConnell gave a scathing speech about the man who had just left the presidency, saying that the justice system could still punish Trump.
"Former President Trump's actions that preceded the riot were a disgraceful, disgraceful dereliction of duty," McConnell said (via CNN). "Trump is practically and morally responsible for provoking the events of the day."
Nearly a year later, Graham wants to see McConnell heal his relationship with Trump because he feels he's still the leader of the Republican party despite just teasing a run for president in 2024 and not formally announcing anything. 
As he told Sean Hannity on Fox News on Jan. 12, 2022, he sees Trump as "the most consequential Republican since Ronald Reagan." Furthermore, he said he would not back McConnell for majority leader should the GOP take back the Senate in 2022 if he didn't do something about his relationship with the former president. 
"I liked Senator McConnell," Graham said. "But here's the question — can Senator McConnell effectively work with the leader of the Republican Party, Donald Trump? ... I'm not going to vote for anybody for leader of the Senate as a Republican, unless they can prove to me that they can advocate for an America First agenda and have a working relationship with President Trump because if you can't do that, you will fail."