Engagement Ring Expert Explains Why Sapphires Are Such A Hit With The Royal Family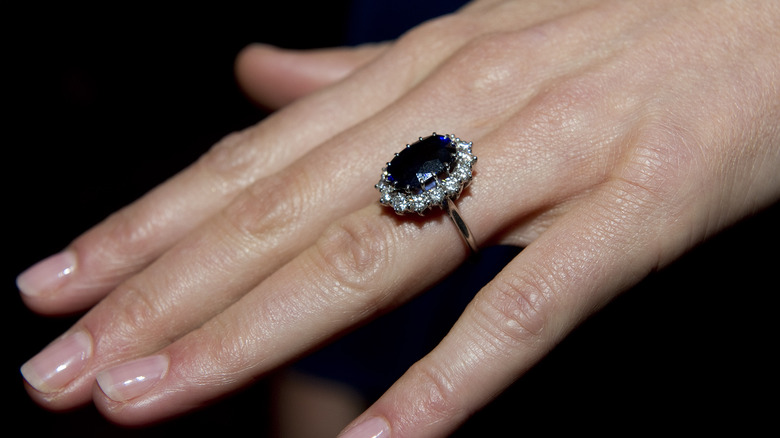 Wpa Pool/Getty Images
The British royal family is steeped in tradition. From the royal family's dress code, to how they inherit their titles, to who's allowed to visit the Queen uninvited, everything they do is the result of many years of practice and implementation. Though these concrete rules exist for everyone, minor details seem to be inherited through less official avenues. Certain preferences, such as who designs the royal family's clothes to what type of meals they enjoy eating, are simply the result of proximity and solidarity.
One of the main underlying threads throughout these royal preferences are sapphires, more specifically sapphire engagement rings. Who can forget Princess Diana's stunning sapphire engagement ring, which has since been inherited by Kate Middleton? This particular ring is more notable in the royal family history books due to the ensuing tribulation of Princess Diana's marriage to Prince Charles. But another member of the royal family, Princess Anne, received not one, but two, sapphire engagement rings of her own (via Brides).
An engagement ring expert explains why sapphires are such a hit with the royal family, and how this unspoken tradition lives on through each generation.
Engagement ring expert explains the significance of sapphires to the royal family
Princess Diana received a stunning sapphire engagement ring from Prince Charles, and Prince William then bestowed this precious memento to Kate Middleton when the pair got engaged in 2010 (via Town & Country). Princess Anne received two sapphire engagement rings — the first from her first marriage to Captain Mark Phillips, and the second from her subsequent marriage Sir Timothy Laurence following her divorce from Captain Phillips (via Brides).
So, what is it about sapphire engagement rings that appeal to the royal family? Engagement ring expert Max Stone explained the intrigue during an interview with Express in January 2022. "It's clear the Royal Family are huge fans of sapphires, a stone which is traditionally believed to attract abundance and blessings," Stone said. He added, "Historically it has been used to protect against negative energies, as well as calm the mind, strengthen intuition, and invite spiritual clarity, so it's no wonder the royal ladies love them."
In terms of Princess Anne receiving two sapphire engagement rings, Stone said, "Blue sapphires are often linked to people who are respectful, loyal, hardworking, and honest, which only makes these rings even more special, and suggests that this could have meant something to Princess Anne."
Respectful, loyal, and hardworking? That does sound a lot like Princess Anne!