The Meaning Behind Machine Gun Kelly's Tattoos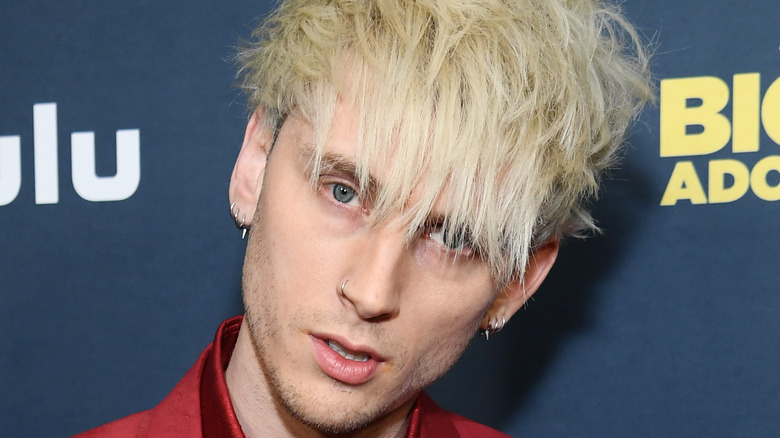 Dimitrios Kambouris/Getty Images
Machine Gun Kelly was always a well-known celebrity, if only because his chosen moniker is so catchy and memorable. However, hooking up with A-lister Megan Fox really put him on the map. The Cut heralded their union — and bizarre delight in sharing every lurid detail on social media and in interviews — as a step forward in the renaissance of the infamous "Hollywood cringe couple." And, when Kelly and Fox announced their engagement, it was exactly as insane as expected. 
Alongside a video shared to Instagram, the "Transformers" star wrote a winding screed about how life-changing their relatively short courtship has been, hilariously ending it by casually noting, "I said yes ...and then we drank each other's blood." We'll probably never know whether these two are actively trolling us or not, but with a global health crisis still raging, Kelly and Fox's overwrought romance provides a welcome distraction. With more attention on the rapper turned rock star then ever before, it's time to take a closer look at his myriad tattoos. 
Machine Gun Kelly's tattoos have a lot of influences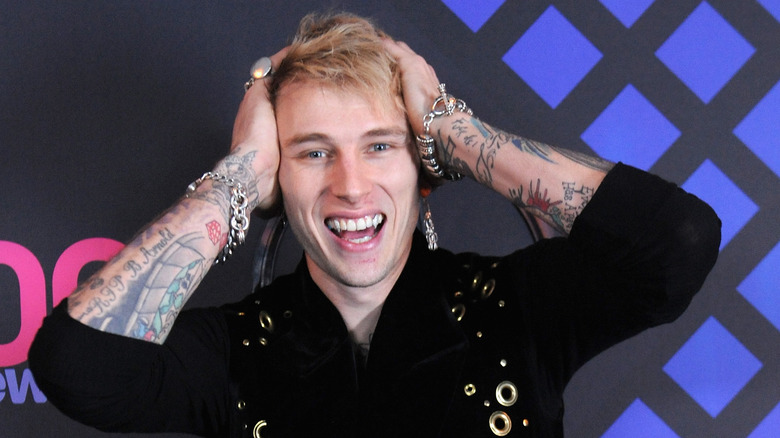 Brad Barket/Getty Images
According to Body Art Guru, Machine Gun Kelly has around 83 tattoos in total, but it's difficult to ascertain exactly how many since he doesn't typically walk around without clothes long enough for us to count. It makes sense that Kelly has so many since, as the rapper admitted to Untitled Magazine, he "started getting tattoos when I was fourteen." Kelly doesn't regret any of them, aside from the self-inflicted ink because, although he acknowledged these tattoos are "punk rock," the musician also doesn't like how they look compared to the rest of his professionally done work. 
Among the "Bad Things" hit-maker's massive collection are various tributes to his own albums, fake bites and wounds, and even seemingly random area codes that mean a lot to him. Suffice to say, Kelly is drawn primarily to attention-grabbing designs. For instance, just above his left collarbone, the outspoken star placed an atom, barbed wire, and a streak of lightning alongside each other. He doesn't always just get whatever he feels like, however, telling The Urbanian back in 2010 he tattooed "Almost Famous" on his lower stomach to remind him "how much it sucked to ALMOST be famous." 
The rapper turned rock star is proud to wear his heart on his sleeve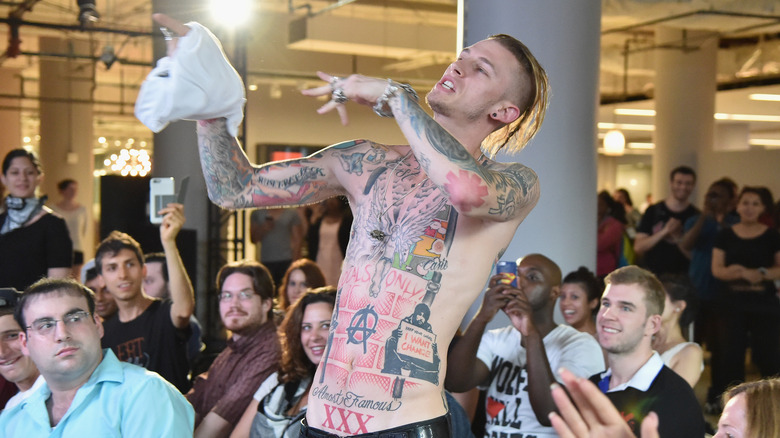 Mike Coppola/Getty Images
As Page Six points out, tattoos are a key part of Machine Gun Kelly's persona. During fiancé Megan Fox's cameo on his album "Tickets to My Downfall," she notes, "You just got my initials tattooed on you. I just got your nickname tattooed on me." Fox got "el pistolero," aka the Spanish words for "the gunman," inked under her collarbone but we don't really know where Kelly returned the favor, likely because he's so covered. They also have matching tattoos, and Kelly has his daughter's name, Casie, inked on him too. 
Elsewhere, his "Locals Only" tattoo, located on the star's chest, is about the kind of people with whom he hangs around. Kelly clarified to TheDrop.fm, "It doesn't have to mean literally; it just so happens that the people I roll with are Cleveland-type sh—t, it's not about regional life." He added, "But if you're from where I'm from, as far as mentally and demographically, I'll f—k with you. If you're that kid who's brushing all those negatives and only putting them to positives, I'm with you." Page Six notes he also has a guardian angel on his chest, captured when Kelly found his faith as a teenager. 
It's since been transformed into a jet-black raven with a dagger through it, highlighting the rapper turned rocker's continued evolution.