Jason Momoa's Hair Secrets From His Stylist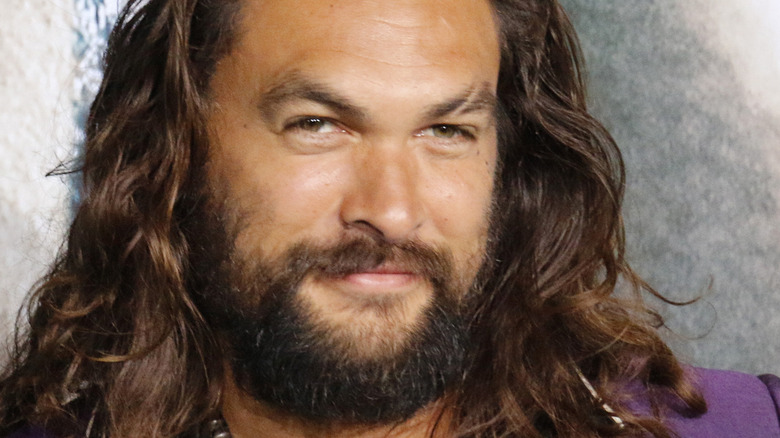 Tinseltown/Shutterstock
Jason Momoa is known for many things — his acting credits, relationship with soon-to-be-ex-wife Lisa Bonet, and his hair. Yes, his hair. After all, the "Games of Thrones" star has some of the best hair in Hollywood.
So, how does he keep his locks lush and healthy? A man with that good of hair can't use 3-in-1 shampoo, right? According to Momoa's stylist, Jen Stanfield, the first step she does to maintain the actor's hair health is to trim it (via Men's Health). Consistency is key! "Keeping hair trimmed even when it's long is important," Stanfield said. "If you're at a point where you're over it and you don't think you [can] take it anymore, seek some professional help so they can adjust the shape. It helps hair grow out more easily."
The next step is hydration. With curly hair, water is a necessity, Stanfield said. That doesn't necessarily mean you must wash your hair several times a week. In fact, Stanfield doesn't wash the "Games of Thrones" actor's hair very often. Rather, she rinses and conditions it, "as washing it too much and having it too clean makes it fluffy." Stanfield even uses a "conditioning wash."
And, do not use a regular towel to dry your hair either. Master Cuts revealed that towel drying curly hair will cause damage, as your hair is at its susceptibility to damage when it's wet. Instead, air dry or as Stanfield recommended, use a dryer with a diffuser.
The curl products Jason Momoa uses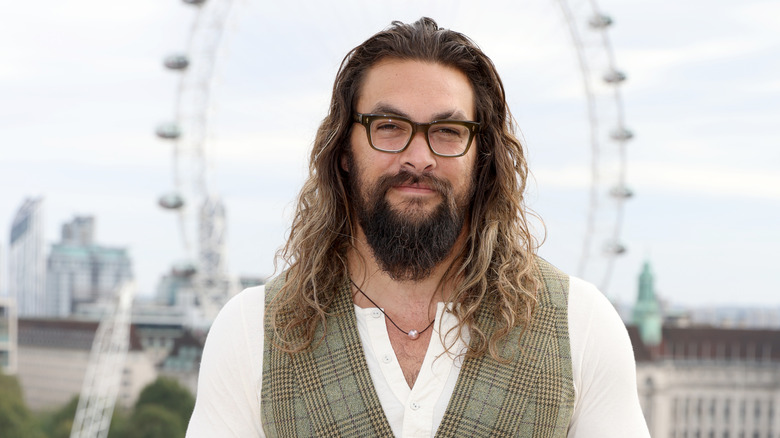 Tim P. Whitby/Getty Images
Trimming, hydrating, and air drying are the secret processes to Jason Momoa's hair health, but what about the products? Products are just as important as step-by-step instructions.
The longer the curly and wavy hair, the more it's prone to dryness (hence hydration!). However, water is not the be-all for preventing dryness. That said, Momoa's stylist, Jen Stanfield, recommends applying Shea Moisture coconut oil as well as a miracle hair treatment (via Men's Health). "We used coconut oil to condition and keep the frizziness of his natural curly hair in control," she said. "It makes it look more lived-in rather than freshly groomed." Not only are these two products affordable — less than $25 — but they're easily found in your local drug store.
Lastly, during those in-between times when his hair isn't washed but is oily, dry shampoo or powder is the key. Simply apply some dry shampoo — Stanfield prefers to use Label.M Resurrection Style Dust for Momoa — on your scalp and comb it through. The spray or powder will soak up that extra oil and you're all set.