Cecily Strong Gets Real About Her Most Influential SNL Character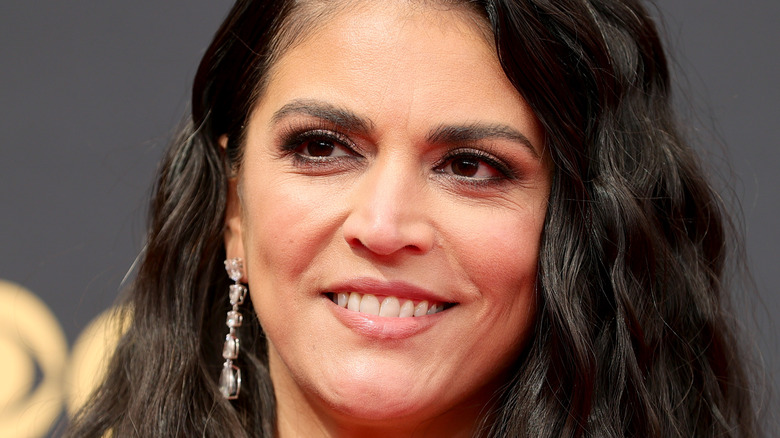 Rich Fury/Getty Images
If there's one thing that "Saturday Night Live" does well, it's starting conversations. Whether it's with parodies of political pundits or the climate of the country, there's always some truth and hilarity to the show's skits. But what truly makes the show stand out is the people on it. Each person on "Saturday Night Live" actually pitches their own ideas, which often means there are personal stories weaved throughout the skits (via Business Insider). That's exactly what happened when Cecily Strong entered as Goober the Clown.
Strong showed up as Goober the Clown in a November 2021 episode of "Weekend Update," right after Texas passed a law limiting all abortions after six weeks of pregnancy. If you're not seeing the connection there, it's because there is none — not until Strong put one together, that is.
The skit, which was pitched by Strong, is extremely personal to the comedienne's life. In fact, it was also one of the only skits that she didn't get any notes on after pitching it to production (via Entertainment Weekly). Here's everything you need to know about the skit, so you can see why it was (and still is) so influential. 
Cecily Strong talked about her own abortion experience in true SNL form
Talking about heavy topics is hard, so Cecily Strong took to the screen as Goober the Clown to talk about "clown abortions," a.k.a. regular abortions but in a "fun" way. The parody did what satire does best — talk about real topics without people realizing it. Of course, it was clear through Colin Jost's comments that Strong was speaking about women and not "clowns," as the comedienne used the metaphor on the "Weekend Update" skit to get her point across.
"I know I wouldn't be a clown on TV here today if it weren't for the abortion I had the day before my 23rd birthday," Strong said in the sketch. "It's gonna happen, so it ought to be safe, legal and accessible." It turns out that the comedienne was actually talking from personal experience in the skit, which made it all the more impactful.
Every comment made in the skit, spoken over making balloon animals and spinning bowties to "make it more palatable" as she said in the video, was true of Strong's own personal experience, according to Entertainment Weekly. She went on to share during an appearance on "The View" that she had "so much anxiety and frustration" while vetting the sketch, but ultimately decided that sharing her story was the right call. "It was like, I'm either gonna write, every night, essays for nobody, or I can finally just put this on the show," she shared. "And luckily ... right away, the show was very supportive." 
The segment inspired women to share their own stories
Although the sketch went over well with production, Cecily Strong said that she was "still surprised and moved by the reaction" that the Goober the Clown skit had on viewers (via her interview on "The View"). It turns out that there's a whole lot of other "clowns" out there.
In her interview on the storied daytime talk show, Strong opened up about the aftermath of the skit, sharing that there were tons of messages in her inbox of women sharing their own abortion stories with her. "A lot of women say I'm the only one they've ever told, or will tell. So that still really moves me," Strong said. 
This skit was a moment in the making for Strong. The comedienne actually hosted the "Weekend Update" segment with Seth Meyers back in 2014, but left after just one season. She left the segment because she was "jealous of other people creating new characters" while she was sticking to the segment with Meyers that followed a very similar structure every week (via Screen Rant). It turns out that listening to her heart was the right choice, as Strong got to create a new character and make an impact on viewers on "Weekend Update" in the Goober the Clown segment. Who says you can't have it all?