Why You Should Consider Beeswax Wrap In The Kitchen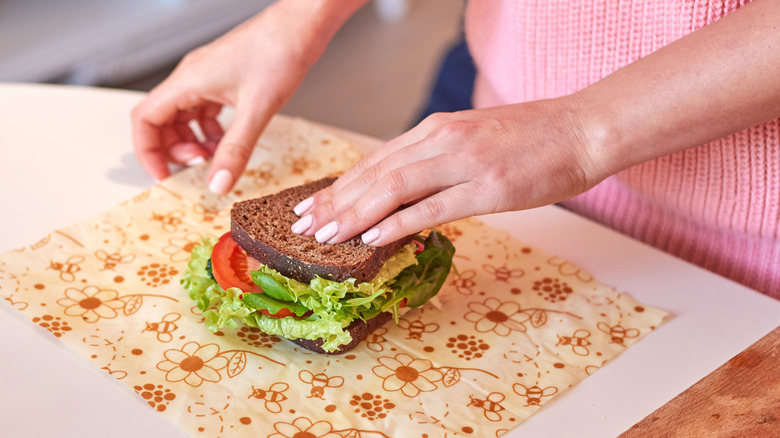 FrimuFilms/Shutterstock
Saving the environment is one of the biggest political issues today. In fact, saving the environment has become a royal family affair as most of the British royals have plans in place to combat climate change, hoping not to reach the point of no return (via Town & Country). Still, there are things everyday people can do to help; you don't have to be rich or hold societal power to make change, though that does admittedly help.
For everyday people, one of the biggest changes being worked on is reducing the employment of single-use goods. People are swapping lip glosses for ones better for the environment, for example, and many are being more mindful of how much waste they create in the kitchen. This includes plastic wrap. Plastic is one of the biggest pollutants in our oceans (and in nature generally), as noted by National Geographic, and kitchen plastic wrap — which we use to wrap sandwiches or simply cover food containers — is a huge contributor to this. It's easy to grab plastic wrap without thinking of its implications, but swapping your plastic wrap for something such as beeswax wrap can save many animal lives, nevertheless mother nature.
Beeswax wraps aren't as accessible, but they're reusable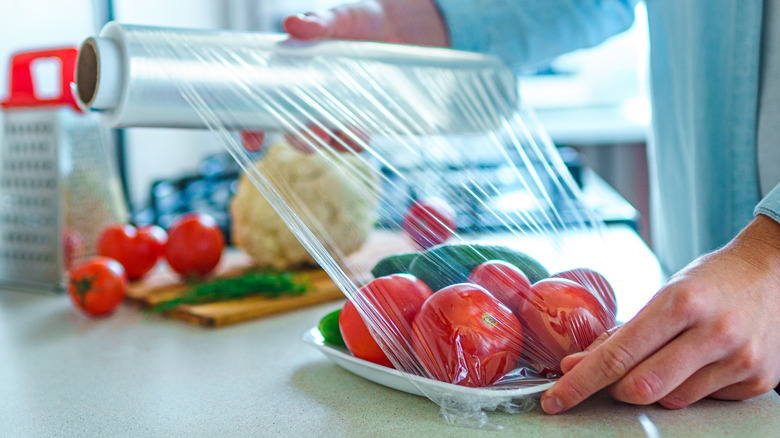 goffkein.pro/Shutterstock
There are many ways to wrap food without using plastic wrap, and one of the increasingly popular ways is by utilizing beeswax wrap, which acts similarly to plastic wrap but doesn't carry the same environmental impact. According to Insider, this style of wrap is made from cotton that's then coated with beeswax, tree resin, and jojoba oil to protect your food. All of these materials are natural and can therefore decompose if thrown away, but beeswax wraps are also reusable, so you won't create as much waste anyway.
While on the superficial side of things, beeswax wraps are also often produced in cute designs, so you're not only storing your food in an eco-friendly manner but also doing so in style (via The Spruce Eats). Furthermore, beeswax wraps can be purchased in pre-cut sheets (to make wrapping sandwiches or other foods or a breeze) or in full rolls so that you can cut it into perfectly sized sheets for your needs. With both options, there's no reason you couldn't use this over plastic wrap.
Beeswax wraps aren't as cheap as plastic wrap — they can range in price from $10 to $30 or more depending on the brand, per The Spruce Eats — so they're not as accessible. However, they're typically reusable, so it could be seen as an investment. If you're someone who likes natural, eco-friendly products, these wraps are certainly for you, but there's no shame if you can't buy them right now. Hopefully in the future, eco-friendly products will become increasingly accessible to everyone.