Inside Mia Sara's Marriage To Jim Henson's Son, Brian Henson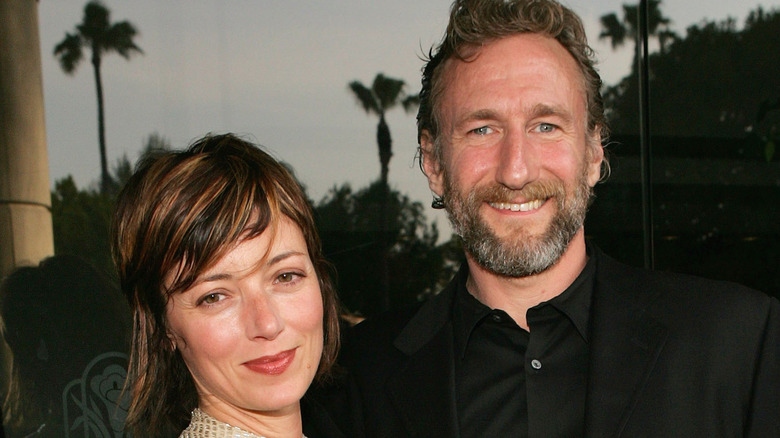 Vince Bucci/Getty Images
Mia Sara became a household name after playing Matthew Broderick's love interest in "Ferris Bueller's Day Off." The New York native went on to land roles in television and film, including "Timecop," "Birds of Prey," and "The Witches of Oz" (per IMDb). 
She married Jason Connery — son of "James Bond" icon Sean Connery — in 1996, and they welcomed son Dashiell in 1997 before splitting up in 2002 (per 80s Kids). Luckily, Mia would find love soon after — and, once again, marry into a famous family.
Mia auditioned for the role of Sarah in "Labyrinth" in 1996. While she didn't get the part (it went to future Oscar winner Jennifer Connelly), Mia did meet Brian Henson, son of "Muppets" creator Jim Henson. 
Years later, the two reconnected and welcomed daughter Amelia in 2005 before marrying in 2010 (per TV Over Mind). After having her second child, Mia decided to step away from acting — a decision that came easily for her.
"I was a very unhappy actress," Mia told The Cossack Review in 2016 (per Best Life). "It was something I felt I could do, and I needed to work, and I got lucky at the get go, however I was never going to be the kind of actress I admire, because I just didn't have the drive for the process."
Mia Sara and Brian Henson created their dream home in Los Angeles
After retiring from acting, Mia Sara settled down in both New York and Los Angeles with her husband, Brian Henson, and two children, according to her official website. The couple even built their dream home in the Hollywood Hills, which features a large kitchen that serves as "the heart of the house." 
"Mia loves to cook," Henson told The New York Times. "We also just felt like the whole grand-room lifestyle for a family really keeps you all connected, particularly today when everybody vanishes to different corners of the house."
While Henson continues to work in the entertainment industry — directing "The Happytime Murders" as well as producing "Dinosaur Train," "The Star," and an upcoming "Labyrinth" project (per IMDb) — Mia has pivoted into a successful writing career. 
Her poetry has appeared in a variety of publications, and her book "Mid-life with Gorilla" was published in 2014. "I took up writing as a way to survive night shoots," Mia wrote. "Now it's words that keep me up all night."
And Mia and Brian love spending time with their kids — as long as they're not watching "Ferris Bueller's Day Off." 
"There was this year that every one of my son's friends saw the movie, and it was horrifying for him and very embarrassing and now it's happening with my daughter!" she said (per Best Life). "I think it's embarrassing."