Kristin Chenoweth And Idina Menzel Clear Up Rumors About Their Rivalry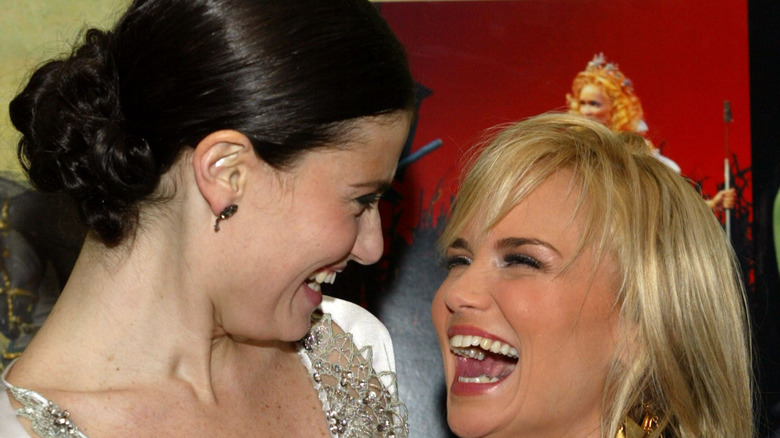 Matthew Peyton/Getty Images
"The Wonderful Wizard of Oz," first published as a book in 1900 and adapted into a film in 1939, is one of the world's most timeless, enduring tales (via Britannica). The film's legacy is so powerful that when it was re-released in theaters 80 years later, it earned more than $2 million in a five-day run (via Syracuse.com).
So when, in 1995, author Gregory Maguire published "Wicked" — a reimagining of the life of "The Wizard of Oz's" Wicked Witch of the West — it sent shockwaves throughout the world and went on to become a bestseller (via New York Times).
"Wicked" provides a backstory for the Wicked Witch of the West that "The Wizard of Oz" never did — one wherein the witch is not evil exactly, but rather, misunderstood. In fact, in "Wicked", the Wicked Witch of the West, aka Elphaba, and Glinda the Good Witch were once even close friends.
Following the book's release, it was adapted into a Broadway play in 2003. It would go on to become a smash hit, earning 10 Tony nominations and winning three (via Playbill).
The roles of Elphaba and Glinda were brought to life by Broadway actresses Idina Menzel and Kristin Chenoweth — each legends in their own right — but for years rumors flew that the pair's feelings for each other were less than amicable, particularly because Menzel took home one of those Tonys for Best Performance by a Leading Actress in a Musical (via ET Canada).
The truth about Menzel and Chenoweth's relationship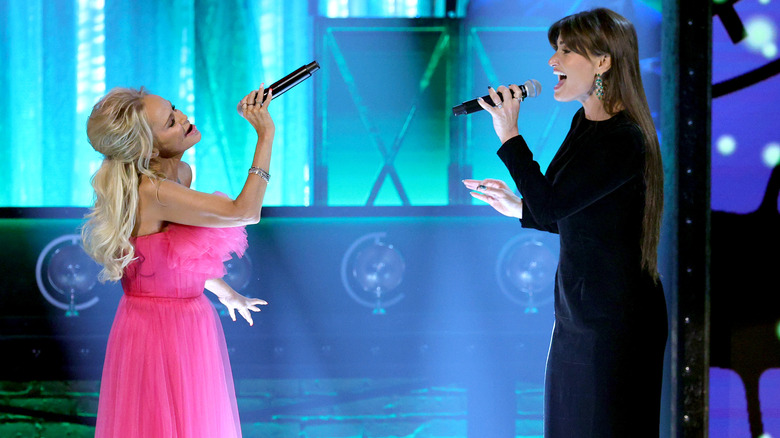 Theo Wargo/Getty Images
While speaking to Entertainment Weekly back in 2013, Menzel and Chenoweth insisted that the rumors were just that — rumors (via Broadway World).
"We were like sisters, together constantly. Kristin and I have the ultimate, utmost respect for each other and admiration for what each of us can do. When you work together for a year and a half, you bite — I bite my husband's head off nightly — but we were real advocates for each other and tried to protect each other and stand by each other," Menzel said.
Chenoweth agreed, saying, "We're very different actors and we don't see each other very often, but that doesn't mean there was drama."
Despite these assurances, rumors still continued to fly, leading "Watch What Happens Live!" host Andy Cohen to ask Chenoweth about these rumors when she paid a visit to the show in 2019 (via ET Canada).
"Those rumors are hilarious to me. We're very different performers and different people but we made magic together and nobody can take that from us," Chenoweth shared. "When we did the 15 year reunion, we just hugged and cried. What can I say?"