Did Meghan And Harry Really Turn Down Prince Charles' Invitation?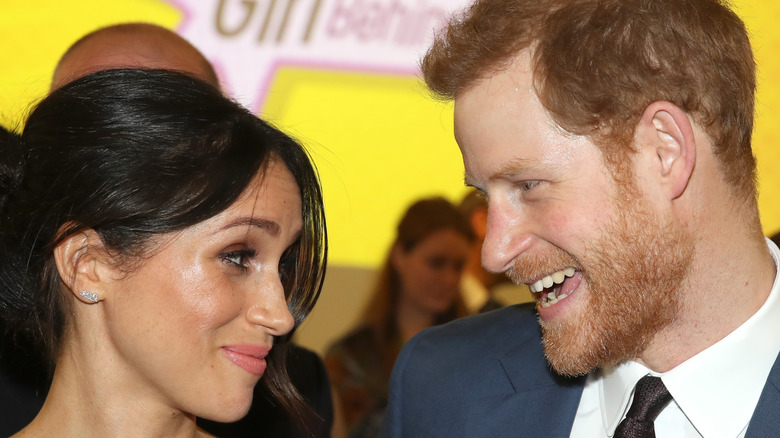 Chris Jackson/Getty Images
Prince Charles' relationship with his youngest son, Prince Harry, has been rocky for the past two years. The two once shared a close bond, but, since Harry's exit from the royal family in early 2020 with his wife, Meghan Markle, they have reportedly drifted apart (via Page Six).
However, recent reports suggest that Charles and Harry have been working to mend their rift. "Charles was hugely hurt when Harry and Meghan just dumped it on the family they were giving up their roles and moving abroad," an insider told the outlet. "I don't think [Harry and Charles] talked for a good while, but now the channels of communication are open." Charles even gave his son a very public shoutout in a New Year's essay about climate change, per the Mirror.
"My elder son, William, launched the prestigious Earthshot Prize to incentivise change and help repair our planet over the next ten years by identifying and investing in the technologies that can make a difference," Charles wrote. "And my younger son, Harry, has passionately highlighted the impact of climate change, especially in relation to Africa, and committed his charity to being net-zero." 
Sources reveal that Charles' public praise might have been an olive branch to Harry, who may reciprocate by delaying the release of his tell-all memoir (via The Sun). Meanwhile, Charles has reportedly made a very big move in healing his relationship with Harry by inviting the Duke and Duchess of Sussex to come and stay with him in the U.K.
Charles wants Harry to return to the U.K.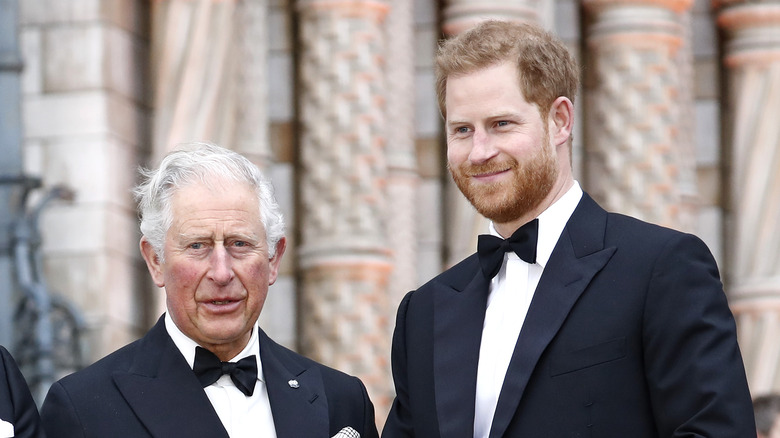 John Phillips/Getty Images
According to The Mirror, Prince Charles has reportedly made an offer of peace to Prince Harry. The Prince of Wales is said to have invited his son, along with his daughter-in-law Meghan Markle and their two children, Archie and Lilibet, to come and stay with him in the U.K. after having reconnected with the Sussexes as of late. The father and son haven't seen each other in person since the funeral of Prince Philip in April 2021. After that, the couple welcomed their daughter, Lilibet, whom Charles has yet to meet.
"The Prince of Wales has been saddened that he hasn't had the opportunity to spend time with his grandchildren, which he really does miss," a source told the outlet. "He is a fantastic grandfather and loves playing the role immensely and it's certainly fair to say he feels there is something missing from his life without the ability to get to know Harry's children. This is something he is hoping to remedy which is why he made the gesture for Harry, Meghan and the children to stay with him if they wanted to, whenever they may come home for a period of time," the insider added, revealing that Charles has been engaging in a series of "good natured and enjoyable calls" with the Sussexes recently.
Sadly, Meghan and Harry may not be feel forced to decline Charles' sweet offer to stay with him when and if they return home to the U.K.
Prince Harry is seeking judicial review regarding security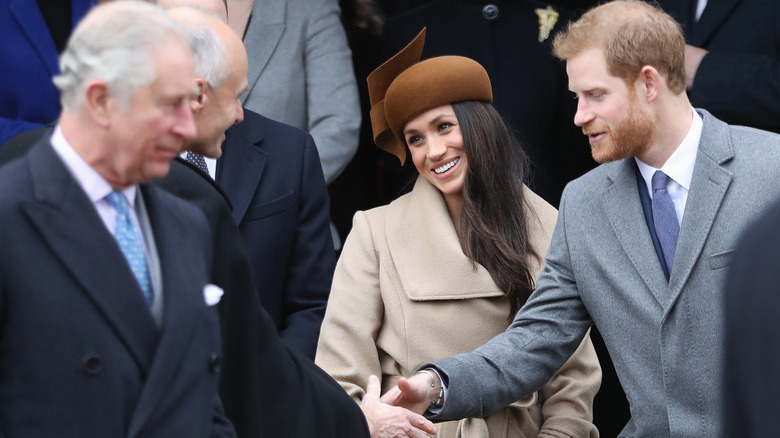 Chris Jackson/Getty Images
It's currently unclear if Prince Harry and Meghan Markle will take up Prince Charles on his generous offer to stay with him during a return trip to the U.K. The Duke and Duchess of Sussex are said to be worried about their safety and protecting their children if they were to return home (via The Mirror).
People reports that Harry was stripped of his right to personal security when he and Meghan exited the royal family in early 2020. Now, Harry is seeking a judicial review against the decision for him to personally fund police protection for himself while in the U.K.
"The Duke and Duchess of Sussex personally fund a private security team for their family, yet that security cannot replicate the necessary police protection needed while in the UK. In the absence of such protection, Prince Harry and his family are unable to return to his home," a legal spokesperson for the Sussexes said in a statement. "The goal for Prince Harry has been simple — to ensure the safety of himself and his family while in the UK so his children can know his home country," the statement continued.
In addition, royal expert Ingrid Seward tells The Mirror that Queen Elizabeth isn't happy about Harry taking legal action to reinstate his security. However, if the Sussexes don't feel secure they may opt not to return home. This could mean that Elizabeth will never get to meet the couple's daughter, Lilibet. "And that would be very sad," Seward said.