Mike Pence's Daughter Shares Sad News About Her Famed Pet Bunny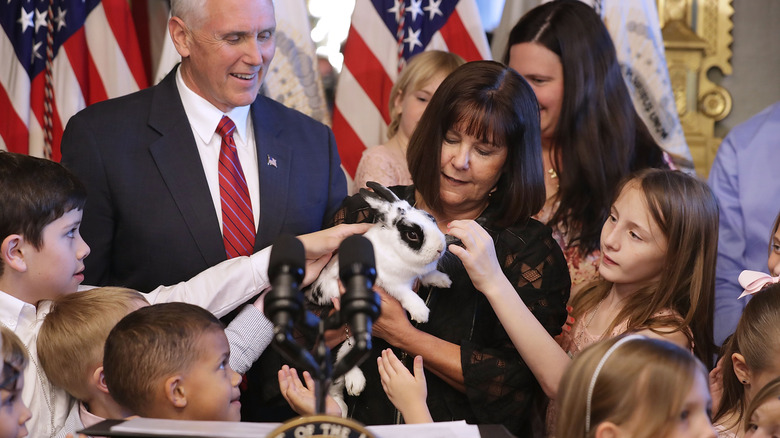 Chip Somodevilla/Getty Images
Many "first pets" have become household names during different presidencies, but few have gained the following of Charlotte Pence Bond's bunny, Marlon Bundo. The daughter of former Vice President Mike Pence first adopted the rabbit as part of a student film project during her freshman year at DePaul University in 2013, where she studied English and digital cinema (via USA Today). 
Since he became part of the Pence family, the bunny has flown on Airforce 2, boasted his own Instagram account, earned the nickname BOTUS (Bunny of the United States), and released two children's books written by the Pence family. One of the books, released in Spring 2020, tackled the COVID pandemic and tried to make it digestible and less scary for children. Bundo even inspired a parody book by "Last Week Tonight" writer Jill Twiss, who depicted the bunny falling in love and marrying another male bunny in an effort to promote LGBTQ rights, the sales of which benefited The Trevor Project (via Huffington Post).
Quite an accomplished life for one bunny! But this past weekend, sadly, the Pence Family announced that their beloved Marlon Bundo had died.
The passing of Marlon Bundo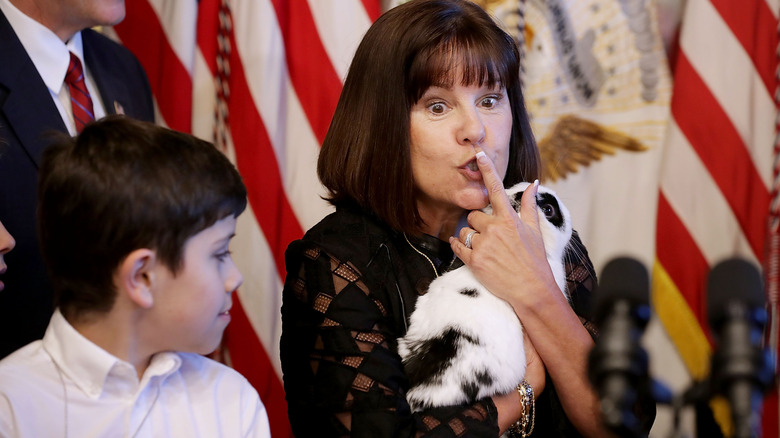 Chip Somodevilla/Getty Images
Charlotte Pence Bond first publicly announced Bundo's passing in a series of social media posts this past Saturday, saying of her beloved pet, "Somehow, you taught me how to always try to be kind first and never stop making an effort to get along ... We had some wild times together and I'm forever grateful. Rest in sweet peace, little bunny" (via Huffington Post).
Mike Pence's wife, Former Second Lady Karen Pence, also shared a brief tribute to Bundo, tweeting, "God blessed us and many others with little Marlon Bundo and we will never forget him."
While the Pence family will most certainly do the most grieving for their sweet companion, quite incredibly, at the time that he passed away, Marlon Bundo had an impressive 32,000 followers on his verified Instagram account, so it is safe to say BOTUS will be fondly remembered and missed by many.