The Truth About Mike Pence's Pet Bunny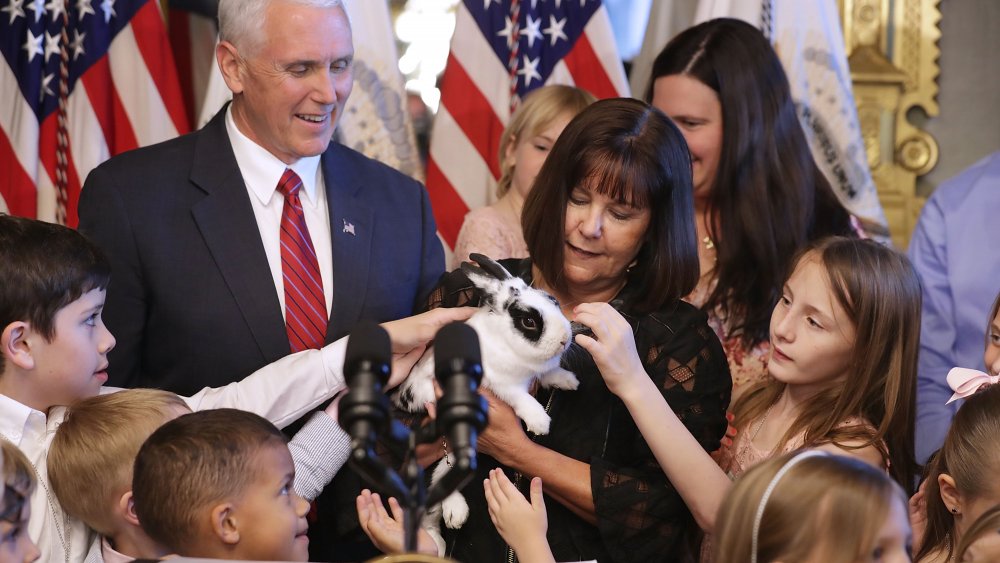 Chip Somodevilla/Getty Images
Presidents have famously filled the white house with pets, from George Washington's foxhounds to Barack Obama's Portuguese Water Dogs, Sunny and Bo (via Tablet Mag). But vice presidents have pets too, and they aren't always of the canine variety. In fact, the most famous pet of this current administration isn't a presidential dog, but a vice presidential bunny.
Mike Pence has a bunny named Marlon Bundo. Well, technically, his daughter Charlotte Pence Bond has a bunny named Marlon Bundo, who she acquired for a student film project during her freshman year at DePaul University, where she studied English and digital cinema (via USA Today). She now attends Harvard Divinity School, where she studies religion and literature. Since the Trump administration took office in 2017, Bundo has arguably become the most famous vice presidential pet in history; he boasts his own Instagram account, has earned the official nickname BOUTS (Bunny of the United States), and has also released not one, but two children's books. Yes, really.   
Marlon Bundo releases his first book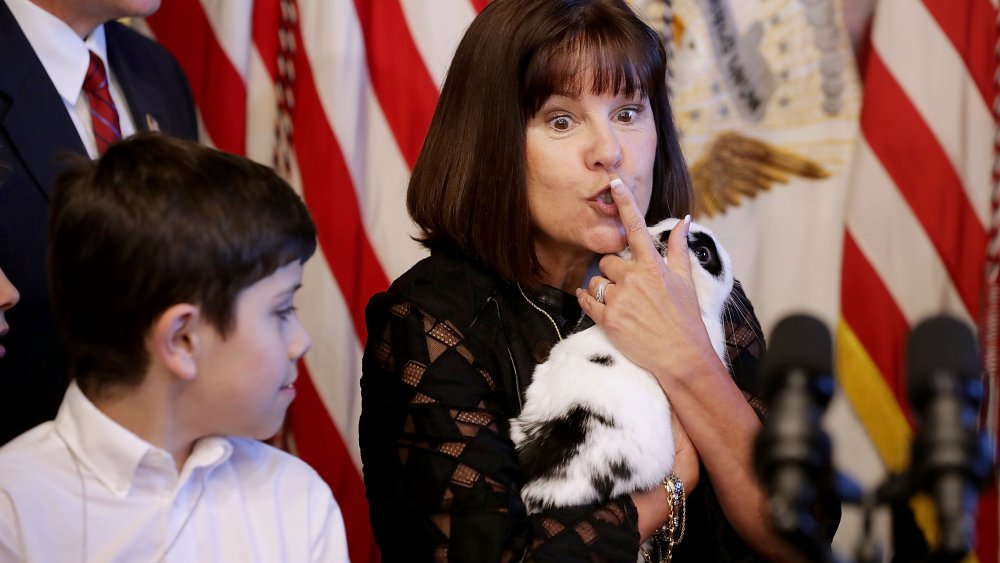 Chip Somodevilla/Getty Images
Second Lady Karen Pence first realized how famous Bundo had become during a 2017 visit to Montenegro, when a little girl asked her, "How's Marlon Bundo?" Pence recalled her surprise: "I thought, 'Whoa!'" she told USA Today. Not long after, Karen and Charlotte (illustrator and writer respectively) decided to team up to write a children's book starring Marlon to teach kids about the day-to-day workings of the Vice President's job. The book is titled Marlon Bundo's Day in the Life of the Vice President and was released in the spring of 2018.
In the book, the rabbit follows his "Grampa" Mike Pence as he goes about his daily duties, including meeting with the president in the Oval Office, presiding over Senate votes, using the Naval Observatory telescope next to the vice presidential residence to spot Mars, and ending the day reflecting on a Bible verse. "It shows a personal side to him, but it also shows the official side of the vice presidency," Charlotte said of her father. "So it's a really fun balance."
And while the book garnered many young fans, it also spawned a spoof written by John Oliver of Last Week Tonight, which was titled A Day in the Life of Marlon Bundo and featured Marlon Bundo falling in love with another male bunny. The proceeds from the sale of the book were all donated to LGBTQ rights group The Trevor Project and AIDS United (via The Trevor Project). 

Marlon Bundo takes on the coronavirus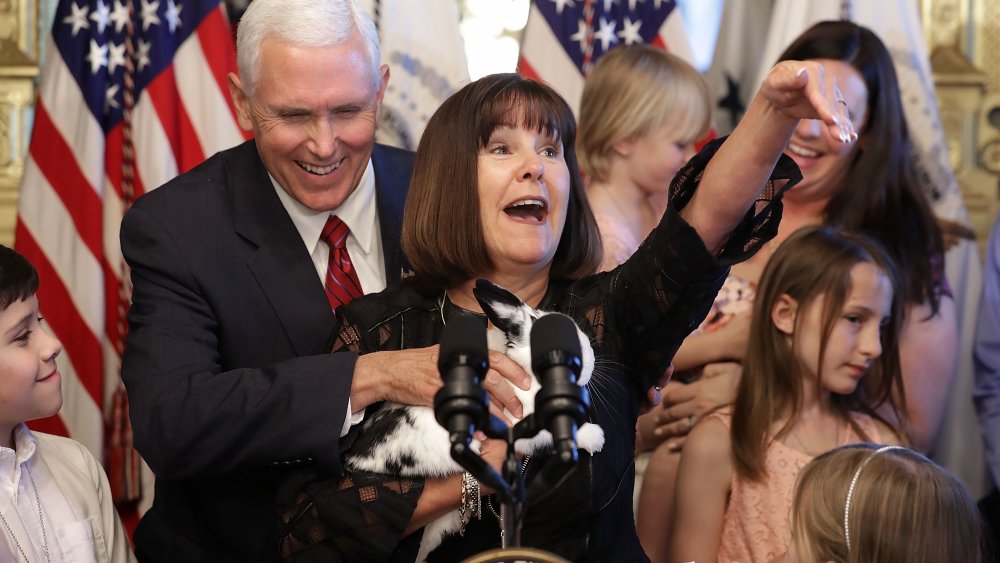 Chip Somodevilla/Getty Images
In the spring of 2020, as the COVID-19 pandemic was beginning to rage and the country was locked down, Karen and Charlotte Pence released a second book featuring Bundo. This one was a free e-book accessible to anyone who might want to read it, and featured advice about dealing with the virus, delivered in short, cutesy meter, of course. The bunny muses:" At first, I was a little bit scared / Because there is so much known / But I learned how to be prepared / To fight this virus in my home" (USA Today).
At the time, Charlotte tweeted: "Mom and I made a little free ebook where #marlonbundo explains the coronavirus guidelines! Download here!" The announcement received mixed reviews, as you would expect, with Trump supporters calling the book "sweet and fun" while others lambasted the administration for its approach to containing the virus.