Do Face Masks Really Make You Look More Attractive?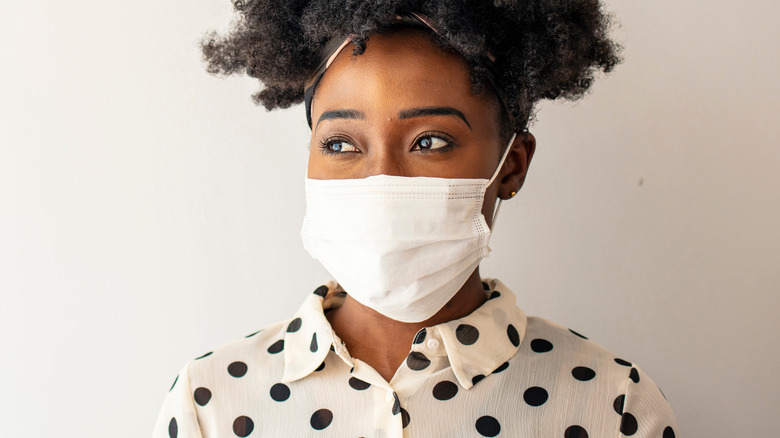 Dragana Gordic/Shutterstock
We're just two months away from the second anniversary of the COVID-19 pandemic, though the virus was actually found a few months before lockdowns began in March 2020 (via the CDC). For nearly two years, we've been wearing face masks (and learning how to wear them properly from health experts), and these adornments don't appear to be going anywhere as the pandemic continues to enter new phases with new variants of the novel virus.
Dr. Anthony Fauci has given scary warnings about the omicron variant of the virus since December, and new research is showing that a fourth shot of the COVID-19 vaccines may not offer that much additional support against the omicron variant (or, at this rate, future variants), per The New York Times. Because of all of this, many are still wearing face masks, even in places where mandates are no longer in place. Some might say they keep their faces warm in the winter; others appreciate the protection they offer even outside of the coronavirus.
Now, too, they may make you look more attractive. Here's what we know.
Medical masks are the most attractive, a study finds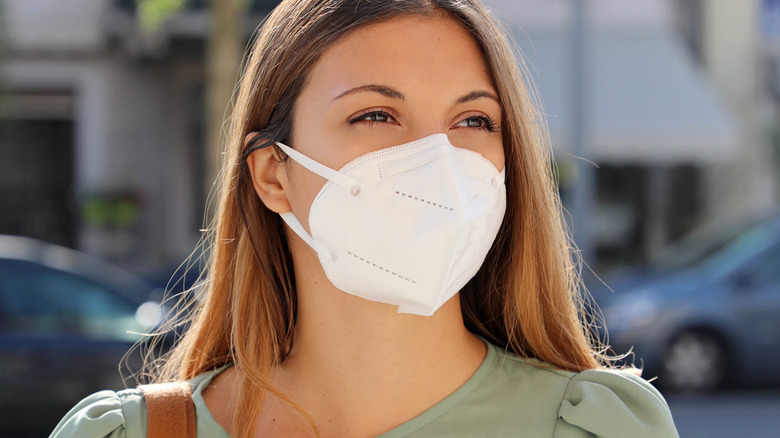 Zigres/Shutterstock
One of the best aspects of wearing face masks over the last two years is that people have been able to match them to their personality and/or interests. There are standard protective masks, but there are also cloth masks and masks of other materials that people have made from patterned fabrics or have hand made in cute designs. Disney's face masks even had everyone talking in 2021. However, it's actually the standard medical masks that people are finding attractive.
According to a Welsh study from Cardiff University, women generally find men more attractive when they wear medical masks, which was supported by a 2021 Japanese study that found that men thought women were more attractive and healthier-looking when wearing masks (via South China Morning Post). This could simply be a sign of the times in which we live now, or people may find attractive the idea that people wearing masks care about not only their own health but also others'. After all, who doesn't want to be with someone who is thoughtful, cares for the collective, and takes action?
"Our study suggests faces are considered most attractive when covered by medical face masks," Dr. Michael Lewis said of the study (via The Guardian). "This may be because we're used to healthcare workers wearing blue masks and now we associate these with people in caring or medical professions. At a time when we feel vulnerable, we may find the wearing of medical masks reassuring and so feel more positive towards the wearer."
So, do you feel more attracted to those wearing masks?