Here's What Madonna Looks Like In Real Life Vs. Instagram
Madonna has been part of the zeitgeist for longer than most of us can remember, and transformation is a key part of her brand, as Page Six details. However, in recent years, the "Material Girl" hit-maker has undergone more extensive image makeovers on social media, resulting in photos that look more than slightly altered. In fact, there's intense speculation that Madonna has had some work done over the years, though she refuses to cop to it, according to The Sun.
However, as a piece in Louder Than War argues, the idea that the iconic pop star should bow to societal pressures by dressing her age and succumbing to her wrinkles is inherently sexist, since male celebrities are rarely, if ever, held to the same lofty standards. Madonna is free to do whatever she wants, and that includes editing her photos and even having a little nip and tuck, if she feels like it. In reality, of course, she still looks like Madonna on her off days. 
Madonna has absolutely zero shame in her hustle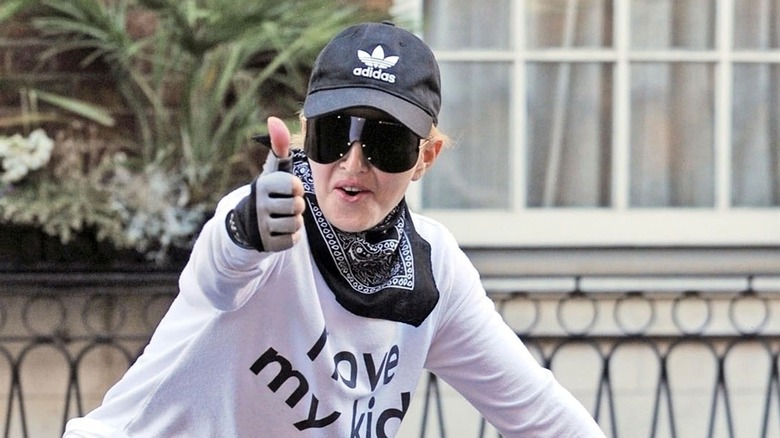 BACKGRID
Madonna was snapped getting some exercise in, with a huge pair of sunglasses and baseball cap concealing her makeup free face. Clearly, though, the iconic singer had no issue being photographed since she gave a big thumbs up to the paparazzi. Considering she's been a celebrity fixture for decades, it's heartening to know Madonna doesn't care what anyone thinks. 
Madonna has never hidden away from getting older, and is well known for taking excellent care of herself — both by working out regularly and looking after her skin. The pop star's go-to skin guru, Tarin Graham, told W magazine, "She is extremely knowledgeable on all things skincare, which inspired her to create her own innovative line, MDNA SKIN." Madonna's dermatologist, Dr. Paul Jarrod Frank, also helped her develop the various products, per Marie Claire.
As Graham told W, "She already had an amazing skincare routine when I met her." She added that the biggest mistake people make with skincare is, "Overuse of products that are not right for their skin type." Graham suggested "consulting with an esthetician or a dermatologist on the best routine for your skin type." 
Consistency is key, with Madonna sticking to the same, simple routine that works for her, as Dr. Frank told Marie Claire. "Madonna is an extremely regimented, disciplined person and she follows the essentials to a tee," he noted. The most important tenets, though, are hydration, applying sunscreen, avoiding too much sun exposure, and moisturizing daily.