Here's What Theresa Caputo Looks Like Going Completely Makeup-Free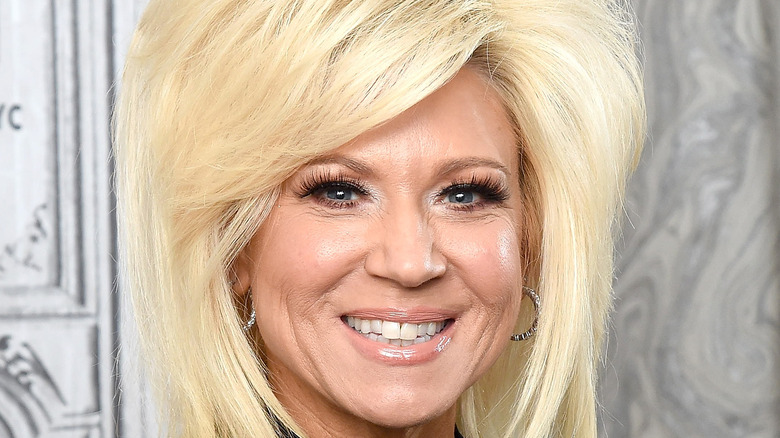 Gary Gershoff/Getty Images
Theresa Caputo has become a household name as the "Long Island Medium," connecting people with loved ones who have passed to the other side. And, with her signature big blonde hair, long nails, and flawless makeup, fans can easily spot Caputo when she's out and about. 
"Even though a lot of people comment they don't like my hair, I still like my hair," she has said after some people on social media criticized her style (per The Sun). 
"I will always have a pouf," Caputo told the New York Post. "I will always have my nails. I might try something new, but there is no guarantee I will keep it." In fact, one of her mottos is: "Don't leave Long Island without hair spray." 
And her nails are always done, especially since Caputo likes to talk with her hands. But she prefers to stick with a French manicure so she doesn't have to worry about her nail color clashing with her ensemble. 
The same goes for Caputo's makeup, which is usually done with a neutral palette and includes both high-end and drugstore brands. "I love Chanel foundation because it's good on-camera," the mother of two explained, "but then I will use Maybelline mascara."
Keep reading to see what Caputo looks like when going makeup-free.
Theresa Caputo looks stunning without her signature hair and makeup
Theresa Caputo looked almost unrecognizable in a January 2022 Instagram post. In the photo, her signature blonde hair is pulled back to show off her makeup-free face. Caputo is sitting in a pink crate snuggling one of her Christmas gifts: a baby pig. 
"Snuggle more baby pigs is my New Years resolution," she captioned the picture. Fans loved Caputo's natural look, with one writing, "You're so beautiful!" Another pointed out, "Your hair looks so cute like this." 
Caputo has shared several makeup-free photos and videos throughout the COVID-19 pandemic, including when she had to do her own nails because the salons were closed. "I can't even believe these are my hands. My hands are so tiny, I didn't even realize I had such tiny hands," she joked (per The Sun).
The mother of two is also back on the dating scene after her divorce from ex-husband Larry. She told People that she was seeing someone special in 2021 and that her children approved.
"[We're] taking it day-by-day and just enjoying and embracing life one day at a time," she said. "I think this past year has shown us that we never know what life is gonna throw at us and I think I've learned so much over the past several years and, more importantly through my gift, is that we just have to embrace each moment and just be thankful."