These 2 Oribe Products Are Must-Haves For Good Hair Days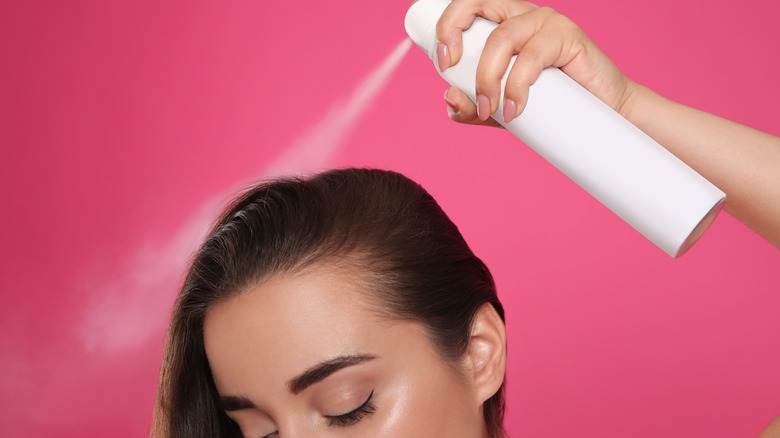 New Africa/Shutterstock
Let's face it: Good hair days are few and far between. Often, you must rely on tried-and-true hair styling products to help you fake it 'til you make it. Whether you're seeking straight, sleek locks or bouncy, voluminous curls, a good hair product can make a world of difference.
However, it can be tricky to find the holy grail products that work best for you and your hair. The hair care market is densely populated, so every brand makes huge claims about results — which they rarely live up to in real life. 
So, we often rely on the guidance of hair experts and influencers to point us in the right direction so we don't waste our hard-earned dollars on products that don't deliver.
If there's one brand whose stellar reputation precedes it, it's Oribe. The luxury hair care line may cost a pretty penny, but two of its products are must-haves for good hair days.
Oribe's Dry Texturizing Spray and Gold Lust Dry Shampoo are miracle workers
Who isn't constantly striving for that effortlessly wavy hair with the perfect amount of texture and bounce? When Oribe released a product that promised to package that entire look into one bottle, it very quickly achieved holy grail status. 
Oribe's Dry Texturizing Spray has been a cult favorite for years now, with countless beauty influencers and experts deeming it iconic. It gives your hair volume at the roots while adding just the right amount of grit and texture, resulting in a chic tousled look (via Byrdie). Even the Duchess of Sussex herself, Meghan Markle, swears by this spray.
As for its partner in crime, the Gold Lust Dry Shampoo is worth the price tag for the fragrance alone. Coming in Oribe's signature Côte d'Azur scent, it won't only soak up excess oil and product residue but will leave your tresses smelling of bergamot and sandalwood (via The Strategist).  
Fans say that the dry shampoo serves its purpose perfectly, leaving your hair feeling cleansed and refreshed with the added bonus of extra volume and long-lasting scent, thanks to its fragrance-retention technology (via Pure Wow).