Pamela Anderson Has Sad Relationship News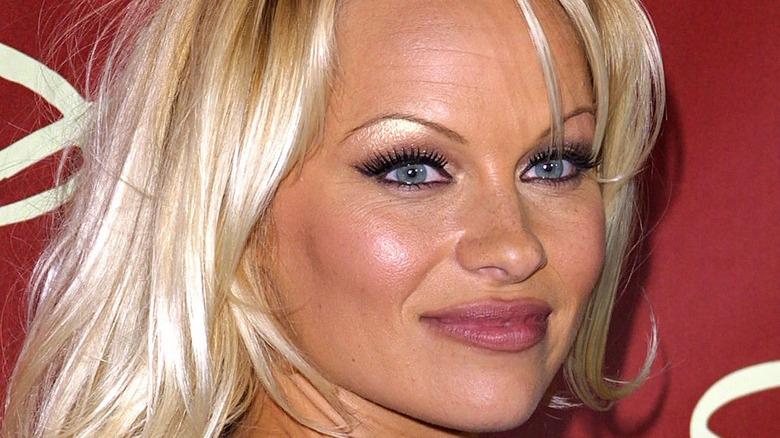 DFree/Shutterstock
Pamela Anderson has been one of the most popular figures in pop culture over the last few decades. Best known for her role on "Baywatch," the model and actress was actually discovered accidentally (via Showbiz Cheat Sheet). According to the story, Anderson was at a British Columbia Lions game in her Canadian hometown when she was featured on the jumbotron at just 15 years old. The rest was history.
Anderson would go on to have a successful career. She posed for "Playboy" and had several roles in film and television, starting with her short period as the assistant to Tim Allen's character on "Tool Time," the fictional series featured on "Home Improvement" (via Us Weekly).
While Anderson may have been lucky in the entertainment world, she was never truly lucky in love. She met Motley Crew drummer, Tommy Lee, in 1995 and married him 96 hours later. However, they would divorce a few years later. She would then marry music artist Kid Rock, but that would fizzle out as well. It seemed like Anderson finally found her match when she tied the knot last year. However, she recently shared sad news about her relationship status.
Anderson is back on the market
One year ago, Pamela Anderson married Dan Hayhurst, a builder who doubled as her bodyguard, in her native Canada (via People). The couple has been living in the True North since they tied the knot. While they were only married for a year, a representative for the "Baywatch" actress shared that they had been together for a while, adding, "She's very happy." The rep even said, "they've been together for the entire pandemic. She's super happy and he's been helping her fix up her home on Vancouver Island."
However, it seems there was trouble in paradise. According to Page Six, Hayhurst was married to another woman when he began seeing Anderson. His ex, Carey, shared the truth behind the pair's union, "I decided to speak out because I want people to know that my almost five-year relationship, with three children involved, ended because of the affair Pam and Dan started while he was still with me," adding, "It's sad that people celebrate this and cheer them on, when it started with deceit, denials and life-shattering choices for all the people involved."
The relationship did not last, but there are no details about why the couple chose to split just yet.