Louie Anderson's Net Worth At The Time Of His Death Might Surprise You
Frazer Harrison/Getty Images
On Friday, "Baskets" star Louie Anderson died in a Las Vegas hospital. He was 68 years old. According to Deadline, the actor had been admitted to the hospital earlier this week for treatment of a form of cancer called diffuse large B cell lymphoma. Only one day before his death, fellow comedian Pauly Shore posted a tweet to share the sad news of Anderson's health struggles. "Attention comedians and @TheComedyStore alumni's I say this with a heavy heart just left the hospital in Las Vegas where Louie Anderson his sisters and close friend were kind enough to let me say my goodbyes he's still with us but keep him in your prayers," Shore tweeted on Thursday night.
Since the 1980s, Anderson has been a constant presence in Hollywood, appearing in "Baskets" and "Life with Louie," along with hosting "Family Feud." Most recently, Anderson had reunited with Eddie Murphy and Arsenio Hall to revive his role as Maurice in the 2021 sequel to "Coming to America," called "Coming 2 America," reports Today. Due in large part to his numerous roles on television and films, Anderson had amassed a fairly substantial net worth at the time of his death.
Anderson had amassed a large net worth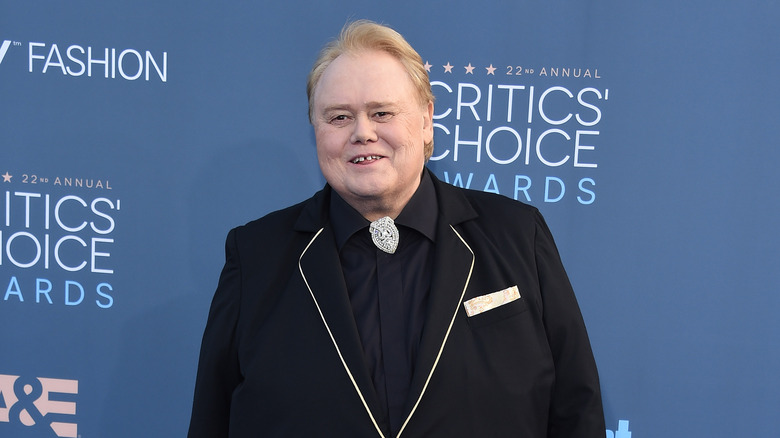 DFree/Shutterstock
At the time of his death on Friday morning, actor and comedian Louie Anderson was worth approximately $10 million, according to Celebrity Net Worth. Anderson's impressive net worth can likely be traced to acting, directing, and writing roles on numerous high-profile movies and television shows. Anderson also wrote four books between 1989 and 2018, including "Dear Dad: Letters from an Adult Child," "Goodbye Jumbo ... Hello Cruel World," "The F Word: How to Survive Your Family," and "Hey Mom: Stories for My Mother, But You Can Read Them Too."
Before becoming a comedy icon, Anderson was one of 11 children living in an impoverished housing project in St. Paul, Minnesota (via PEOPLE). In the past, Anderson had been outspoken about living with an alcoholic, angry father, and, contrastingly, a loving, supportive mother. "To my mom, who raised 11 children, and my dad was mean to her," Anderson said while accepting an award for best supporting actor in a comedy series for his role on "Baskets" at the Critics Choice Awards in 2016, reported PEOPLE. "No matter how tough it got for Laura Stella Anderson, she never lost her humanity. She had so much of it that it dribbled onto me — I didn't want it, but I found it, and this part has helped me find it."