Days Of Our Lives Relationship Timeline: Tripp And Claire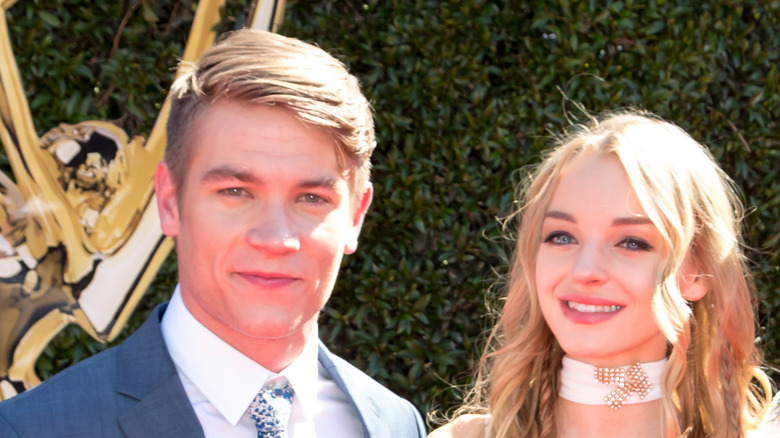 Greg Doherty/Getty Images
Claire Brady is the offspring of one of the most popular couples on "Days of Our Lives," Shawn Brady and Belle Black. Claire's upbringing was far from normal as she spent the first part of her life believing that Philip Kiriakis was her father, per Soap Central. However, after it was revealed that Shawn was actually her biological dad, things began to settle down. Claire left Salem with her parents and returned in 2015 as a teenager (with actor Olivia Rose Keegan in the role). After coming home to Salem, it was clear to "DOOL" viewers that Claire was a bit of a bad girl and might take after her aunt, Sami Brady (Alison Sweeney).
Two years later in 2017, Tripp Dalton (Lucas Adams) came to Salem. It was revealed that he was the long-lost son of Steve Johnson and Ava Vitali (via Soap Central). He also found himself in trouble when he decided to get revenge on Steve's wife, Kayla Brady, by trying to ruin her career as a doctor. It was around this time that Tripp and Claire met and became friends. After it was discovered that Tripp was sabotaging Kayla, it was Claire who convinced him to stick around town and apologize for his actions, which is how his romance with Claire was set into motion.
Claire and Tripp become friends and roommates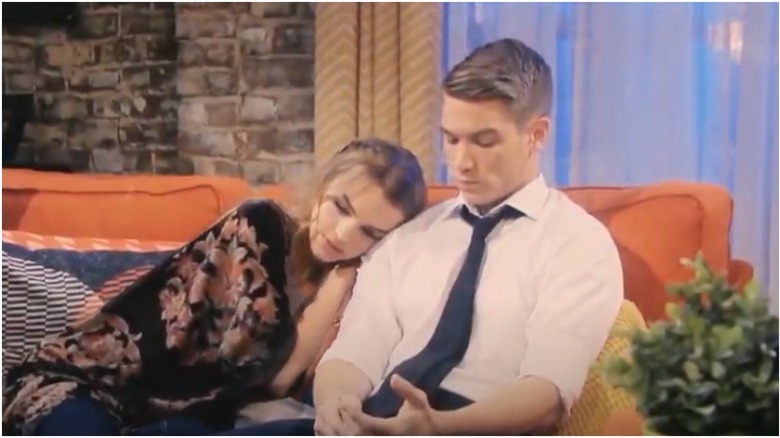 YouTube/NBC
After returning to Salem in 2015, Claire began to hang out with her aunt Ciara Brady, cousin Joey Johnson, and close family friend Theo Carver. The "Days of Our Lives" youths formed a quick bond, per Soap Central. However, things took a sour turn when Claire began to develop feelings for Theo, who was Ciara's best friend. Claire and Theo eventually began dating and Ciara got jealous, realizing that she also had feelings for Theo. Ciara wrote Theo a letter confessing her feelings, but Claire intercepted it. When Theo didn't respond to the letter, Ciara left Salem out of heartbreak. However, a later misunderstanding caused Theo and Claire to end their relationship, and Claire gave Theo his letter from Ciara.
Ciara eventually returned home to find herself feeling very angry toward Claire. All the while, Claire had befriended Tripp, who eventually moved into the apartment that she, Ciara, Joey, and Theo had shared at one time or another. Tripp fell hard for Claire, who was still had feelings for Theo at the time. However, Ciara's return made the entire situation even more complicated, per Celeb Dirty Laundry. Ciara was so angry about what Claire had done to keep her and Theo apart that she vowed to ruin her niece's life. One step in doing this was to steal the affection of Tripp.
Tripp marrying Haley affected Claire's mental health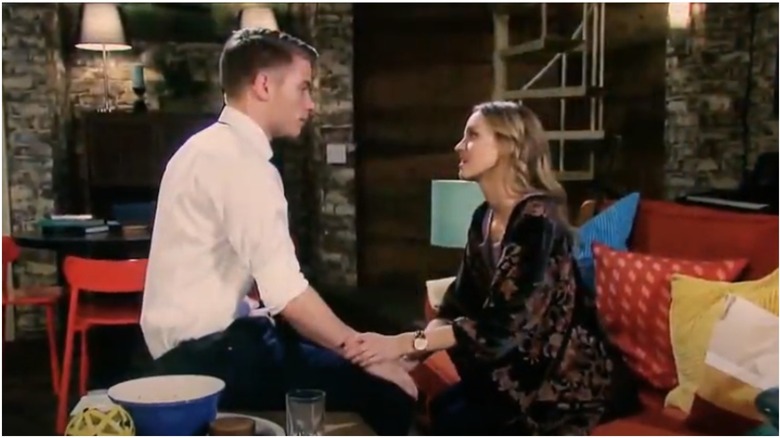 YouTube/NBC
"Days of Our Lives" fans watched Claire Brady and Tripp Dalton dance around their feelings for each other for months. They endured some rocky moments when Tripp decided to date Ciara. Of course, Claire devised a plan to break up Tripp and Ciara, and she enlisted none other than Ben Weston (Robert Scott Wilson) to help her, per Soap Dirt. Claire and Ben teamed up in hopes of splitting up Tripp and Ciara so that Claire and Tripp could have a shot at love and that Ben could win Ciara's heart. Tripp and Ciara had called it quits, and Ciara even left Salem for a short time.
Finally, in early 2019, Claire and Tripp officially began dating. However, their relationship hit a snag again when Tripp opted to marry his co-worker Haley Chen so that she wouldn't get deported (via Soaps in Depth). Claire's mental health began to take a dive, and she eventually got so jealous of Haley and Tripp that she tried to kill them in a fire. When that didn't work, she attacked Tripp with a knife and even attempted to kill Ciara.
Claire tried to frame Ben for the fire. However, Ben told Tripp everything about Claire's scheme and her crimes. Ciara and Tripp then devised a plan to out Claire as the arsonist (via Soap Opera Spy), and she eventually found herself admitted to Bayview Sanitarium.
Claire (now played by Isabel Durant, per Soaps in Depth) and Tripp have since mended fences and are now friends again. However, they never rekindled their romance.