What Does 'Pushin P' Really Mean On TikTok?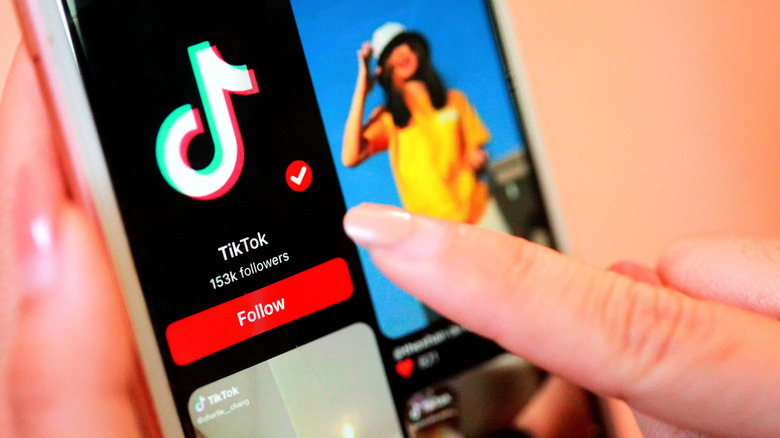 hareluya/Shutterstock
It seems that every other week a new TikTok trend hits the platform, and even though 2022 has only just begun there's already been a handful of new memes, songs, and sayings that have flooded users' feeds. One trend, in particular, is linked to the rapper Gunna, who released his album "DS4Ever" on January 13th, 2022 (via Pitchfork).
The record consists of 19 tracks, per Genius, but one standout track is having a total viral moment. Featuring Future and Young Thug, "pushin P" has already gained significant traction on YouTube with its music video already racking up over 6 million views at the time of writing. 
While the song is proving popular all over the internet, it's garnering the most attention on TikTok thanks to users' lip-synching and dancing to the track (via YouTube), as well as celebrities like Kim Kardashian referencing the trend on Instagram. But, what does "pushin P" actually mean?
Gunna revealed the meaning behind pushin P
According to Distractify, "pushin P" is a regional phrase used in some parts of the United States, particularly in the South. But Gunna has also explained what the phrase means to him, pointing out that "P" simply stands for "player." During an appearance on "The Breakfast Club" (via LadBible), the rapper was asked what the song meant thanks to the ever-growing trend on TikTok. It's here he stated that it means player, but Gunna added that it can also be substituted for a variety of different words."You also could just like use it in other ways like, 'I don't like what he did, that weren't P'," he explained. 
The rapper later gave more examples of "pushin P" on Twitter, adding that it can mean "putting your people in position of P" like "risking your life to feed your family" or "jumping in a person's beef or situation when you dk what's going on." After the album came out, Gunna gave more insight into the phrase (via YouTube) adding that there's also a difference between "kicking P" and "pushing P" — essentially saying that if you rent a luxury home, you're "kicking p" but if you spent your money on that home and own it, you're "pushing P," per Complex.