The Truth About Elvira's Date With Elvis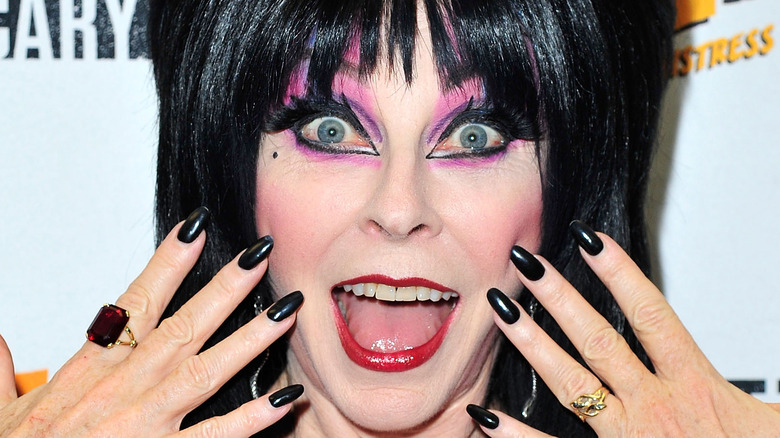 Jerod Harris/Getty Images
What do Elvira, the Mistress of the Dark, and Elvis Presley, the King of Rock and Roll, have in common? Well, according to Elvira, the two shared a life-changing moment in the late 1960s that apparently altered the course of her career. During an interview with HuffPost in 2018, Elvira — whose real name is Cassandra Peterson — candidly revealed new details about how she met Presley when she was a dancer in Las Vegas.
At the time, Elvira was a 17-year-old dancer who was performing in the show "Vive Les Girls" at the Dunes Hotel. Presley had attended one of her performances and invited Elvira, along with the other showgirls from "Vive Les Girls," back to his suite at the nearby International Hotel. Elvira, who was underage at the time, told HuffPost that Elvis kissed her but that the two were never alone together that evening and that their interaction remained friendly otherwise.
Though the pair never became romantically involved, Elvira shared details about the advice she received from Elvis during their chance encounter and recalled how this advice is what ultimately led her to becoming the Mistress of the Dark.
Elvira's impromptu date with Elvis helped shape her career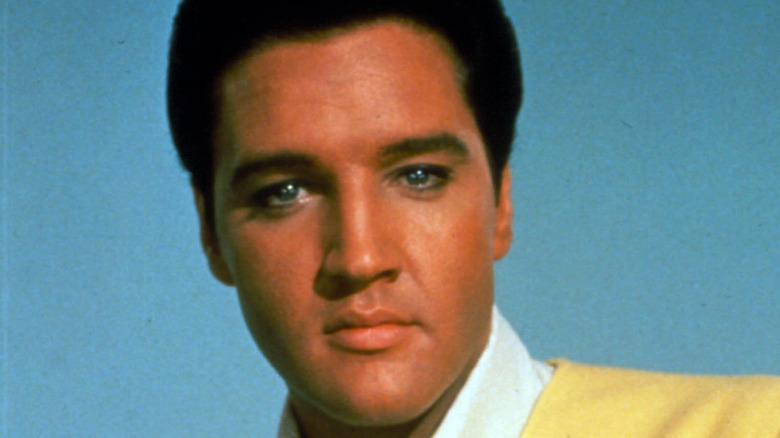 Getty Images/Getty Images
According to Elvira, when she entered Elvis Presley's hotel room at the International Hotel in 1969 with her fellow "Vive Les Girls" performers, Presley singled her out immediately. The two effectively had an impromptu date after that, as Presley invited Elvira to play the piano and sing with him (per HuffPost). Elvira said the pair chatted from about 4:00 a.m. until 12:00 p.m. the following day, and that they discussed a wide breadth of topics including astrology, numerology, and her career aspirations.
As the Mistress of the Dark shared during her interview with HuffPost, Presley reportedly said to her, "Let me tell you, Vegas is no place for a young girl like you. You need to get the hell out of here. You do not want to stay here and be like all these other girls and end up in your 30s and doing god knows what or just working at the blackjack table."
Presley, who briefly dated Rita Moreno in the 1970s, then encouraged Elvira to leave Las Vegas and enroll in voice lessons elsewhere. Presley allegedly said, "You just sang with me and you've got a really nice voice. You should get voice lessons and go into singing. When you're 24 or 25, you're going to be too old to dance. You need to start thinking about a different career path if you want to stay in show business."
Elvis offered life-changing advice to Elvira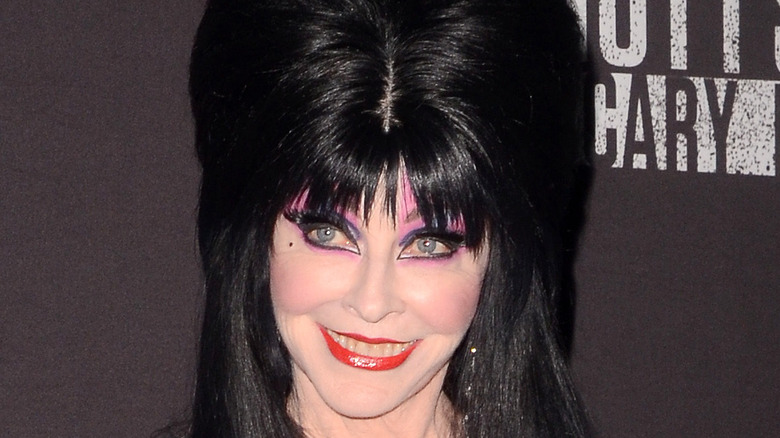 Kathy Hutchins/Shutterstock
Elvira took Elvis' advice to heart and immediately went out to find a singing coach the following day. As she aptly put it to Closer Weekly, "I was a showgirl in Las Vegas and Elvis told me to get the heck out of Las Vegas and pursue a singing career and, because he was Elvis, I decided to do that." She said that after about a month of lessons she was offered a standard singing gig in Las Vegas, and it was this gig that drew further attention to her talents and eventually helped shape the rest of her career. 
Following her stint in Vegas, Elvira moved to Los Angeles and joined the famous Groundlings improvisational troupe in the 1970s following several rejections for comedy roles she had auditioned for as an actress. It was through her time at Groundlings that Elvira became, well, Elvira (per Paper Magazine). The performer, whose real name is Cassandra Peterson, was offered the part of Elvira and decided to use the opportunity to combine her penchant for comedy with her previous experience as a showgirl. None of which would have been possible without the King of Rock and Roll.
"If it wasn't for Elvis, I would now be the oldest [showgirl] in Las Vegas, I'm positive," Elvira said to Closer Weekly.