Is Tom Brady Retiring From The NFL?
Jim Mcisaac/Getty Images
NFL fans tuned in to see Tom Brady and the defending Super Bowl champs, the Tampa Bay Buccaneers, face off against the Los Angeles Rams on Jan. 23, 2022. 
However, the game was not what Bucs fans expected. Their team trailed throughout the entire game, yet, in true Brady fashion, the famed quarterback led the charge and ended up tying the game in the fourth quarter (via Yahoo!). 
But it wasn't enough for the Bucs to get the win and punch their ticket to the NFC championship game. Rams quarterback Matthew Stafford responded to Brady's brilliance by leading the Rams to a 42-second field goal drive that consisted of five plays and 63 yards.
The field goal ultimately won the game for the Rams, who will be looking to take on the San Francisco 49ers in the NFC title game. 
The loss marked the 365th career match for Brady, who is widely considered one of the best to ever play the game. During his career, he has won six Super Bowls with the New England Patriots and one with the Buccaneers. 
Now, fans are wondering if Brady is ready to hang up his helmet and retire from the NFL or if he'll be back next season with the Bucs to push for his eighth Super Bowl win.
However, Brady is being coy about his future in the league.
Tom Brady is undecided about retirement for now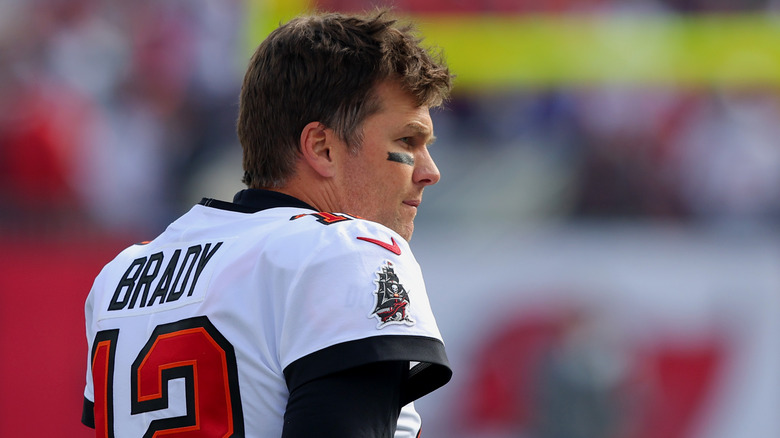 Kevin C. Cox/Getty Images
According to People, Tom Brady was asked about his future in football during his press conference after the Tampa Bay Buccaneers' playoff loss to the Rams. 
Brady admitted that he's unsure if he'll return for the 2022-2023 season, but he hasn't ruled anything out just yet. While there is speculation that Brady may retire, the quarterback claims he hasn't thought about it in-depth just yet.
"I haven't put a lot of thought into it. So, we'll just take it day by day and kind of see where we're at," Brady told the press following the game. 
The athlete also admitted that, during the game, he wasn't thinking about whether or not it would be his final game. Instead, he was focused on winning. "Truthfully guys, I'm thinking about this game," he said. "I'm not thinking about anything past five minutes from now."
Meanwhile, Hollywood Life sources reveal that Brady's wife, supermodel Gisele Bundchen, will play a big part in his retirement decision. 
"The kids are getting older, and they both want to decide how they really want to spend the next fifty years of their lives," an insider dished. "And they are going to have many conversations after the season that are going to be very heartfelt."
For now, sports fans will have to wait patiently to see what Brady decides to do.