The Sad Truth About Doris Day's Marriage To Marty Melcher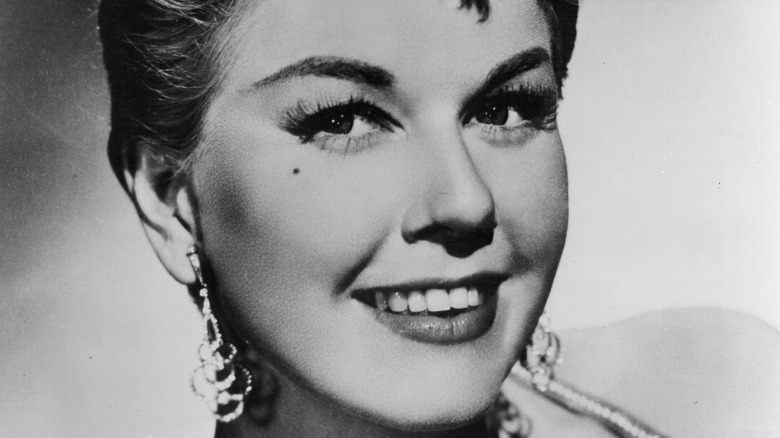 Michael Ochs Archives/Getty Images
Doris Day was America's sweetheart for decades, offering a sweet, soulful, and lilting sound to any song she sang, and a smile with a twinkle in her eye to every movie she made. From a factory worker who falls in love in the delightful song and dance of "The Pajama Game," to a mom of a passel of kids adjusting to suburban life in "Please Don't Eat the Daisies," to the single girl in the city silliness of the 1960s telephone party lines in "Pillow Talk," Day's characters always got the guy in the end. Her vibrant characters lived happily ever after in the make believe land of Hollywood productions where everything worked out just the way the heroine wanted.
In her own personal life, things were not as rosy for Day. The actress, who was born Doris von Kappelhoff in Ohio in 1922, eventually changed her last name to Day to make it big in movies. She had married twice before she thought she found the one. Even though Day's third marriage lasted nearly 20 years, it was nothing like the fairytale unions she so often portrayed on screen (via Biography).
Doris Day believed the third time was the charm for marriage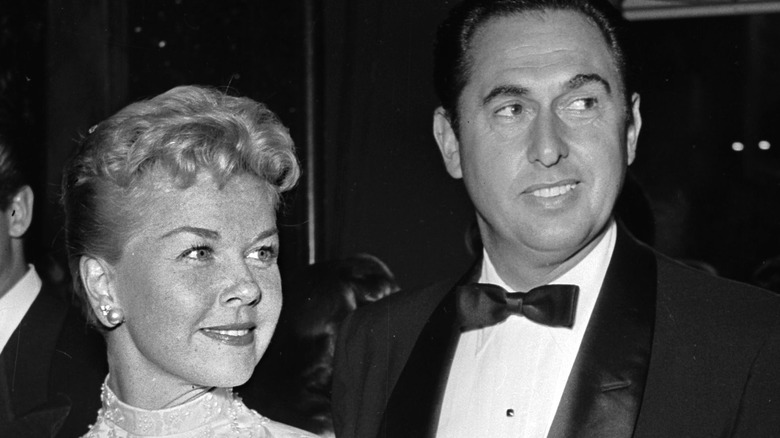 Jay Scott/Getty Images
Doris Day was still a teenager when she married her first husband, Al Jorden, a musician she met after first arriving in Hollywood. The marriage would produce Day's only child, Terry, a baby Day nearly lost because Jorden abused her while she was pregnant. The two split after just two years, and Day later married another musician named George Wielder. Adultery ended that union after just three years, according to Now to Love.
In 1951, Day thought she found the perfect man in her own agent, Marty Melcher, and stayed married to him until his death in 1968. She even gave his last name to her son, Terry. However, the marriage was not idyllic. During their 17 years as husband and wife, Melcher tried to dictate Day's career and pushed her into taking big-payday roles, but she didn't see much of the money. Instead, Day wrote in her book, "Doris Day: Her Own Story," that her husband and his lawyer, Jerome Rosenthal, plotted behind her back to "wipe out the millions" she earned, and that's exactly what they did, according to Cheat Sheet.
If you or someone you know is dealing with domestic abuse, you can call the National Domestic Violence Hotline at 1−800−799−7233. You can also find more information, resources, and support at their website.
Doris Day was left broke by her late husband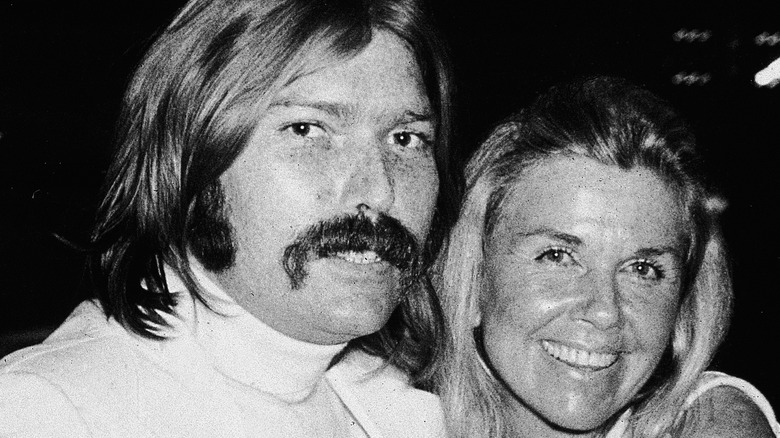 Hulton Archive/Getty Images
Despite decades of success in Hollywood with movies and recording contracts, Terry Melcher had bad news for his mother when his stepfather died in 1968. As Doris Day chronicled in her memoir, "Doris Day: Her Own Story," it was Terry who broke the news to her that Marty Melcher had left her broke, but not only that — she had a tax debt of nearly half a million dollars, which ultimately impacted her net worth. Melcher had even borrowed money against her record contract for songs that had not yet been recorded, and had signed her on to do a television series that she had no idea about until weeks before filming was to start — and the advance on the TV series had already been spent (via Cheat Sheet).
While Day sued Jerome Rosenthal and won a settlement of $22.8 million, she didn't even see a fraction of the money. In a 1986 interview, Day's son Terry claimed that she only received some money from an insurance company, but it wasn't close to the nearly $23 million she sued for, according to The New York Times. To make ends meet, Day did the sitcom her late husband had contracted her to do, and "The Doris Day Show" ran for five seasons.
Day did marry one more time after Melcher's death, but her 1976 union with Barry Comden only lasted five years, according to Biography. Day then remained a single woman until her death at the age of 97 in 2019.