The Truth About Julie And Todd Chrisley's Weight Loss
Kevin Mazur/acma2017/Getty Images
For nearly a decade, Todd and Julie Chrisley have allowed viewers a more intimate look at what goes on behind closed doors in their Georgia home on their reality television show "Chrisley Knows Best." Throughout the years, the couple has managed to keep audiences entertained with their good-humored spats and tender moments. Todd spoke to E! News about the secret to a healthy, long-lasting marriage (the pair have been married since 1996). "I would say the secret to any relationship, whether it be you made a decision to not get married but just cohabitate and you're together like Kurt [Russell] and Goldie [Hawn] for 113 years, I think the reason for that is commitment," Todd said in 2016. "I think you have to be willing to get in there, roll up your sleeves, and get your hands dirty and be loyal and faithful and honest."
During an interview with The Tennessean in 2018, Julie opened up her breast cancer diagnosis in 2012 and how it strengthened her marriage. Julie revealed that Todd had been incredibly supportive — even helping her shower and change her bandages after her double mastectomy. "I truly believe that that moment took our relationship to a whole other level because he never flinched," Julie said. "He was in the shower with me, he took all of my bandages off, and he never flinched."
One decade later, inspired in part by her journey with breast cancer, Julie is embarking on a journey to weight loss — with her husband by her side, of course.
Julie and Todd have lost a combined total of 48 pounds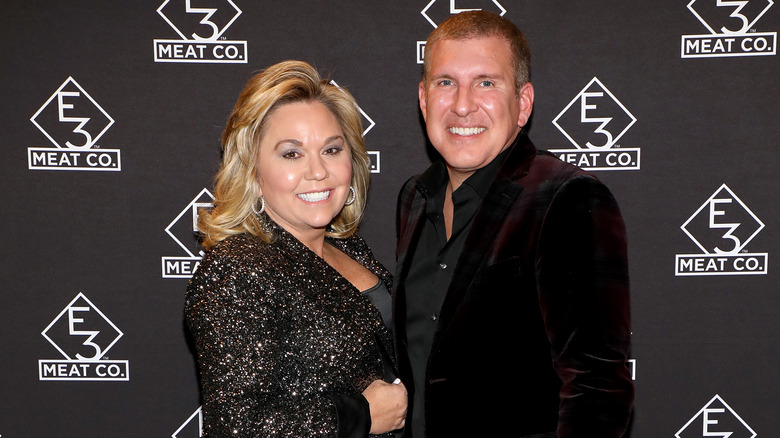 Danielle Del Valle/Getty Images
Though they were inspired to lose weight for different reasons, Todd and Julie Chrisley have enjoyed losing weight together. For Julie, losing weight has been a long process that began after she went through early menopause as a result of her breast cancer treatment. "I'm a breast cancer survivor and because of that I also went through menopause early," Julie told People in an interview published on Wednesday. "I felt like the chips were stacked against me and I was gaining weight."
Julie had previously lost 20 pounds with Nutrisystem, but since teaming up with Todd to become an ambassador for Nutrisystem's Partner Plan, has lost an additional 10 pounds. After seeing Julie's success with Nutrisystem, Todd, who had noticed that he had packed on a few pounds during the COVID-19 pandemic, began his own weight loss journey with Nutrisystem. "I am proud to say I've always maintained the same weight I was in high school," Todd told People. "But after having COVID back in March 2020, it was like my metabolism just came to a screeching halt." Since embarking upon his weight loss journey with his wife, Todd has lost 18 pounds.
Their shared weight loss journey has made the couple even closer. "It has made us closer because it's something that we talk about," Julie told the Daily Mail. "And it's kind of like a competition. ... I think Todd and I consider ourselves partners in everything we do. So to be able to incorporate Nutrisystem and be one other thing that we're partners with, I think is amazing."