Inside Donald Trump's Relationship With Ray J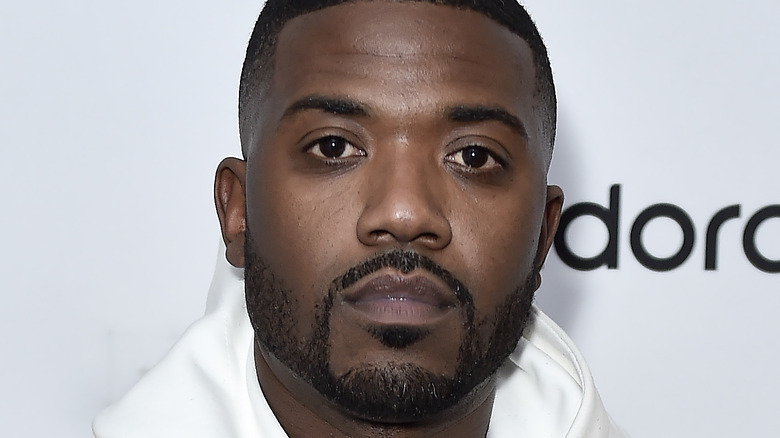 Steven Ferdman/Getty Images
Kim Kardashian's former lover Ray J was back in the news again recently following an explosive interview her soon-to-be ex-husband, Kanye West, gave to "Hollywood Unlocked." Per E! News, the controversial rapper hinted that there was a second sex tape featuring Ray J and Kardashian, which he was instrumental in preventing from being released. West, who legally changed his name to Ye, regaled host Jason Lee with a story about how he'd once been tasked with retrieving a laptop from Ray J, who starred in the infamous 2007 video that helped launch Kardashian's career. 
The "Donda" hit-maker took issue with his estranged wife allegedly being all over rumored new boyfriend Pete Davidson in public, "And everybody's like, 'Oh, that's, that's cool.' After I went [and] got the laptop from Ray J myself that night, right?" as West recalled. He went on to explain, "I met this man at the airport. Then got on a red eye, came back, delivered it to her at 8:00 a.m. in the morning and then I gave it to her and she cried when she saw it." According to West, the laptop was so important because it represented how Kardashian had been used throughout her life.
A rep for the SKIMS founder shot down the claims, stating, "Kim remains firm in her belief that there is no new second tape that exists." However, while Ray J didn't comment on the story, he's now courting controversy in his own right.
Donald Trump and Ray J had a meeting of the minds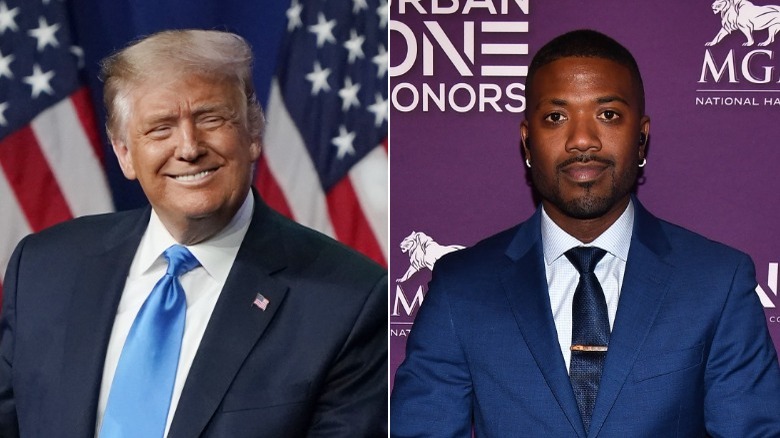 Pool, Paras Griffin/Getty Images
Page Six confirms rapper and entrepreneur Ray J met with none other than former President Donald Trump at his Mar-a-Lago resort earlier this week, reportedly to discuss possible business opportunities and political aspirations alike — according to insiders, Ray J might consider running for office someday. "I've always admired and respected his business acumen," the rapper noted. "Our conversation was about job creation, encouraging small business development and how Information Technology plays an important role in the future of our economy." 
He added, "We also agree how important an educated workforce is, as well as the critical need of developing of young people. I'm ready to get started now!" The unlikely allies already have another meeting scheduled, which will involve figuring out how to implement the initiatives they previously discussed. Hilariously, the duo posed for a shot next to the infamous photo of Trump eagerly reaching out to shake the hand of North Korean leader Kim Jong-un. 
Ray J hasn't made his political affiliations clear but, in 2020, he described the upcoming election as "different" and "very original" in an interview with Variety. As the Raycon founder saw it, "We need to stick with trying to fix what's broken in America, like the bigger topics of things. Try to really put our focus on change and helping people, and really try to do good for the country." Whether he's going to be instrumental in that change remains to be seen.