Twitter Users Are Calling Out Meghan McCain For Her Latest Remarks About Joe Biden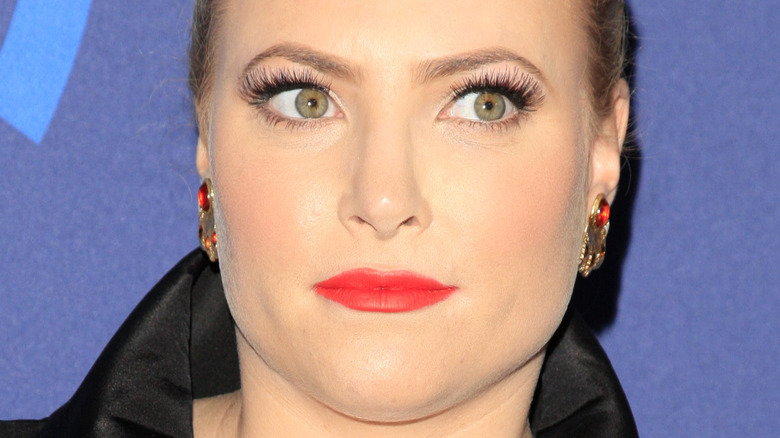 Kathy Hutchins/Shutterstock
Well, it's official. Meghan McCain became one of the millions of Americans to get infected with COVID-19 (via People). The former TV host used her Daily Mail column to share her experience with the virus, entitling her piece, "I finally got Covid and it was so horrible it made me doubt if America will ever recover from this pandemic. It WILL but not with moronic Biden in charge."
In the article, McCain shared that after two years of "dodging" getting infected, she felt somewhat "invincible." Then, both she and her husband tested positive. "But my husband and I got very sick — more sick than the 'mild Omicron' headlines and Twitter streams suggested," McCain penned. "Covid was much rougher than I anticipated given that we are fully-vaccinated. What I experienced wasn't mild, it wasn't easy, and I am still fearful of the unknown long-term side effects that I may experience."
In the piece, McCain talks about how hard it was to buy a rapid test, writing, "We live fifteen minutes away from the White House, in the United States of America. Why is it so hard to get an at-home Covid test?" Her take is that as a country entering the third year of the pandemic, we should be more prepared. And she blamed President Joe Biden for this not being the case.
Meghan McCain doesn't go easy on Joe Biden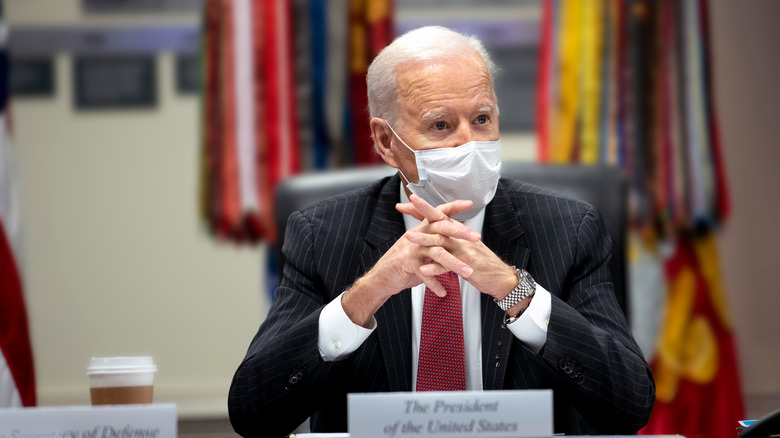 BiksuTong/Shutterstock
In her Daily Mail takedown of the commander in chief over COVID-19, McCain wrote, "President Biden promised — verbatim — while he was running for President that 'I will end this. I will shut down the virus, not the country.'" Citing inflation and a divided nation as ongoing issues under the Biden administration, the new mom also claimed, "Roughly 446,197 Americans have died of Covid-19 since Biden's inauguration." She also claimed less people died when Trump was in office.
McCain ultimately says she thinks Biden could do a lot better with testing, treatment and overall morale and calls his leadership "failed." 
Not surprisingly, many people are taking to Twitter to call her out for her remarks, with dozens reminding the star of a time the President comforted her when she was grieving her father Senator John McCain's death. "Meghan McCain shame on you. Your father is turning in his grave. President Biden was a great friend to your father, compassionate to you, and is doing the best he can with the mess TFG left him. You are really becoming a disgrace to such a great family. Bet Cindy McCain is ashamed." 
Cindy McCain of course worked for Biden.
Twitter doesn't go easy on Meghan McCain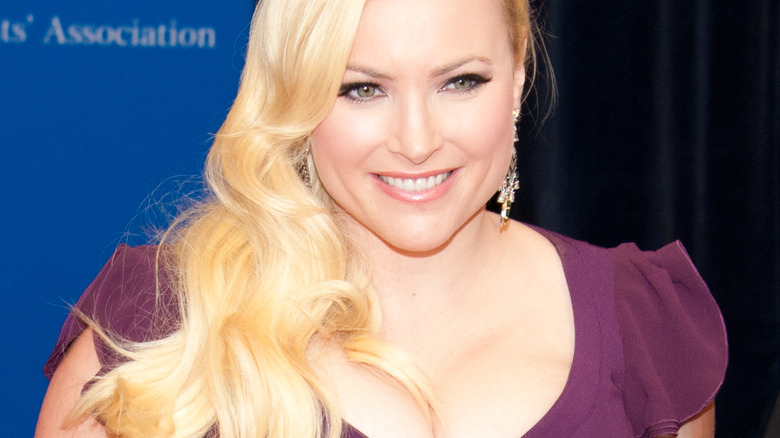 Rena Schild/Shutterstock
Many similar comments followed, while other Twitter users took issue with McCain's article for other reasons. "Hey Meghan McCain, I'm not an astronomer but I'm pretty sure the earth revolves around the sun and not your mean attention seeking a**," one person tweeted. More people called her out because she previously said she was sick of wearing face masks and called them "stupid" (via Decider). To be fair, McCain did say she would continue to wear one in accordance with mask requirements at ABC and areas like D.C.
Although McCain was called a "hypocrite" and far worse, it's worth noting that some people saw where the political daughter was coming from, with one notable tweet reading, "Meghan McCain is correct. President Donald Trump got blamed for every Covid death when he was president. OK fine. President Joe Biden has gotten blamed for no Covid deaths since he entered the White House and there was more under him than under the former president. Media pass."