The Cringeworthy Way Kate And William's University Friends Found Out They Were Together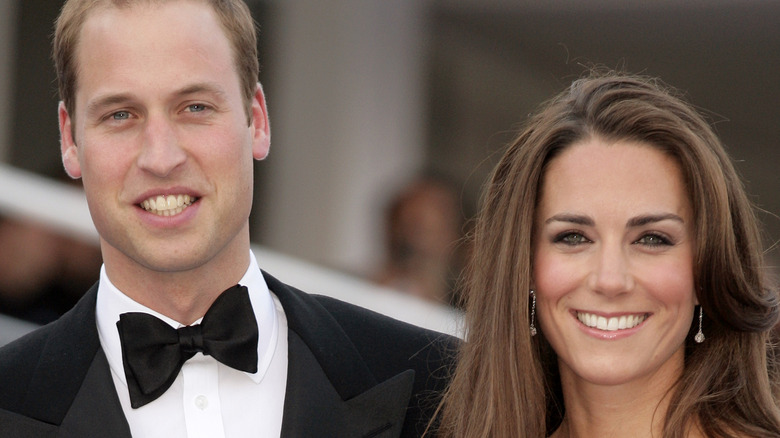 Max Mumby/indigo/Getty Images
Prince William and Kate Middleton share a very sweet love story. The Duke and Duchess of Cambridge, who celebrated their tenth wedding anniversary in 2021, first met at St. Andrews University in Scotland. According to Vogue, William would often run into Kate in the hallways or on the way to various classes, and she caught his eye. The two eventually struck up a friendship and even bonded over their love for skiing. "When I first met Kate, I knew there was something very special about her," William previously said. "I knew there was possibly something that I wanted to explore there."
During their second year at university, William and Kate moved into an off-campus apartment together with two other friends. During this time, William admitted that he tried everything in his power to impress Kate. However, his efforts often didn't go as planned. "I was trying to cook these amazing fancy dinners," he told ABC News. "[But] what would happen was I would burn something, something would overspill, something would catch on fire. She would be sitting in the background trying to help and basically taking control of the whole situation." He noted that fortunately, their flatmates didn't mind, saying, "To be honest they were used to it, watching things catching fire, they found it very amusing."
Eventually, romance began to blossom between the pair, and after keeping their affection for one another a secret from their closest friends, the couple were eventually forced to come clean about their relationship to their buddies during an awkward dinner party. In addition, the way they broke the news to their pals was less than ideal for the duo.
Prince William was forced to reveal his romance with Kate Middleton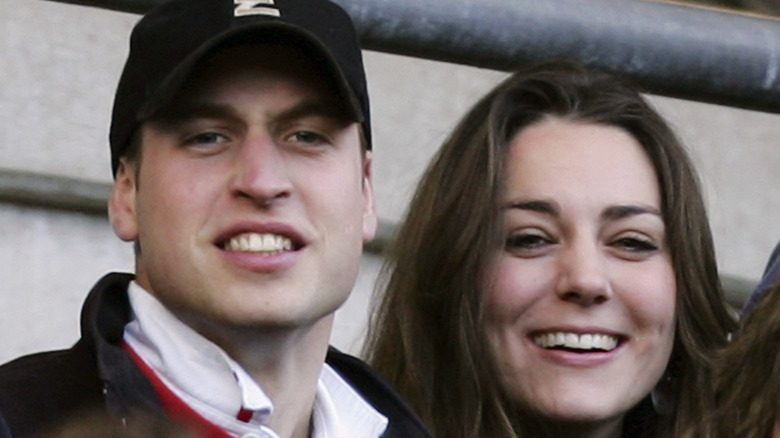 Richard Heathcote/Getty Images
The Express reports that Prince William and Kate Middleton's romance started off as a bit of a secret, as the couple wanted to keep their relationship under wraps. Because of this, the pair used dinner parties with their friends as a way to socialize without having to go out on the town and risk being seen by the paparazzi, or raising questions about their dating status. However, during one of their dinner parties, the future Duke and Duchess of Cambridge were pressured to reveal their romance to their pals after one of the royal's ex-girlfriends forced his hand during a tense moment.
Royal expert Katie Nicholl revealed that during one party, the gang was playing a game called "Never Have I Ever," where players take turns asking other players about things that they have and haven't done. If they've done those things they're supposed to take a drink of alcohol. William's ex-girlfriend and friend, Carly Massy-Birch, reportedly attended the party and caused a bit of drama. "When it was Carly's turn to play, she announced, 'I've never dated two people in this room,' knowing full well that William was the only one who had, because Kate was sitting next to him," a source told Nicholl. "He shot Carly a thunderous look and said under his breath, 'I can't believe you just said that' before drinking his shot."
Kate was reportedly unhappy about living so close to William's former girlfriend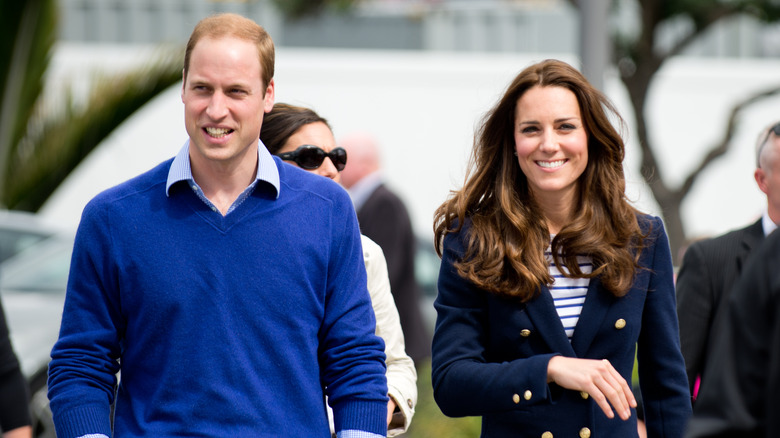 Shaun Jeffers/Shutterstock
Express reports that Kate Middleton was also unhappy that Carly Massy-Birch had forced her and Prince William to go public with their romance at the party. "Kate didn't speak to Carly much after that, but we were in shock," an insider previously told royal expert Katie Nicholl. Meanwhile, William and Kate's friends were said to be a bit taken back by the reveal of their relationship during their second year at college. Sources told Nicholl that they were in stunned after Massy-Birch forced William's hand at the party. "We knew that they were together, but it was the first time William confirmed his and Kate's relationship," the insider revealed.
Even before the cringeworthy dinner party, Kate was said to be irritated by Massy-Birch's presence. William's ex had lived very close to their apartment at the time, and they could actually see each other through their windows. "She could literally wave to William from her sitting room, where she would sit knitting by the window, which rather grated on Kate," the friend said.
The following year, William and Kate moved to Balgove House, which offered them plenty of privacy and a place to enjoy picnics and white wine. They later announced their engagement in 2010, and wed in April 2011. While the royals didn't get to go public with their relationship in the way they might have wanted, everything worked out in the end, and William and Kate now share three beautiful children together.