The Bold And The Beautiful Co-Stars Who Didn't Get Along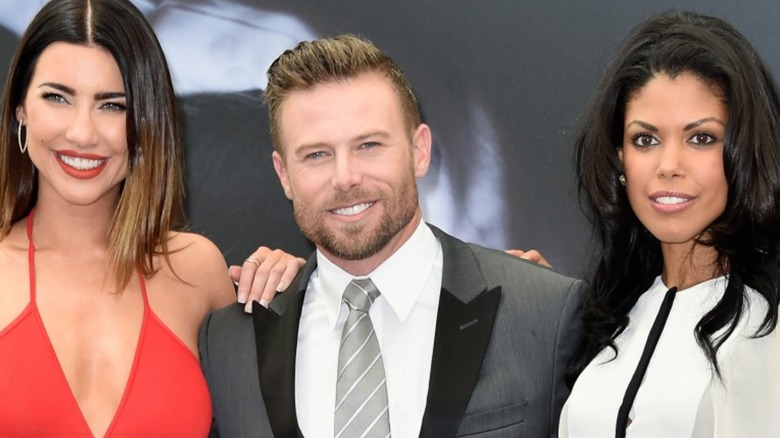 Pascal Le Segretain/Getty Images
Soap lovers know that "The Bold and the Beautiful" is the perfect escape. Day in and day out, the Emmy-winning soap opera continues to deliver TV gold with their intricate storylines and insight on the cut-throat world of fashion, characters you love-to-hate and hate-to-love and all of the relationship drama you can digest. But as much as the feuds are scripted, it turns out that the drama sometimes spills off-screen.
Showbiz Cheat Sheet reports that soap legend Ronn Moss' departure from the series in 2012 after a car accident was the catalyst for a major feud between his former co-stars and original cast members Katherine Kelly Lang and Hunter Tylo. Lang's Brooke Logan and Tylo's Dr. Taylor Hayes are two-thirds of the fan-favorite love triangle (along with Moss' Ridge Forrester). Fans may be surprised that all of the tension that made the three originating actors work so well bled into reality.
Behind the real-life Twitter feud of daytime's best frenemies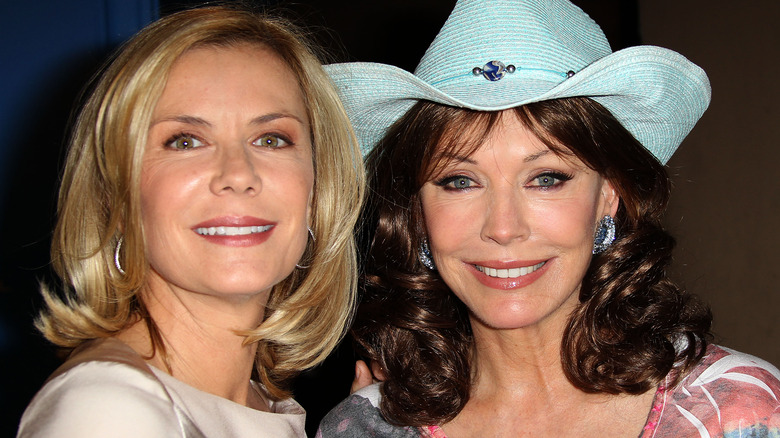 Frederick M. Brown/Getty Images
Daytime Confidential highlighted past tweets that might have sparked apprehension between Katherine Kelly Lang and Hunter Tylo. In one tweet, a fan claimed that Tylo did nothing to stop rumors being spread about Lang. The fan then tagged Lang herself. Lang responded, writing "why would she want to do tht? Hunter, why don't u talk to me?" 
Tylo squashed all rumors and encouraged Lang to ignore those trying to pit them against each other on Twitter, writing "What boldluvr said: not true. Don't get caught up in chaos: we have enuff 2 [sic] deal with right? We are all on the same team."
The pair seemed to recover from this brief feud, as they opened up to TV Insider on their experience working together in a 2018 interview. Lang commented on a 2018 cake fight between their characters Brooke and Taylor. "Brooke needs a rival," Lang told the outlet. "Taylor's return has given Brooke a reason to stand up and fight. It's great to work with Hunter again. This is bringing back the great history of the show and those Dynasty moments we used to see more often."
Tylo was equally as appreciative of working with Lang.
Why Hunter Tylo and Kimberlin Brown ended their friendship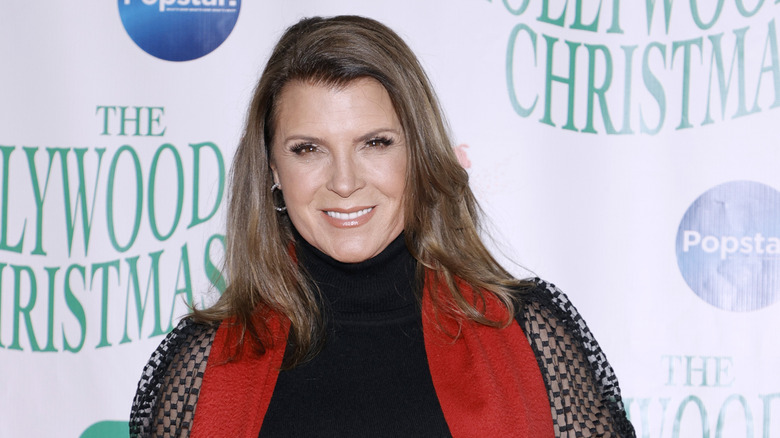 Amy Sussman/Getty Images
The 2012 Twitter back-and-forth wasn't the only time that Tylo was involved in a possible conflict. Showbiz Cheat Sheet reports that more drama ensued behind-the-scenes of "B&B," but this time between long-time friends Tylo and Kimberlin Brown. While Lang and Tylo's brief twitter feud was based on hearsay, Tylo and Brown's was a lot more personal.
According to the outlet, Tylo and her late ex-husband Michael (who starred on "B&B" parent soap opera "The Young and the Restless" and "Guiding Light") had a very close relationship with Brown and her husband Gary Pelzer. Tylo and Michael first filed for divorce in 1994 (before reconciling and divorcing 11 years later), per Soap Central, and it ended up causing a large rift between the group. According to Showbiz Cheat Sheet, Brown and Pelzer sided with Michael during their custody battle, which ultimately ended Tylo and Brown's friendship.