Leonardo DiCaprio Reveals What It's Like To Work With Jonah Hill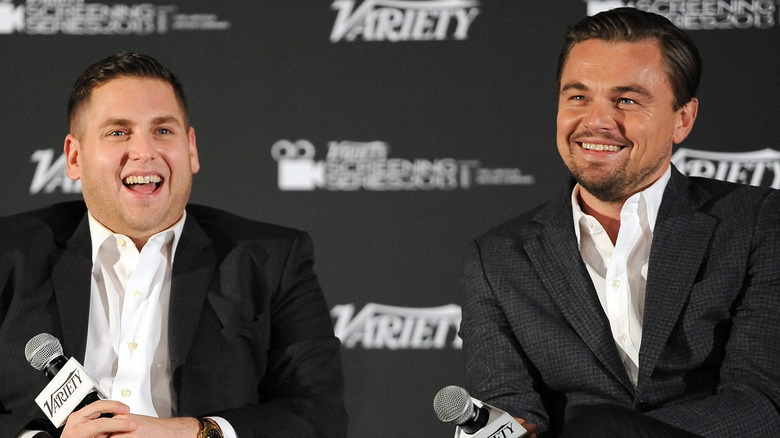 Angela Weiss/Getty Images
Despite only starring in three films together, Leonardo DiCaprio and Jonah Hill have developed quite a bond. Having first worked together on "Django Unchained" in 2012, the two actors have since performed alongside each other in "The Wolf of Wall Street" and "Don't Look Up" (via Pink Villa). And while audiences only get a glimpse of their friendship for an hour or so at a time, DiCaprio and Hill spend a lot of time with each other when the camera's stop rolling.
This was especially the case when filming "Don't Look Up," as production took place during the height of the pandemic, ScreenRant reported. As Hill previously revealed to W Magazine, the pair decided to live together in Boston during lockdown to make it easier. "We couldn't go to restaurants, so we [...] watched a ton of films," Hill explained. DiCaprio used the opportunity to force Hill to watch "The Mandalorian" as well, and while the actor understood the utter adorableness of Baby Yoda, he wasn't that bothered by the show's appeal. "I used to have a rule: If it didn't happen or it couldn't happen, then I just wasn't interested," he told W Magazine, "because I would lose focus."
The actors have nothing but good words to say about one another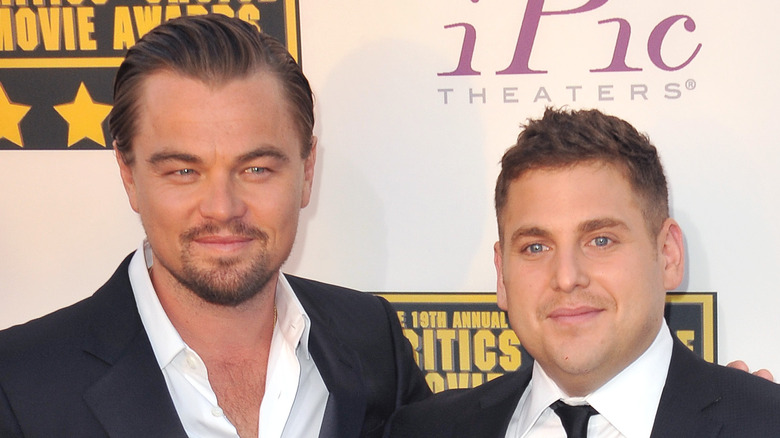 Featureflash Photo Agency/Shutterstock
Leonardo DiCaprio may have failed to get Jonah Hill's love and attention for "The Mandalorian," but Hill's love for DiCaprio makes up for that tenfold. During a press conference for "Don't Look Up" (via WION), the actors shared their admiration for each other having just spent literally everyday together thanks to lockdown and working on a set for days on end.
DiCaprio had nothing but kind words to say regarding Hill's work ethic, calling him an "absolute genius" whose "ability to improvise and take control of a scene and have the narrative shifted" floors him each and every time. "[It's] a sight to witness and something truly remarkable to experience," the actor said, adding that he'd "love to work with him on a hundred more films."
In response, Hill said that he may have worked with "pretty much all the best actors in the world," but none compare to DiCaprio. "There's been no more loyal friend or anything I've ever made in showbusiness," Hill said, continuing to say that he's constantly stunned by the way DiCaprio shifts into acting mode at an instant. "What you see when they yell action and what he does, truly – no disrespect to anyone – nothing I've ever seen like it."