Donald Trump Just Made A Startling Promise If He Wins In 2024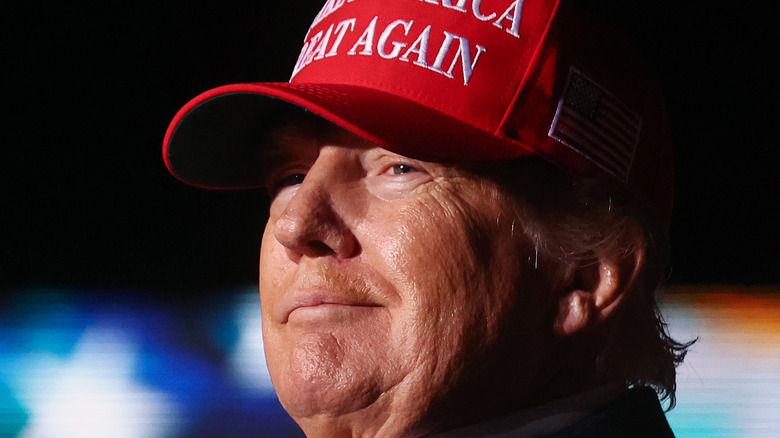 Mario Tama/Getty Images
Although Donald Trump has not officially announced a run for president in 2024, speculation that he will run a third time has been rampant since he lost the 2020 election, something he still claims was rigged and that he won. As far back as the summer of 2021, he told Sean Hannity that he made up his mind whether he'd try for the White House again, but he never said what he had decided.
Still, that hasn't stopped the former president from holding rallies, telling his fiercely loyal supporters what he would do if he wins the 2024 election and once again has power. During a January 29, 2022 rally in Conroe, Texas, Trump disparaged the January 6 committee, as well as the arrests that have been made in connection with the Capitol insurrection on January 6, 2021 in which a violent mob of Trump supporters tried to stop the electoral college count. During the rally, he made a promise about what he will do about the arrests if he is elected to the presidency again.
Donald Trump is ready to have his pardon power back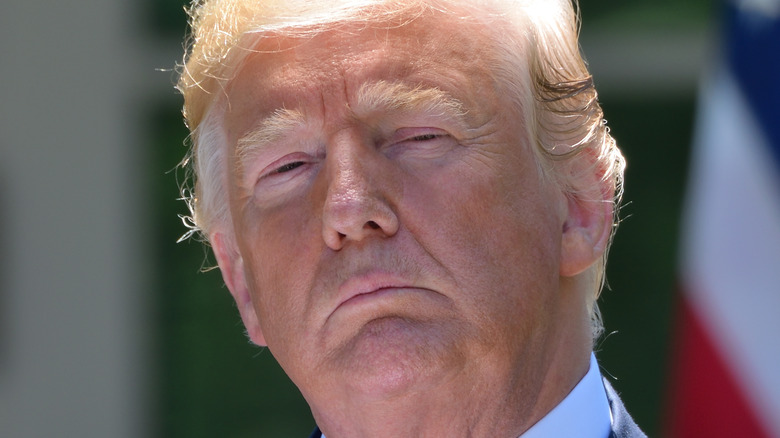 Evan El-Amin/Shutterstock
As of this writing, more than 700 arrests have been made in connection with the January 6 attack on the Capitol in which five people were killed and countless others were injured, including numerous members of the Capitol Police force. On January 13, 2022, the Department of Justice indicted the leader of the far right militia group, the Oath Keepers, on charges of seditious conspiracy associated with the attack, according to CNN. But Donald Trump has thoughts on the arrests that might shock you. 
At his rally in Conroe, Texas, Trump told the crowd that those arrested have been treated "unfairly" and that he would pardon them if he were to become president again, while also leaving the prospect of being the GOP candidate again up in the air.
"If I run and I win, we will treat those people from January 6 fairly," he said, per The Washington Post. "We will treat them fairly, and if it requires pardons, we will give them pardons because they are being treated so unfairly."
He then went on to say the work of the House Select Committee on January 6 is unprecedented in American history. "This hasn't happened to all of the other atrocities that took place recently," Trump said. "Nothing like this has happened. What that 'unselect' committee is doing and what the people are doing that are running those prisons, it's a disgrace."