Prince William Is Reportedly Furious Over Prince Harry's Latest Demands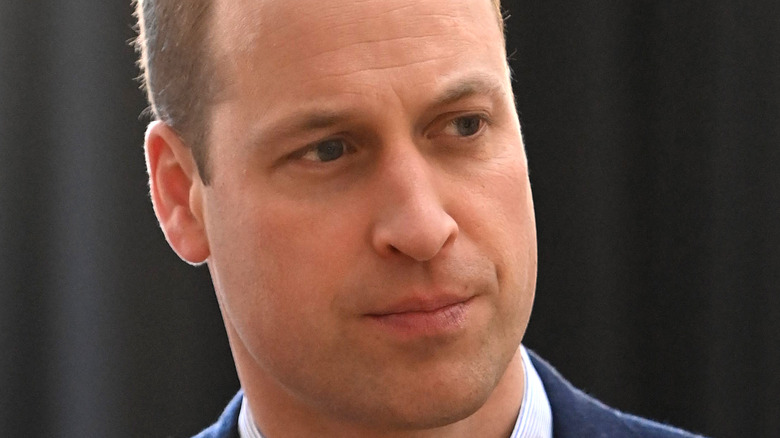 Wpa Pool/Getty Images
While not exactly on the level of Cain and Abel, the feud between brothers Prince William and Prince Harry has become nearly as notorious. Although neither one has publicly mentioned the current status of their relationship, various inside sources have told the tabloids over the last year that the royals are either warming up or staying frosty. 
Back in April 2021, when the family was gathered for the funeral of Prince Philip, William and his wife, Katherine, Duchess of Cambridge, reportedly refused to talk to Harry for fear he would run to blab about the conversation to Oprah (via Insider). In August, royals expert Robert Lacey told Newsweek that Harry "wouldn't mind reconciling," but that William "doesn't seem prepared to concede anything." More recently, reports hinted at a possible truce, with the Sussexes giving Kate a video call on her 40th birthday in January (via Us Weekly).
But don't rush to pop the champagne cork just yet. With two major events being planned by the palace — a memorial service for Philip and the Queen's Platinum Jubilee — the question of whether the Sussexes will attend is still very much up in the air. Harry has petitioned the British government for a personal security detail for him and his family, on the grounds that he needs the high-level protection the national police would give (via NBC News). "In the absence of such protection, Prince Harry and his family are unable to return to his home," his lawyers said.
Prince William is reportedly none too pleased about this. 
Prince William thinks his brother is causing too much drama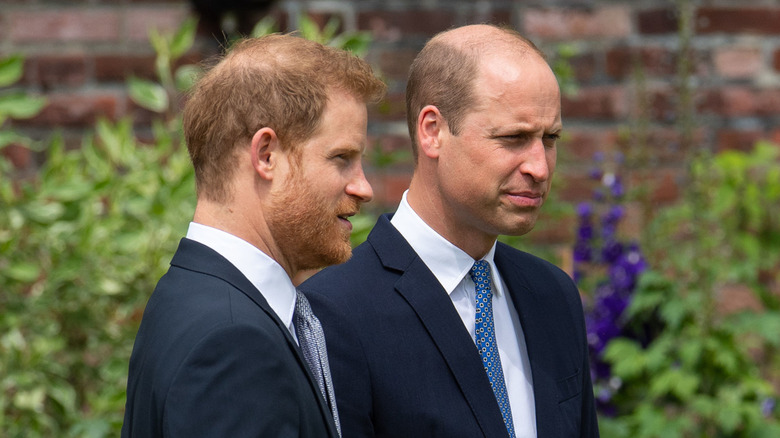 Wpa Pool/Getty Images
A palace source who spoke to OK! magazine claims that Prince William understands his brother's dilemma, but has no patience for the way he's handling it. "William sympathizes with Harry's insistence on defending his family," says the unnamed insider. "But he's appalled at how Harry's handling the matter because of the stress it's putting on the Queen and the monarchy." The source adds that William blames Meghan Markle for "brainwash[ing]" Harry into siding against his family.
The queen is already shouldering a great deal of stress. She still feels the loss of her husband of many years, and the ongoing scandal surrounding Prince Andrew forced her to strip her son of his military titles and royal patronages. Her recent health scare is also concerning to her family. Although she has resumed her royal duties and seems indomitable, the queen is showing signs of her 95 years. William may feel that his brother should find a way to visit their grandmother without bringing a lawsuit into it.
At this writing, the Sussexes' petition to the court had not yet been resolved, but at least one palace insider is optimistic. In a recent panel discussion (reported by Marie Claire), Ken Wharfe, who used to guard Princess Diana and her sons, said, "The very fact he has made this noise with the British Government to secure protection suggests to me that he is going to make a real effort to come back here. I think we will see him return this year, for the Platinum Jubilee."