Why The Song In Flamin' Hot's Super Bowl 2022 Commercial Sounds Familiar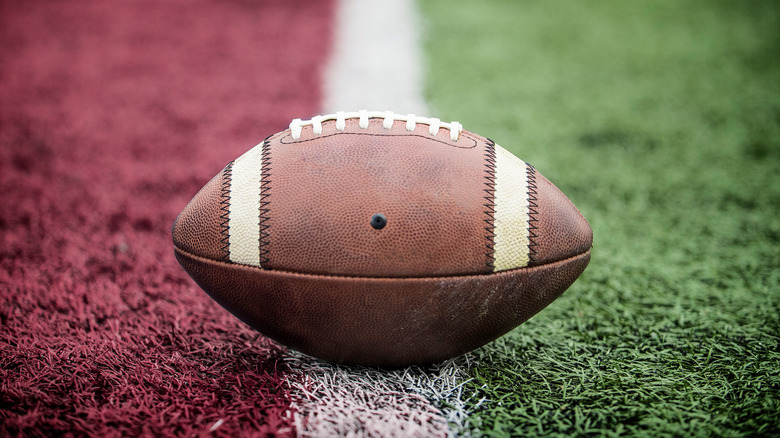 Brocreative/Shutterstock
Flamin' Hot is taking its Super Bowl debut very seriously, with the company teasing their star-studded commercial for the past few weeks, per People. Snacks company Frito-Lay brought two of its most beloved brands, Cheetos and Doritos, together for the spot and, naturally, they had to get a couple equally famous celebrities to feature alongside them. Super Bowl LVI will take place on February 13, 2022, at the SoFi Stadium in Los Angeles, with Dr. Dre headlining the all-important Halftime Show. Industry pals Eminem, Mary J. Blige, Kendrick Lamar, and Snoop Dogg are all slated to make appearances on the day too.
As People notes, although Megan Thee Stallion and Charlie Puth were ultimately revealed as the faces of the Flamin' Hot spot. Althpugh, when the ad finally dropped, fans were confused when neither of them were anywhere to be found. Rather, the two stars are voicing a glamorous songbird and beatboxing fox respectively, in a fun commercial that sees various members of the animal kingdom uniting over their shared love of the popular snack-food. As the flavor takes hold, the critters burst into a rousing rendition of a classic song that will be instantly recognizable to viewers of all ages. Naturally, Megan and Puth put their own modern spin on it.
The commercial's catchy song is an eighties classics
Rolling Stone confirms Megan Thee Stallion and Charlie Puth are performing eighties hit "Push It" by Salt-N-Pepa in the lively Flamin' Hot Super Bowl spot. Per People, the song was originally released back in 1987 and Meg, in particular, was excited to put her spin on it. In a behind-the-scenes clip, she enthused, "Salt-N-Pepa are just the OGs. They are female rap, female empowerment, everything I think I am. Putting the song in the ad is only right because it's everything women are standing for, especially right now."
During a chat with Rolling Stone, looking back on some of their biggest hits, Salt-N-Pepa admitted that "Push It" was a B-side, and they never envisioned the seemingly throwaway song being quite as big as it is. Salt revealed, "We didn't really care for it. We were like, 'I don't get it.' We were like, 'Ew,' but, you know, it's only a B-side, whatever. Me and Pep, I think we're the only two people on the planet that 'Push It' is not our favorite Salt-N-Pepa song." They were concerned the track was too poppy, and they'd be labelled sell-outs as a result. 
Thankfully, the gamble paid off, which the duo realized as soon as they began playing the song live and witnessed the intense crowd reactions. As Pepa admitted, "Salt and I didn't get it at that time. And we still don't get it sometimes. We'd be like, why's this song so big?"