ABC Just Took Action Against Whoopi Goldberg For Her Controversial Remarks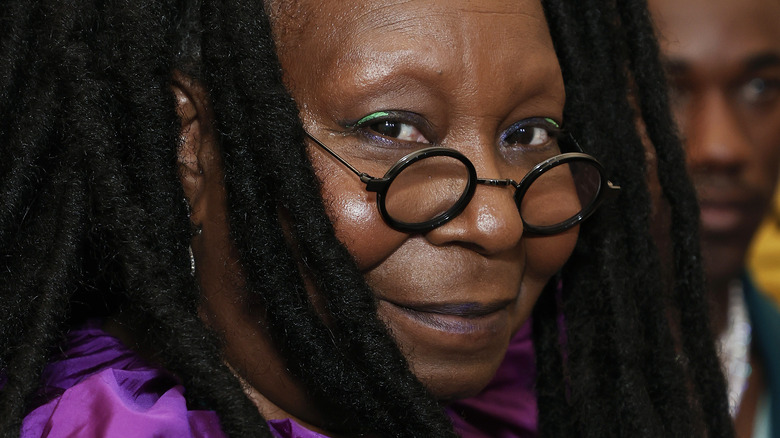 Arturo Holmes/mg21/Getty Images
It looks like the fallout from "The View" co-host Whoopi Goldberg's hurtful comments about the Holocaust is far from over. Yesterday, the star apologized after saying on air that the Holocaust was not "about race." The upsetting remark was made during a conversation about the banning of the book "Maus."
Twitter backlash was swift, with celebrities from Debra Messing to Piers Morgan calling for the host to realize the gravity of her words. For her part, the "Will & Grace" star tweeted, "You deeply hurt & offended me. By minimizing the horror of the Holocaust, the systematic annihilating of 6 MILLION Jews-which by the way IS a race-an attempted GENOCIDE to white on white crime? You 'All Lives Matter,'-ed us. Devastating & dangerous."
Goldberg soon took to her social media to say she was wrong. "I stand corrected," she said in part. The star also apologized on air (via Inside Edition). But her mea culpas were not enough to satisfy viewers or ABC, and so, Goldberg has been suspended from "The View" (via People).
Whoopi Goldberg will not return to "The View" for at least two weeks
Kim Godwin, President of ABC News, tweeted out a statement about Goldberg's status on "The View" following her misguided Holocaust remarks. "Effective immediately, I am suspending Whoopi Goldberg for two weeks for her wrong and hurtful comments," the statement read. "While Whoopi has apologized, I've asked her to take time and reflect and learn about the impact of her comments. The entire ABC News organization stands in solidarity with our Jewish colleagues, friends, family, and communities."
In a note to staff at ABC, Godwin also wrote, "Words matter and we must be cognizant of the impact our words have" according to a tweet shared by CNN reporter Oliver Darcy. She added Goldberg had "an educational conversation" with Jonathan Greenblatt from the Anti-Defamation League, which the host had alluded to in her apology tweet.
At time of writing, Goldberg had not yet commented on her suspension.