The Truth About Bob Saget's Marriage To Kelly Rizzo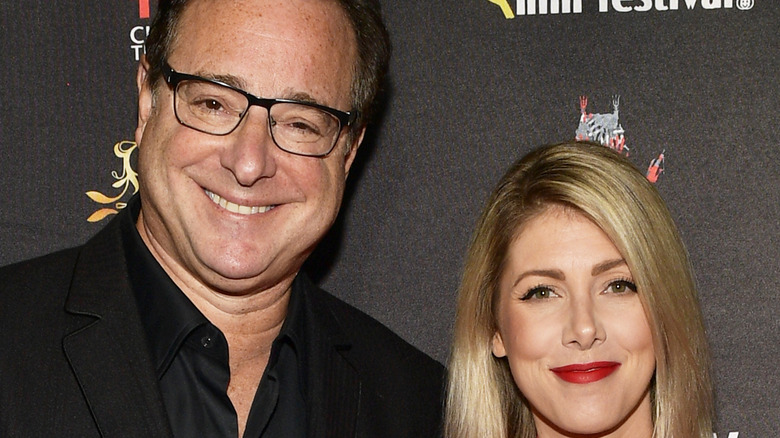 Matt Winkelmeyer/Getty Images
When a marriage ends, it's difficult to think about falling in love again, but that's what happened to late comedian Bob Saget when he met his second wife, food blogger Kelly Rizzo. In 2017, Saget told Closer that he didn't think that he "could be in a relationship again ... I was kind of in that 'just work, make people happy and take care of your kids until they're 90' mindset."
That mindset changed when Saget met Rizzo through mutual friends in 2015, 18 years after his 1997 divorce from Sherri Framer. Saget was taken with Rizzo immediately, and asked her out via DM, according to a video she posted to TikTok in February 2021. "He said, 'Hey, want to come to a show of mine and then go out for some burgers and lobsters?' ... And then I was like, 'Oh no, I kind of like him,'" Rizzo revealed.
Even though Rizzo was 23 years younger than Saget, the relationship worked, and the pair became engaged two years later in 2017 (via US Weekly).
A year after that, in October 2018, Rizzo and Saget were married during a lavish wedding, with many of Saget's "Full House" cast mates in attendance (via US Weekly). Before they tied the knot, Rizzo sweetly told US Weekly: "I've never met anybody like him. He keeps me on my toes, literally. He's just a wonderful guy. He's a comedian, so there's never a dull moment!"
Though their marriage was short-lived, the duo seemed to have a happy, healthy relationship.
Bob Saget and Kelly Rizzo shared their highs on social media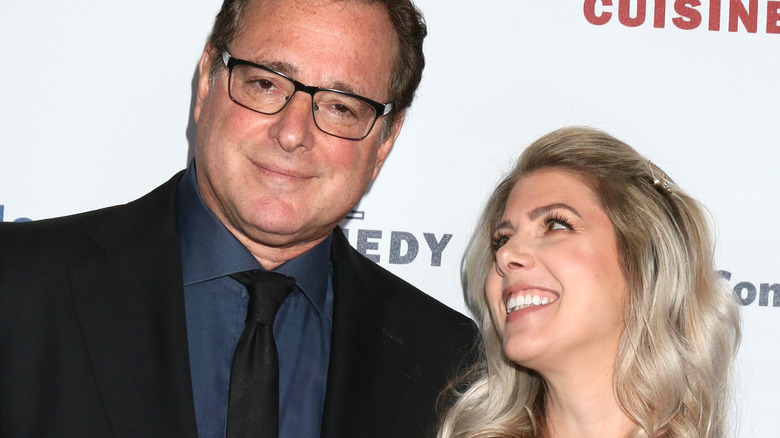 Kathy Hutchins/Shutterstock
Bob Saget and Kelly Rizzo shared a good part of their lives on Rizzo's social media account, titled Eat Travel Rock. Saget was even known to make guest appearances on his wife's Instagram videos from time to time. The pair posted about their double-dates with Saget's fellow "Full House" co-stars and their respective wives. In one snap, Rizzo and Saget are seen dining with John Stamos and Stamos' wife, Caitlin McHugh Stamos (via Instagram). In another, Rizzo, Saget, Stamos, and McHugh Stamos are photographed making silly faces while wearing animal onesies with Dave Coulier and his wife, Melissa (via Instagram). It appears that the actors and their wives remained close over the last few years.
During the COVID-19 lockdown in 2020, Saget and Rizzo updated fans with social media posts about how they were handling the difficult time by leaning on each other for support. In one post shared to Rizzo's Instagram profile, the lovebirds are smiling while Rizzo has her arms wrapped around Saget. She lovingly included the caption, "I'm so grateful I have him to talk me out of my constant hypochondria. @bobsaget and I enjoy ordering takeout, watching loads of TV on the cozy couch, and discovering how to fold each other's laundry."
Before lockdown, Saget and Rizzo enjoyed traveling across the world together and frequently posted from glamorous locations, like Cabo San Lucas and Switzerland. One of his last appearances on her Instagram page chronicled a trip to Chicago on Christmas Day, 2021.
Bob Saget and Kelly Rizzo had a happy marriage despite their busy schedules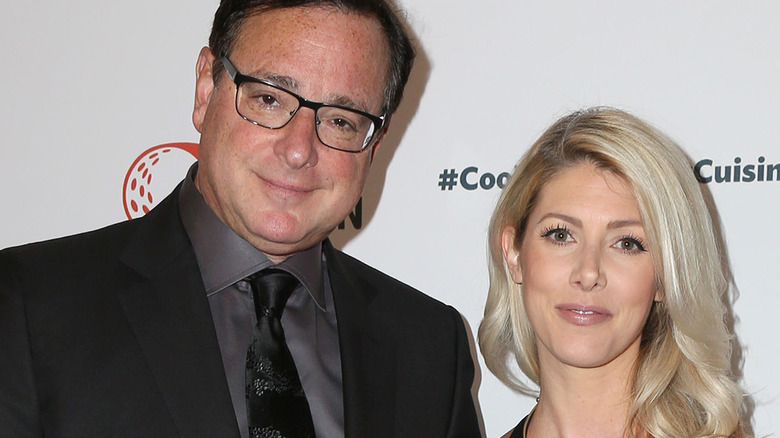 Kathy Hutchins/Shutterstock
Though Bob Saget and his wife, Kelly Rizzo, had busy schedules due to their respective work commitments, the two always made time for each other. They visited their "most special date night spot" Nobu in Malibu, and went on mini-vacations to Arizona, and to Sequoia National Park in California (via US Weekly). A few weeks before Saget's tragic death, the pair shared a milestone moment in Chicago on Christmas Day, 2021. It was the first time Saget and Rizzo were able to spend Christmas together with her family in Chicago, and Rizzo shared a picture of the pair to commemorate the occasion.
Writing on Instagram, Rizzo said: "Merry Christmas Eve everyone! So happy to spend my very first Christmas with @bobsaget (even though we've been married over 3 years!) because he's finally in Chicago for the holidays"
Sadly, their marriage would end just weeks later, when Saget was found dead at The Ritz-Carlton Orlando, per The Sun. Rizzo, along with Saget's three daughters from his previous marriage to Sherri Kramer, released a heartbreaking statement about their loss. "He was everything to us and we want you to know how much he loved his fans, performing live and bringing people from all walks of life together with laughter" they said. His family also encouraged fans to "join us in remembering the love and laughter that Bob brought to the world."