How Lily James Got Into Character For Her Role In Pam & Tommy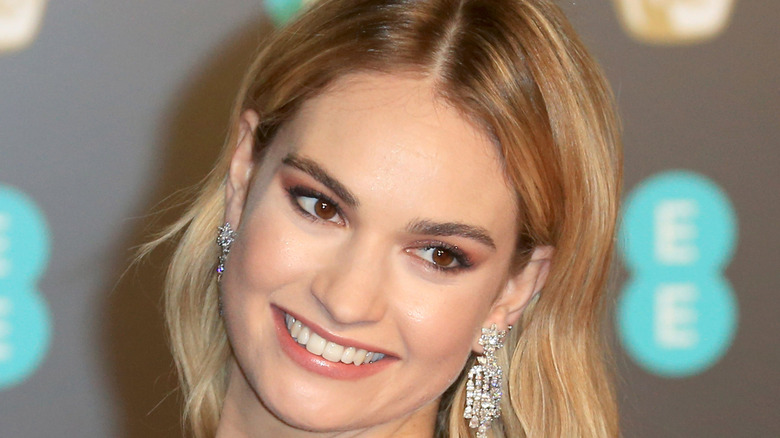 Cubankite/Shutterstock
There is a constant array of exciting new movies and TV shows on the horizon at any given time. When Hulu announced the release of "Pam & Tommy," a new drama series telling the story of the infamous Pamela Anderson and Tommy Lee sex tape in 1995, everyone was instantly excited. 
The buzz got even buzzier when an official first look at Lily James and Sebastian Stan as Anderson and Lee was released — and jaws dropped everywhere. The stars were completely unrecognizable and had morphed entirely into their characters.
When Hulu released the official trailer of "Pam & Tommy" on YouTube, it was hard not to get excited. For those that remember this era, it was oozing with nostalgia, from the music to the Baywatch outfits. 
What made the entire experience so intriguing was how perfectly Stan and James had captured Lee and Anderson. With the movie's promotional tour finally beginning, fans are getting an insight into what it took for the actors to nail this transformation.
Lily James used Pamela Anderson's voice with family
Every now and then, Hollywood will release a movie that inspires buzz purely due to the extraordinary on-screen transformation of a famous actor. Charlize Theron's Aileen Wuornos, Eddie Redmayne's Einar Wegener, and Margot Robbie's Mary Queen of Scotts are only a few of these famous transformations, per Marie Claire. 
This year, though, it's all about Lily James and Sebastian Stan's Pamela Anderson and Tommy Lee. The actors were completely unrecognizable as they morphed entirely into their roles.
"Pam & Tommy" special makeup effects designer Jason Collins shared with USA Today that "nobody wanted to take the shortcut or compromise on anything." He said that it took four hours daily to transform James fully into Anderson, from lace eyebrows to dental pieces to achieve her iconic smile. 
During an appearance on "Jimmy Kimmel Live!" James shared the acting steps she took to master the transformation, including using Anderson's voice whenever she FaceTimed her family back home, which freaked them out. 
James even shared a funny story about her brother. "I think the other day my brother came around for lunch when I was at home in England," she said. "I had a picture of Pamela, a Playboy picture of her, she looks incredible. My little brother came and goes, 'No, Lily! God, no.' And I was 'No, no, it's not me. It's Pamela!' And I'm worried that I ruined Pamela Anderson for him, which would be such a tragedy!"
The first three episodes of "Pam & Tommy" have officially aired on Hulu, as of this writing.