Gisele Bundchen Shares Sweet Reaction To Tom Brady's Retirement News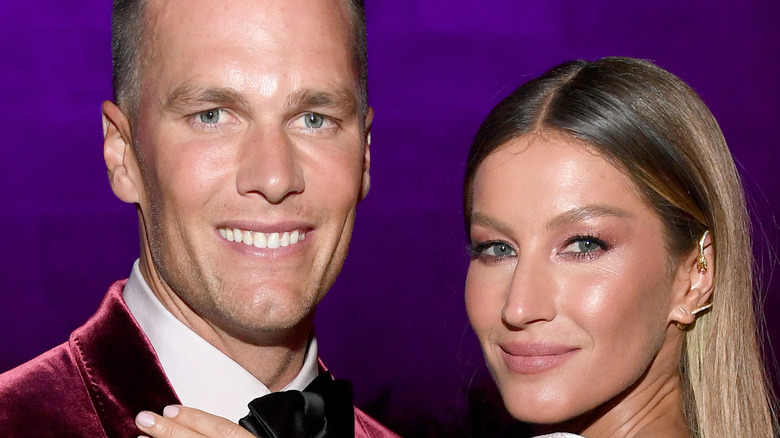 Kevin Mazur/mg19/Getty Images
Tom Brady officially announced the end of his 22-year career this week. The quarterback is often referred to as the "GOAT," or "greatest of all time" in the sports world after having won a record-breaking seven Super Bowls and appearing in ten Super Bowls (via NPR). He also holds the record for the most passing yards at 84,520, most playoff wins at 35, and most regular season wins at 243. He's also the all-time leader in touchdown passes with 624.
At 44-years-old, Brady was the oldest active player in the NFL. However, fans believed that he could go on to play more seasons due to his incredible play over the past few years. Sadly, that wasn't in the cards. Brady announced his retirement via social media this week, revealing that he wanted to simply spend more time with his beloved wife, Gisele Bundchen, and their children.
"I have always believed the sport of football is an 'all-in' proposition — if a 100% competitive commitment isn't there, you won't succeed, and success is what I love so much about our game," Brady said (via CNN). "I have loved my NFL career, and now it is time to focus my time and energy on other things that require my attention. I've done a lot of reflecting the past week and have asked myself difficult questions. And I am so proud of what we have achieved," the sport icon added.
Now, Brady's wife is speaking out about his retirement.
Gisele Bundchen got real about her husband's retirement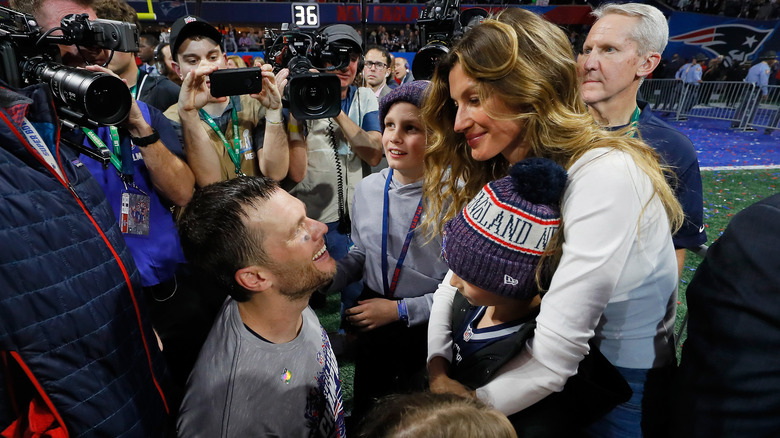 Kevin C. Cox/Getty Images
Following Tom Brady's emotional retirement announcement via social media, his wife Gisele Bundchen released an emotional statement of her own (via People). "What a ride my love!" the model wrote. "So many memories! When I met you over 15 years ago, I didn't know the first thing about football. But cheering for you and seeing you do what you love most made me learn about this wonderful game to the point that I seriously believed I knew more than the referees!" she joked.
"We always had a special champions playlist for every drive on our way to the game," Bundchen added. "As a family, we always prayed for you, celebrated and supported you in every game, cheered every win and suffered with every loss. I'm so proud of you, and of everything you have had to overcome physically and emotionally over the years. You love what you do, and you leave behind a legacy that is a beautiful example for future generations," she continued.
"I know how excited you are about the next chapter of your life. Watching you work so hard in your football career and seeing the dedication you are now putting into all your new endeavors is incredibly inspiring," Bundchen stated, adding that she was so thankful for everyone who supported her husband and their family throughout Brady's iconic career.