Why Gisele Bundchen And Tom Brady's Twitter Exchange Had Football Fans In A Frenzy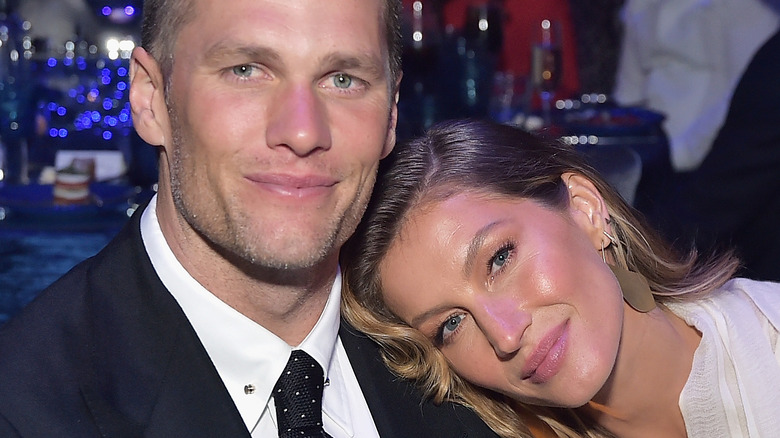 Stefanie Keenan/Getty Images
Patriots fans were not okay when longtime quarterback Tom Brady decided to defect from New England, and start playing for the Tampa Bay Buccaneers (via HuffPost). But then, we watched the star win the Super Bowl in 2021 for the Florida team, and he instantly gained a new legion of loyal fans (via Sports Illustrated).
Now, the thought of Brady leaving Tampa seems almost unconscionable, especially given that so far this season, the team is 5 and 1 (via ESPN). That's why a new Twitter exchange between the dad of three and his wife, model Gisele Bündchen, has people freaking out that a trade may be in the cards for the football legend (via New York Post).
"Missing the fall this year," Brady tweeted over the weekend, alluding to how Florida temperatures remain warm while his former home of Boston experiences cooler fall weather. It's Bündchen's reply to the seemingly-innocuous tweet that has everyone talking.
Not so fast football fans
After Brady tweeted about missing the fall season in the Northeast, his wife tweeted, "Time for a trade?" (via New York Post).
Before the internet could get too worked up, the quarterback responded to Bündchen by asking, "Did I miss something??"
But then, Brady ended up tweeting that his wife had made a good call about the trade — but it's not what you think. The entire thing was just a teaser for Brady's ad for trading crypto on FTX.
Fans were understandably torn with their reactions, with some calling the ad "clever," while others claimed they saw the whole thing coming. "Don't think a single person on earth thought there was any chance tom was actually gonna be traded," one Twitter user opined. "Don't you ever leave Tampa!" another person pleaded with the star.
Ultimately, the ad got people talking, and most of them were big fans of the engagement created by the trade buzz. "Wow! You have an incredible marketing team. Bravo," applauded a Twitter user. But not everyone was a fan, with another person tweeting, "Bro just come home already."