Can I Use Regular Conditioner As A Leave-In Conditioner?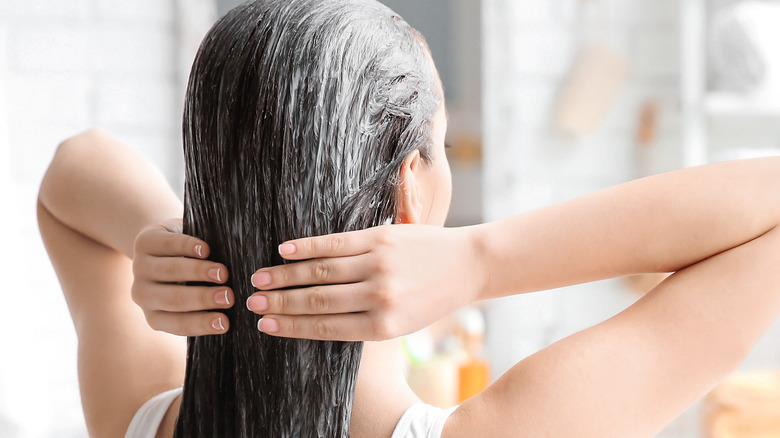 New Africa/Shutterstock
Hair conditioner plays a vital role in our quest to keep our hair looking luxuriously soft and easy to brush. Conditioners can improve your hair inside and out — inside, they add strength and moisture; outside, they smooth your hair's cuticles. They also provide a much-needed positive charge to negatively charged dry hair. This balancing effect is important for eliminating static in hair, especially in dry winter weather.
With so many conditioners out there, you can experience a lot of trial and error in the pursuit of optimal softness and shine. Nathaniel Hawkins, a Los Angeles-based stylist, told Allure that he recommends eliminating excess water from hair before applying conditioner. He feels that too much water can prevent your hair from benefiting from the conditioner's moisturizing ingredients.
Aside from trying out different products, you can also experiment with techniques, such as reverse washing your hair. What about using conventional conditioner as a leave-in?
Follow the directions for ideal conditioning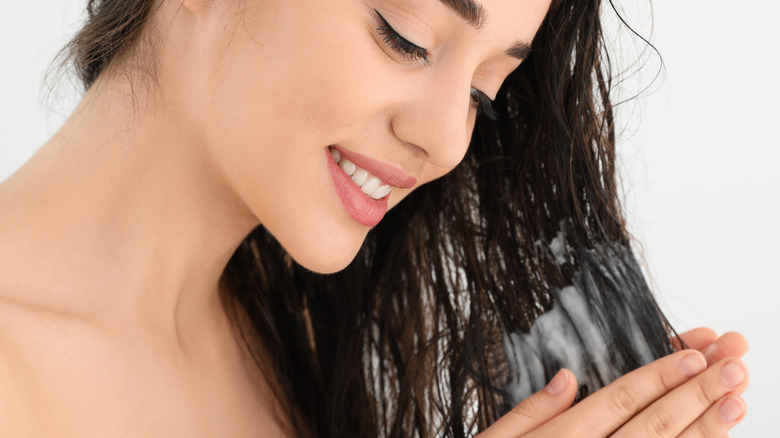 New Africa/Shutterstock
When it comes to conditioning your hair, it's best to follow the directions on the bottle. Hairstylist Nathaniel Hawkins told Allure that regular hair conditioner only needs to be left in for 2 minutes before it's rinsed away.
Too much moisture can be a bad thing. Leaving regular conditioner in overnight can lead to hygral fatigue. When this occurs, hair shafts swell due to too much moisture. Hydral fatigue can damage hair cuticles, leading to tangles and hair breakage. In addition to these symptoms, hair can also feel gummy, frizzy, and may even feel dry as a result.
Theadora Guzman, the Education Manager for North America for the haircare company Maria Nila, told Mane Addicts that only a person with extremely dry or damaged hair should use a regular conditioner as a leave-in. Given the risk of hygral fatigue, check with your stylist first if you think your hair fits this situation.
If you do want to leave conditioner in your hair, there's a whole host of products designed for that purpose. These products are lighter and can make it easier to detangle and style your hair. You can try your DIY skills and mix up your own leave-in conditioner, or go with a store-bought option.
Try a natural product that contains moisturizers and vitamins. For example, Cantu Shea Butter and Marc Anthony Strictly Curls Leave-In Conditioner as 2 choices to help curls stay soft and moisturized.