Is Smashbox Liquid Lip Worth It?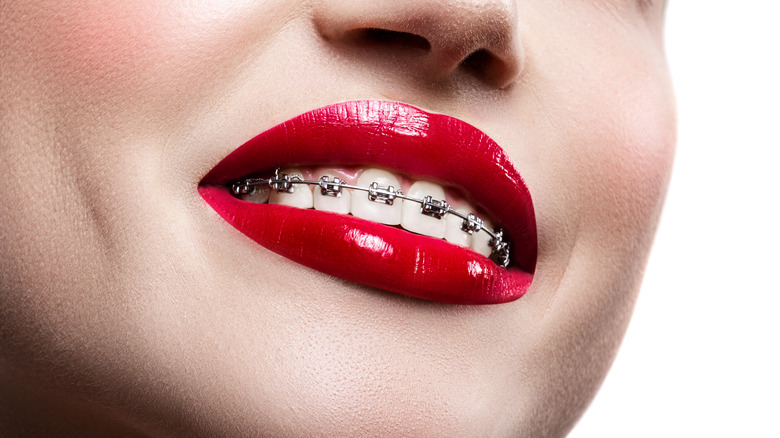 Nataliya Turpitko/Shutterstock
Smashbox is a LA-based makeup brand that creates cruelty-free and professional-grade products such as primers, foundations, and lipsticks. The brand was founded in 1990 by Dean and Davis Factor, great-grandsons of makeup legend Max Factor. According to their website, Smashbox is a creative collaboration and is named after a slang term for a box-style camera introduced in the early 1900s. Their products have been used on set by the likes of Wonder Woman and Harley Quinn. Need we say more?
One of Smashbox's most popular offerings is The Original Photo Finish Smooth & Blur Primer. This is a holy-grail item for many makeup enthusiasts because it gives a perfect base by blurring all pores and fine lines (via Style Craze). As an added bonus, the gel-like formula contains Vitamins B, C, and E, which nourish and protect your skin while also priming it.
The brand's best-selling lipstick is the Always On Longwear Matte Liquid Lipstick. It's a fav due to its fantastic shade range and longevity, per PopSugar. However, if you want to stray from the tried-and-true matte lip and take a risk with a high-shine, vinyl finish that makes your lips look as plump as Angelina Jolie's, then you need to try the Be Legendary Liquid Lip. Allure loves the non-sticky lip pigment that feels like a creamy gloss and has a hydrating, glassy finish. This product will let your lips take center stage. Read on to learn more.
Smashbox's Be Legendary Liquid Lip is a full-coverage lipstick that looks like a high-shine gloss
Smashbox's Be Legendary Liquid Lip is a highly pigmented product that provides full coverage with just one coat. It has a precision tip for foolproof application. The lipstick's four levels of pearls are ultra-reflective and make your lips look fuller from all angles. According to their website, this must-have beauty product is available in two finishes: liquid metal with a foil finish or liquid pigment with a vinyl finish. Both retail for $24, and several shades with a metallic finish are currently available at Sephora.
Byrdie is a fan of the Be Legendary Liquid Lip in Petal Metal. The gorgeous rose gold shade has a chromatic and plumping finish. You need to try this if you want your lips to look full and shiny, especially if you have thinner lips. Temptalia also loves this high-shine liquid lipstick because it can last five to seven hours and provides opaque coverage. She found it applies smoothly and evenly but has a tacky texture, which could be a make or break for some people. However, it is notable for being amongst the glossiest lipsticks on the market.
Cosmetic Sanctuary found that these color-saturated lipsticks deliver high-impact color. In their review, they preferred the liquid metal finish because it kept the lips moisturized and did not dry down like matte liquid lipsticks. But they advised that the liquid pigment sometimes looked weird after an hour or so.