The Truth About Nick Cannon And Lanisha Cole's Relationship
John Lamparski/Getty Images
Nick Cannon is quite famous. He's a director, producer, singer, and of course, actor. With his extensive involvement in several parts of the entertainment industry, he is practically a jack of all trades. With his name on the popular show "Wild 'N Out" and hosting "America's Got Talent" and "Masked Singer," Nick Cannon is definitely leaving his mark on the entertainment industry.
However, Cannon has become known for his dating history almost as much as he's known for his work. It is well known that Cannon isn't one for monogamy and has been with models, singers, actresses, and reality TV stars, fathering a number of kids in the process. The most high profile of his relationships has to be his marriage to iconic musician, Mariah Carey. That relationship lasted from 2008 to 2016 when the couple split up. They have a son and a daughter together. In total, he has had seven children, one of whose heartbreaking death rocked Cannon's family in 2021.
One of his more recent relationships was with Lanisha Cole. Keep reading to find out all about how their relationship started and how it's going.
A timeline of Nick Cannon and Lanisha Cole's relationship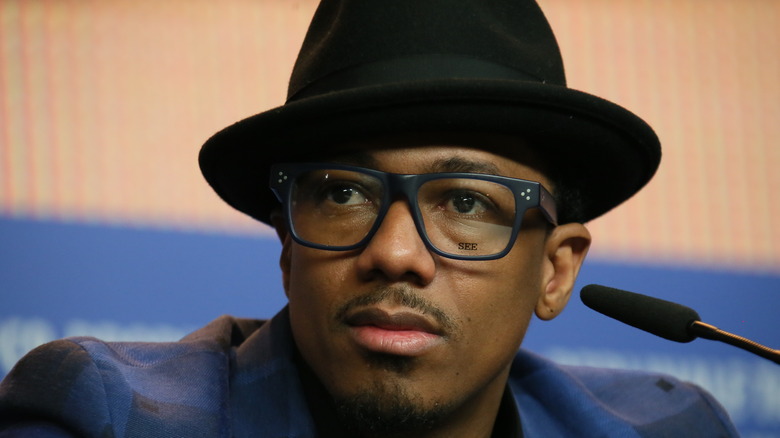 Denis Makarenko/Shutterstock
Lanisha Cole is a model, actress, and photographer, best known for her stint as a model on "The Price is Right." Rumors of her and Nick Cannon first surfaced in 2017 when the two dated for a few months before splitting up. After a three-year break, the two resumed their relationship in 2020, per We Got This Covered. The pair were subject of controversy during the period of their rekindled romance, as there was buzz of Cannon being with two other women, Brittany Bell and Abby De La Rosa.
On Valentine's Day 2021, she posted on Instagram about the expensive photography equipment and balloons Cannon got as a gift to her (via MadameNoire). Hours later, he reportedly sent gifts to Bell and Rosa too. Cole hit back at people questioning her relationship with Cannon, posting a statement on her Instagram Story, stating that no one had the right to interfere in her relationship (via Distractify). Although she defended her relationship, the two reportedly split up in 2021, with Cole posting a message alluding to it on her Instagram Stories, according to Bossip.
"No person or situation is worth compromising," Cole posted. Later that year, the model and photographer responded to news of Rosa's pregnancy announcement, saying, "I have nothing but peace in my heart" (via The Jasmine Brand). That was her last word on the Cannon situation and it appears she is not currently dating anyone. On the other hand, Nick Cannon will welcome his eighth child later in 2022 with Bre Tiesi (via Page Six).