Why Getting Pedicures May Be Damaging Your Feet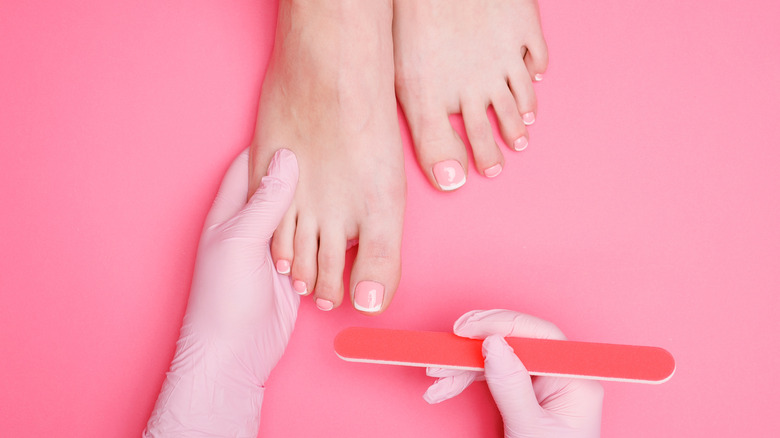 KDdesignphoto/Shutterstock
One of the best parts of summer is ditching those close-toed shoes and rocking your open-toed sandals with a fresh pedicure. According to Forbes, we don't spend enough time grooming our feet, and this neglect can lead to callouses, cracked heels, and shapeless toenails. However, these can be quickly taken care of with one good pedicure. The average pedicure cost ranges from $15 and $25, but they can cost more if you include spa experiences like added massages, hot towel treatments, and exfoliation (via The Pricier). Most of us can be pretty lazy to do that at home, which would save us money. While getting a perfect pedicure will make you feel pampered, there are health risks involved with nail trimming and cuticle clipping if not done correctly. You could end up with an ingrown toenail or a nail fungus if the technician cuts your nails too short or if they don't follow proper hygiene protocols (via Piedmont).
An unfortunate accident that can happen during pedicures is the formation of blisters on the bottom of your feet, which occurs when the technician strips too much skin (via EmpowHER). "The jets in the whirlpool bath can harbor bacteria and fungus," New York-based podiatrist Dr. Jackie Sutera told HuffPost. Sutera also recommends against soaking your feet in hot, bubbly water because she gets 10 to 12 patients a week that come in due to post-pedicure fungal or viral infections.
How to stay safe while getting a pretty pedicure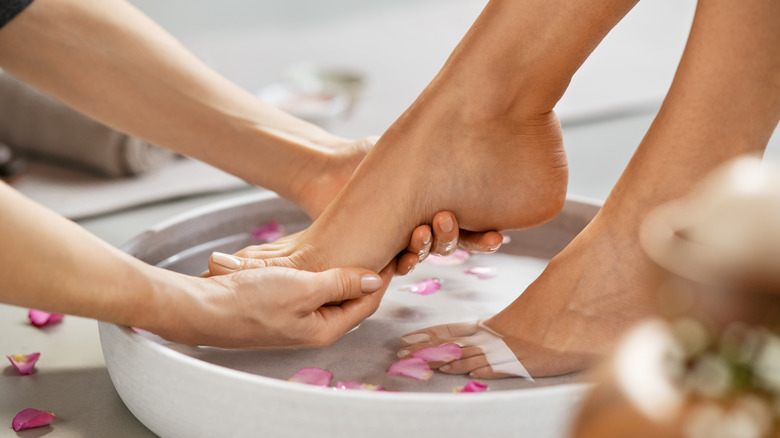 Rido/Shutterstock
There's always a new trend with pedicures, but HuffPost says you need to be open and honest about how you want technicians to cut your toenails and cuticles. "If you're concerned about an infection, don't cut your cuticles, just keep them soft and pliant," Dr. Ella Toombs, a D.C.-based dermatologist, told the publication. This is because many nail technicians will encourage you to push your cuticles back, as they look better that way.
SLC Podiatrist recommends bringing your own tools for a pedicure to prevent the spread of germs since no one else will have used your personal set. After all, you don't know how thoroughly the salon's tools are cleaned between uses. Another safety measure is not shaving your legs before your appointment, as minor cuts might make it easier for bacteria and viruses to get into your body.p
Dane Ulett, D.P.M., a Piedmont podiatrist, recommends only choosing nail salons that drain, sanitize, and rinse the foot baths between customers as dead skin and bacteria from the previous person may cause infection. When possible, you should just get a polish change. You don't have to altogether boycott getting pedicures; instead, choose a good nail salon where they take safety measures to keep you and other customers safe. Plus, you can always check to see if they're licensed, which you should no matter how often you get pedicures.