Scarlett Johansson And Colin Jost's Super Bowl 2022 Commercial Pokes Fun At Their Marriage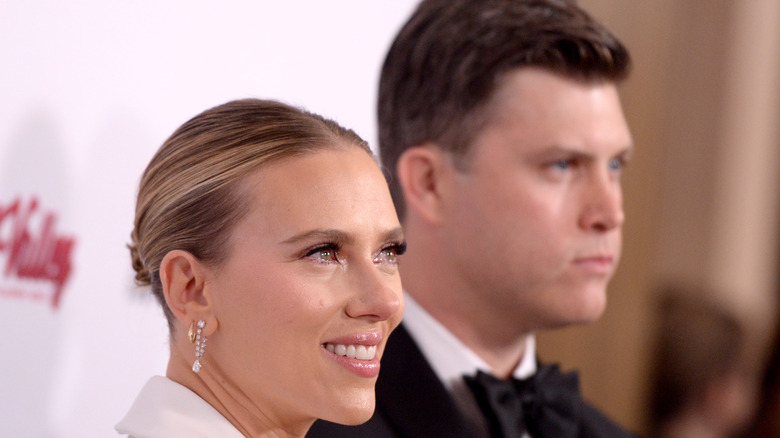 Vivien Killilea/Getty Images
One of the draws when it comes to the Super Bowl is the commercials, and some even feature celebrities like husband and wife Scarlett Johansson and Colin Jost.
According to People, these two dated for two years before getting engaged in May 2019. In October 2020, they tied the knot, and last August, they welcomed a son, Cosmo, into the world. Johansson also has a seven-year-old daughter, Rose, with ex-husband Romain Dauriac.
Johansson and Jost's upcoming commercial is for Amazon Alexa, and Claudine Cheever, the vice president of global brand and fixed marketing at Amazon, said that the couple was "very involved in the joke writing," as reported by Variety. "Celebrities work well for us when they will poke fun at themselves and are willing to have fun with themselves, rather than just show up and be themselves," Cheever continued. "It's something we are always thinking about when we are casting."
The hilarious ad actually exists to promote Amazon Alexa
Scarlett Johansson and Colin Jost are certainly poking fun at themselves in the new Super Bowl commercial for Amazon's Alexa, as the ad shows what would happen if the device could read their minds and interject into their conversations.
"I love that we get to sleep in," Johansson says in one scene, while rolling over to face Jost, who winces and covers his nose. Alexa then states, "Ordering fresh mint mouthwash. Extra strength."
Later on, Jost asks Johansson if she has fun when kissing a "hot" costar, and she says "It's the worst." In reply, Alexa starts playing "Little Lies" by Fleetwood Mac.
The 90-second advertisement — which has already been shared online, ahead of Sunday's big football game — has led to people praising this celebrity duo and commenting things on YouTube like "they seem like a fun couple," "these two are a great pair," and "love them as a couple!"