Pete Davidson Shares The Spotlight With His Mom In Hilarious Super Bowl 2022 Commercial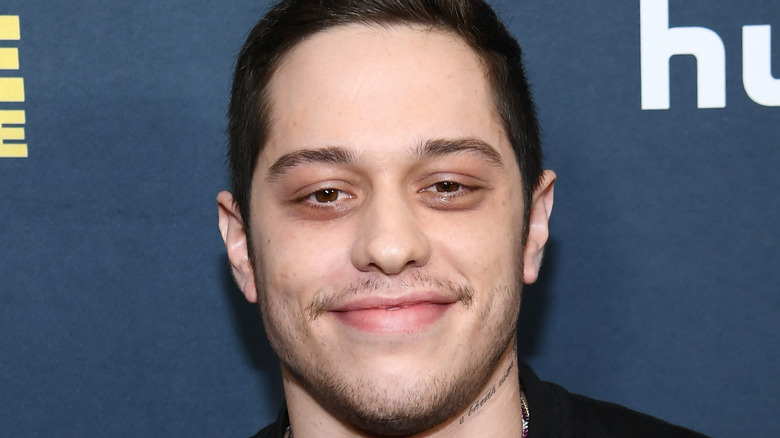 Dimitrios Kambouris/Getty Images
On Sunday, February 13, the Los Angeles Rams and the Cincinnati Bengals will go head-to-head at the 2022 Super Bowl. During the fourth quarter, one of the most talked-about people of the past year, Pete Davidson, will appear in a star-studded commercial alongside an important woman in his life. No, not Kim Kardashian, but his mother, Amy Davidson. 
The Rams made it to the big game back in 2019, while the Bengals haven't played a Super Bowl in over 30 years. According to People, Davidson is rooting for Cincinnati as he "loves underdogs." Speaking to the publication, the "Saturday Night Live" star revealed that he has attended a Super Bowl game in the past, but prefers to enjoy football from the comfort of home. "There's a lot of stuff going on, and it's hard to enjoy the game. I hate to be that old guy that's, 'I just want to watch the game,' but it's like a spectacle ... So for that type of a game, I'd like to be at home," he explained. 
And that is the plan, as Davidson told People that he will be hanging out with close friends while watching the football game. "We didn't really do that last year. It was kind of a weird time. So, I'm really looking forward to being able to hang and just watch," he revealed. 
Pete Davidson's Super Bowl ad aims to tackle food waste
While there will be a variety of exciting and entertaining commercials premiering during the 2022 Super Bowl, Pete Davidson's will be for Hellmann's, and this year the condiments company is encouraging people to not throw out their leftovers and to "make taste, not waste."
Alongside Pete and his mother, Amy Davidson, the Super Bowl ad features Jerod Mayo — who played for the New England Patriots before becoming a professional football coach. In the commercial, Mayo is shown tackling those who are throwing away food. When he is about to tackle Davidson, the "SNL" star says, "Whoa, whoa, mom's already tackling food waste, Mayo," and points to his mom, Amy. Mayo then backs off, but then proceeds to tackle Davidson, saying, "Sorry, man, I had to." Davidson responds, "I get it. I'm very hittable" (via Youtube). 
When talking to People about the commercial, Davidson stated, "It was the coolest. I can't believe that I got to be in it. Hellmann's whole thing is, 'We're encouraging people to not waste food at home and use it in other aspects.' And we don't [waste food] at the Davidson household."