Black Dresses Inspired By Mary Kate And Ashley Olsen's Classic Look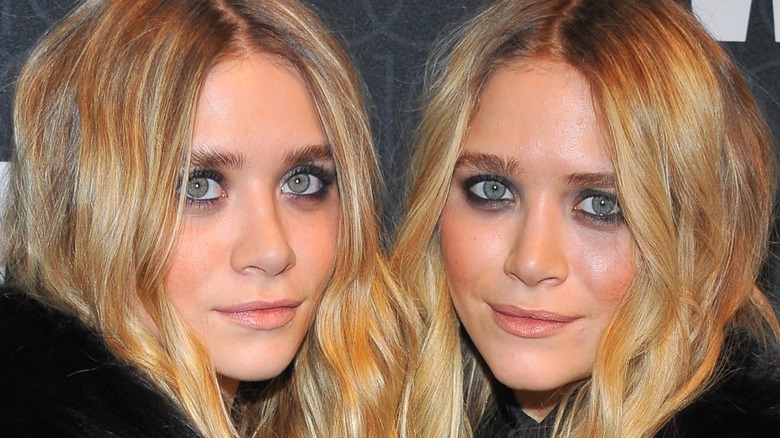 Everett Collection/Shutterstock
Inspired by Coco Chanel, the "little black dress" (LBD) is a timeless piece of fashion that appeared in the 1920s. Audrey Hepburn made this minimalist look a classic must-have item when she wore a satin sheath dress in "Breakfast at Tiffany's" in 1961(via Vogue). Since then, this wardrobe staple has found its place in many closets. Fast-forward a few decades, and style icons Mary-Kate and Ashley Olsen have found more modern ways to wear black dresses without making them look boring or outdated. The two fashionistas have always inspired us to find ways to upgrade this closet go-to, and to create iconic looks with all-black ensembles.
Whether they're attending a movie premiere or sitting front row at a fashion show, we're always interested in seeing how the Olsen twins will style the LBD next. We might not be able to afford all the high-end outfits the twin moguls wear, but we always take inspiration and helpful tips from these sophisticated gurus. Remember when they strayed from the basic black at the premiere of "Charlie's Angels: Full Throttle," and Mary-Kate wore a bohemian red maxi dress, and Ashley kept the '70s vibe alive with a brown and white halter dress? (via Insider). The trend-setting sisters do give us glimpses of color every now and then, but they usually stick to timeless black pieces that are the definition of simplicity and grace.
Mary-Kate and Ashley's black dresses are chic, simple, and classy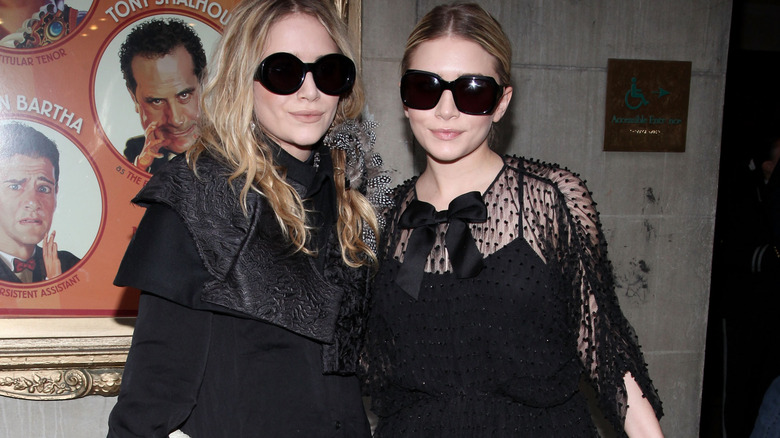 Will Ragozzino/Getty Images
It's no surprise that Mary-Kate and Ashley Olsen, the two child-actors-turned CFDA award winners, own a fashion label, "The Row." They know what they're doing when it comes to style, which is why we're always quick to follow their lead when it comes to creating iconic looks.
Black dresses are simple and can make a statement on their own, so InStyle is a fan of keeping it sleek in a long black dress with sleeves without going overboard, similar to the monochromatic look Mary-Kate rocked at the 2018 Met Gala. At the event, Mary-Kate wore a black gown by The Row (via Nylon). Thankfully, you can replicate this look with Lulu's My Whole Heart Black Long Sleeve Wrap Dress. If you want to show a little skin while still looking elegant, try the take on the long semi-sheer skirts the twins wore at the Broadway opening of "Lend Me A Tenor," where Ashley accentuated her spaghetti top with a chic black-on-black polka-dots lace. Both are seen carrying white clutches with goal details (via HuffPost). Revolve's Selena Lace Dress is a nearly perfect dupe, and the A-line dress is accentuated by a sheer voluminous midi-skirt.
For fans of the sheath dresses the sisters wore at the Vanity Fair Oscar Party in 2002 (via Wonderwall), get yourself a Bardot Sheath dress and pair it with metallic open-toed heels, and you'll look like a long-lost Olsen sister.