The New Way Donald Trump Is Quietly Making Millions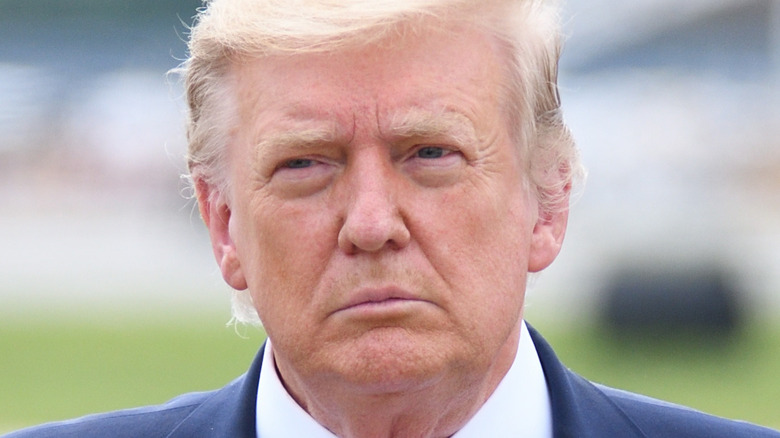 Evan El-Amin/Shutterstock
Former President Donald Trump is no stranger to business ventures. Before he held the title of president, he was known as an entrepreneur. Back in the 1980s, Trump's former attorney Roy Cohen had this to say on Trump's wealth: "I am sitting here looking at his current bank statement. It shows he's got more than $500 million in liquid assets, just cash" (via Forbes).
Trump has always been one to boast about his financial standing. However, since his run as president, Trump is no longer ranking high when it comes to people in the United States with the most cash. According to People, a new filing found that the former president fell out of the Forbes 400 richest Americans ranking for the first time in 2021. His net worth was estimated at $2.5 billion, which left him $400 million short of making the list.
Of course, that is a lot of money, but by Trump's standards, it isn't. So, Trump started a new business venture that has him quietly raking in cash this year.
Trump quietly released a new book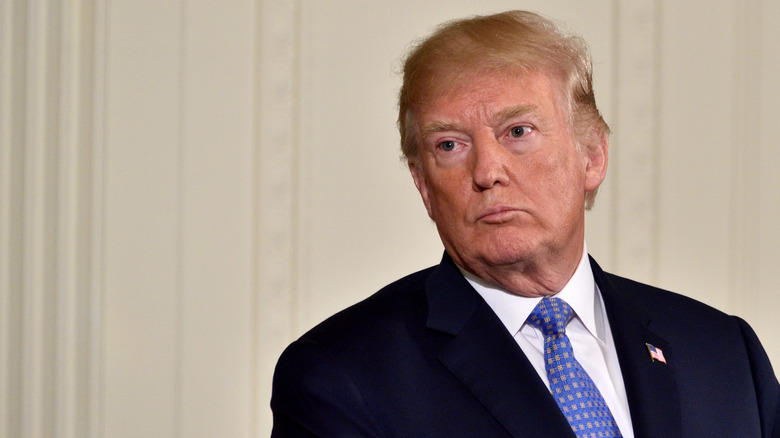 Evan El-Amin/Shutterstock
Lately, the talk around former President Trump has been whether or not he is going to run for president again when the election cycle comes around. He is able to run again in the 2024 election, and according to the Atlantic, he has been soft-launching his possible new campaign at his rallies.
While all eyes have been on his future in politics, many may have missed that he signed a book deal during this period (via CNN). Looking to make up for lost wages during his presidency, Trump's team put together a coffee table book that has been quietly making impressive sales.
The book details events of his presidency, but if you want to get your hands on a copy, be prepared to fork over $75 for it. He is evening selling signed copies that come in at $230.
It's called "Our Journey Together," and it has raked in $20 million in less than two months. The book went on sale in late November and has been consistently selling copies. "We did an initial print run of 200,000 copies," said Sergio Gor, who worked on publishing the book. He continued, "We still can't keep up with the customers."
It seems Gor has requested 300,000 more copies to be printed and distributed across the United States. The book features swear words aimed at former colleagues like Nancy Pelosi, making it a huge success with his base. Trump is raking in the cash quietly with this publication.