Donald Trump Jr.'s Comments On Joe Rogan Have Twitter In A Tizzy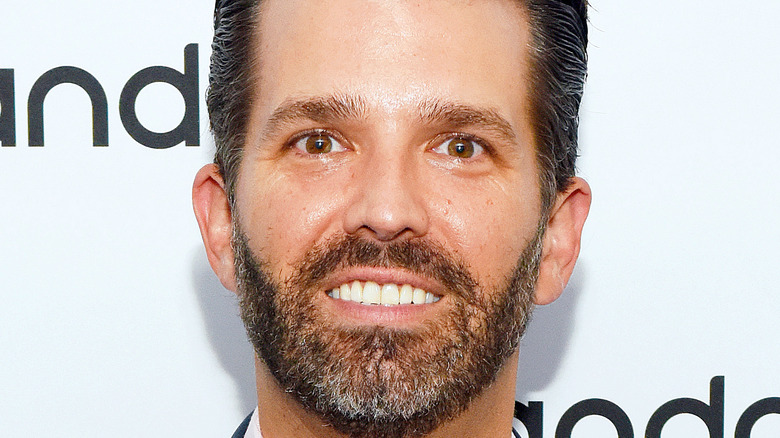 Bonnie Biess/Getty Images
The Joe Rogan Spotify controversy trundles on interminably. As CNBC reported, the outspoken commentator has come under fire for allegedly spreading conspiracy theories and misinformation about the COVID-19 pandemic on his wildly popular podcast "The Joe Rogan Experience." In 2019, Spotify purchased exclusive streaming rights to the show for a reported $100 million.
In January 2022, 270 medical professionals wrote an open letter to the streaming giant calling them out for giving Rogan a platform to spread dangerous, and potentially deadly, misinformation. They demanded Spotify take action against Rogan, leading high-profile musicians including Neil Young and Joni Mitchell to pull their music from the service in solidarity with them.
Rogan claimed, "I'm not trying to promote misinformation, I'm not trying to be controversial. I've never tried to do anything with this podcast other than to just talk to people." However, he was in the hot seat once more after a compilation video was spread on social media, featuring the former "Fear Factor" host repeatedly using racist language. Rogan apologized, reasoning the clips were "taken out of context."
Moreover, although dozens of podcast episodes have been pulled from Spotify due to the ongoing controversy, CEO Daniel Ek confirmed there were no plans to ban Rogan from the platform entirely despite increasingly loud calls for them to do so. Now, Donald Trump Jr. has weighed in with his thoughts on the matter.
Donald Trump Jr. is concerned about a so-called leftist elite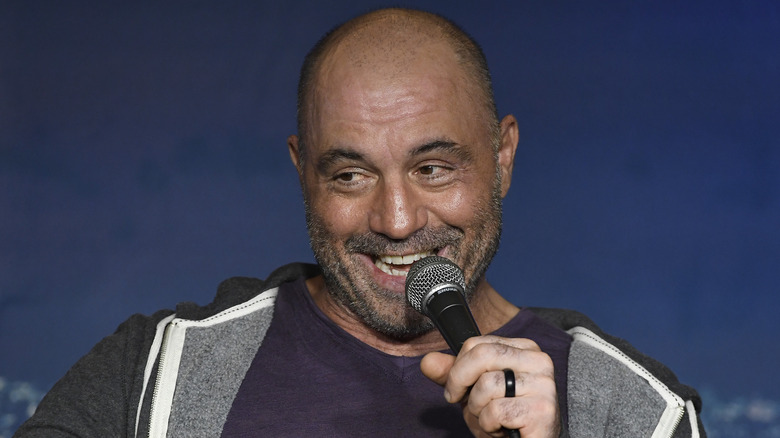 Michael S. Schwartz/Getty Images
Amid calls for "The Joe Rogan Experience" to be pulled from Spotify, Donald Trump Jr. has taken to Twitter to warn followers about the threat posed by a so-called "leftist elite."
 "Stand with @joerogan or it will only be a matter of time before they leftist elite come for you or your loved ones for not complying with their desires," he wrote on Twitter. 
As Deadline notes, Dwayne 'The Rock' Johnson previously praised Joe Rogan's no-nonsense, so-called truth telling. However, following the release of a video that shows Rogan using racist language, the actor later admitted, "I was not aware of his N-word use before my comments, but now I've become educated to his complete narrative. Learning moment for me." Rogan apologized for using the racial slur repeatedly in recently-resurfaced footage, acknowledging, "It looks f*****g horrible. Even to me." 
Trump Jr. was roasted in the responses to his tweet, with some accusing the son of the former president of rampant hypocrisy regarding his stance on so-called cancel culture, pointing out that his father publicly denounced Colin Kaepernick for taking a knee in response to police violence against Black people. Likewise, several people pointed to how Rogan only recently changed his tune on vaccines, having widely supported them only a couple years ago.