Is Tom Brady Heading Back To The NFL?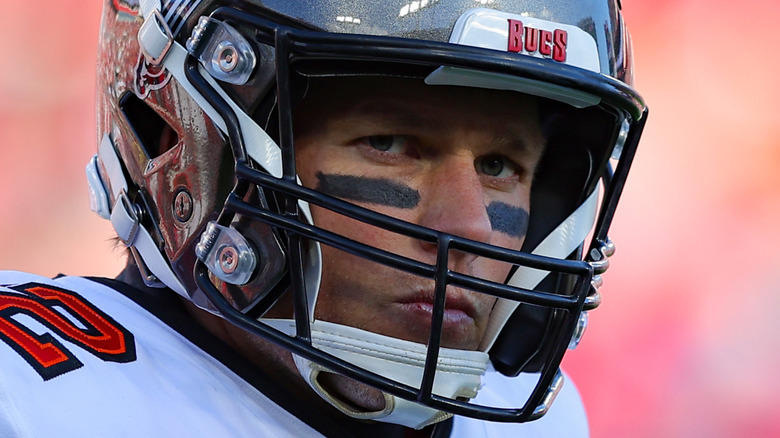 Kevin C. Cox/Getty Images
Just last week, NFL legend Tom Brady officially retired from professional football in a series of heartfelt Twitter posts — or so we thought. Now, there's already speculation that the quarterback, who has played for both the New England Patriots and the Tampa Bay Buccaneers over the course of his illustrious career, may return to the sport he loves. And it's Brady himself who seems to be fueling rumors that he may not really be done with football.
Opening up on his "Let's Go!" podcast, the seven time Super Bowl winner hinted that he may not have hung up his jersey forever. The topic came up when the GOAT's co-host Jim Gray said, "[Michael Jordan] came back. Muhammad Ali came back. Mike Tyson came back. So inevitably some quarterback's going to get hurt or not perform at the level and it's gonna start in July in training camp. It's gonna go again in September and probably again in October and November" (via New York Post).
"How are you gonna entertain those thoughts? And would you ever consider that?" Gray then asked. And Brady's answer has the internet in a tizzy.
Rumors swirl that Tom Brady may put on a Patriots jersey again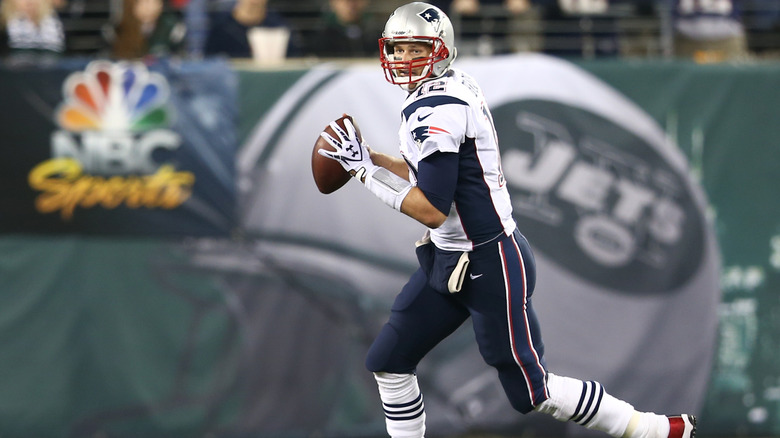 Debby Wong/Shutterstock
After Gray asked Brady if he would ever consider coming out of retirement, the 44-year-old answered, "You know, I'm just going to take things as they come" (via TMZ).
"I think that's the best way to put it and I don't think anything — you know, you never say never," Brady added. Of course, his vague statements about the permanence of his retirement hasn't stopped rabid conjecture about the next step for Brady.
Twitter users started posting that their idol's retirement lasted all of one week. "Why not, how many farewell tours has Cher had in her life so far?" joked one person about his possible return. Sports reporter Rick Stroud speculated, "Rest assured if he did come back in 2023, it may not be with the #Bucs."
Indeed, many outlets are reporting that Brady may finish out his career where it all started in New England (via Sporting News). Guess we'll have to wait and see!