Nick Cannon Just Received A Hilarious And Head-Turning Gift For Valentine's Day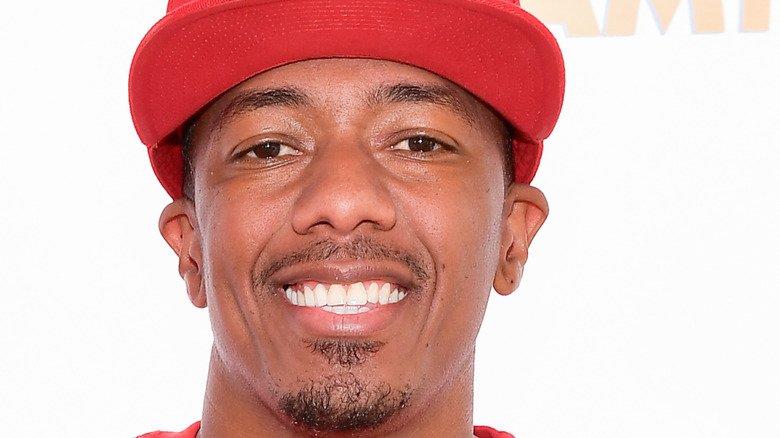 Matt Winkelmeyer/Getty Images
Nick Cannon recently revealed he's about to become a father for the eighth time. Per People, the TV personality shared the happy news during an episode of his talk show, acknowledging in the process of doing so how hilarious it was, at least as far as online commentators were concerned. Cannon and partner Bre Tiesi had a gender reveal party in honor of their upcoming arrival, with the expectant parents confirming it's a boy.
This is Tiesi's first child, while Cannon is dad to twins Moroccan and Monroe, whom he shares with ex-wife Mariah Carey, son Golden "Sagon" and daughter Powerful Queen, whom he shares with Brittany Bell, and twins Zion Mixolydian and Zillion Heir, whom he shares with Abby De La Rosa. Cannon also fathered a son, Zen, with Alyssa Scott, but the little boy sadly passed away on December 5 2021 after being diagnosed with brain cancer.
Although the TV host admitted his "non-conventional" family and "unorthodox" lifestyle have been questioned many times, Cannon argued, "I'm a father first and foremost." He added, "It's not about quantity, it's about quality." Judging by his Valentine's Day gift, however, at least one person reckons Cannon needs to practice safer sex going forward.
Nick Cannon was given a very telling V-Day gift
Nick Cannon is feeling the love this Valentine's week. The talk show host posted a shot to Instagram of himself posing next to a vending machine filled with condoms, writing alongside it, "Looks like somebody just sent me an early Valentine's Day gift!!" The host of "The Nick Cannon Show" revealed he was expecting his eighth child during a recent episode. However, in a follow-up, Cannon clarified that he wasn't trying to make light of the situation by joking about how crazy it is.
Per Entertainment Tonight, Cannon explained, "I wish to always protect and respect the privacy of the mothers of all my children." Cannon went on to acknowledge it was an emotionally taxing time, which could have led him to misspeak, "And I know I can do better when dealing with delicate and sensitive discussions." The TV personality also promised to do better for everyone going forward.
Although the vending machine was a thoughtful gift, it's unlikely Cannon is going to take the underlying message to heart. As Page Six notes, during an episode of his radio show, he proudly proclaimed, "I'm having these kids on purpose. I didn't have no accident." The eccentric star welcomed four children with three different women in less than a year, and was roasted for it, with rapper JT even telling him during an appearance on his show that Cannon needs to "wrap it up." 
At least now he definitely has the option.