Inside Mary J. Blige's Relationship With Dr. Dre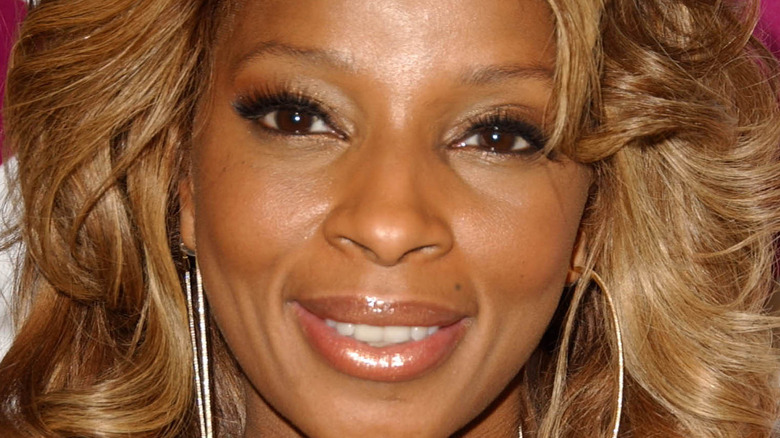 s_bukley/Shutterstock
Mary J. Blige is one of the most influential artists of her generation. The "Queen of Hip-Hop Soul" caught the attention of the music industry at an early age (via Britannica). Her impressive cover of Anita Baker's "Caught Up in the Rapture" landed 17-year-old Blige a contract with Uptown Records. After the New York Native sang background vocals for various artists, she released her debut solo album "What's the 411?" In 1988. The record spent seven weeks at No. 1 on the Billboard Top R&B/ Hip-Hop Albums chart and sold over 3 million copies in the United States alone. Following her strong debut, Blige went on to release over a dozen studio albums, live albums, and even an album in collaboration with a feature film, per her website.
Blige has won 9 Grammy Awards, 4 American Music Awards, 10 Billboard Music Awards, and many more (via Showbiz Cheat Sheet). In addition to selling over 50 million records, the 51-year-old enjoys a burgeoning acting career. In 2017, she starred in the Netflix film "Mudbound", which earned the icon her first Academy Award nomination (via NBC). She's since had parts in countless other projects like "The Umbrella Academy," the Aretha Franklin biopic "Respect," and "Scream: The TV Series." Though it's hard to look at Blige without seeing her undeniable star quality, it wasn't until she collaborated with another music legend that her career truly took off.
Dr. Dre helped launch Mary J. Blige's career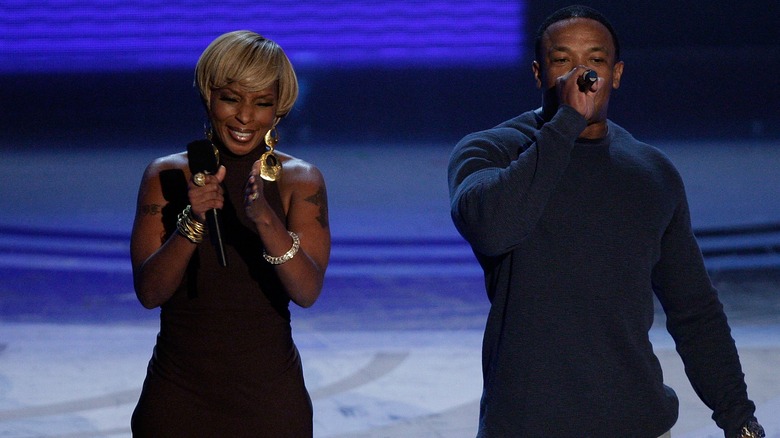 Kevin Winter/Getty Images
Although Mary J. Blige was able to garner respect in the hip-hop and R&B communities early into her career, it wasn't until she released her fifth album "No More Drama" that she became a true crossover sensation (via Discover Music). The 2001 record features many hits like "Rainy Dayz" and "Dance for Me." However, the Dr. Dre-produced track "Family Affair" became a genre-crossing success. The track shot to the top of the Billboard Hot 100 chart and reigned at No. 1 for six consecutive weeks. "Family Affair" also entered the Top 10 on multiple international charts and was nominated for a Grammy.
Reflecting on the newfound success, Dr. Dre helped her achieve, Blige told BackstageOL, "I don't think I realized I was successful in music until ['Family Affair.'] I was on tour and the bus driver was a white boy who was listening to his country music radio station." Blige continued, "I'm sitting at the front of the bus and 'Family Affair' came on the country station. I got really nervous and said, 'Something different happened, why is my song on the country station?' 'That's when I realized that I was huge, because country is a big deal." Following their powerhouse collaboration, Blige and Dr. Dre are slated to collaborate again for the 2022 Super Bowl Halftime Show (via Nylon). The pair will perform alongside Eminem and Snoop Dog for the "biggest halftime show ever."