The Most Expensive Items You Can Get At The Gap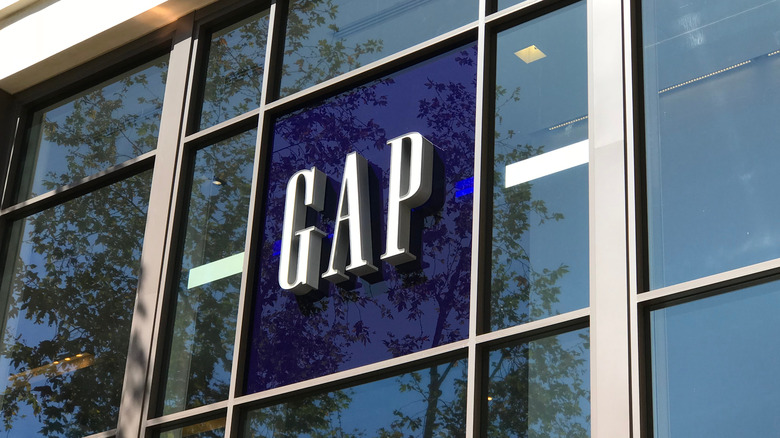 Alex Millauer/Shutterstock
The Gap has a long history in fashion. According to Bustle, the store was created in 1969 by husband-and-wife team, Don and Doris Fisher, with the goal of creating high quality jeans. The name choice of "The Gap" nods to the generational gap that the fashion industry experienced in the late 60's and early 70's, when companies lacked the knowledge to create items that interested younger generations.
The Fisher's initial idea took the brand to new heights. Today, The Gap is recognized all over the world, and per Business Insider, it is the largest specialty retailer in the United States. As of this writing, the company has grown into something much larger than a simple store selling blue jeans, after purchasing Banana Republic, Old Navy and Athleta in 1983, 1994, and 2008, respectively. While Forbes reports that sales have been rocky, and The Gap lost $1 billion in 2019, shoppers on the hunt for stylish staples are still flocking to the company to find what they need. It's likely that you won't break the bank while shopping at the Gap, but there are still plenty of expensive items in the store.
The Gap's winter items can get pricey
While Old Navy is considered the less expensive version of The Gap, according to Business Insider, both stores are affordably priced. For example, customers browsing online won't find much over $200 at Gap.com. Currently, the most expensive product listed on the website is an oversized wool coat, which is normally $228, but on sale for $174.99. Coming in at a close second is the 100% recycled relaxed heavyweight midi puffer coat, which sells for $198 and is on sale for $179.99.
Anyone not shopping for winter ware will likely find that the most expensive item in store is a pair of their iconic jeans. The Gap offers a limited-edition pair that is made from start to finish in the United States, and retails for $128. This high-waisted style comes with "1969" embroidered on the back, in a nod to when The Gap first opened its doors. Other pricey items include an oversized denim blazer for $108, a denim jumpsuit for $90.99 (currently 60% off with a special code), and a satin V-neck jumpsuit for $80.99, which is also currently on sale.