Here's What Makeup Artist Laure Sejean Says Will Be The Biggest Trend In 2022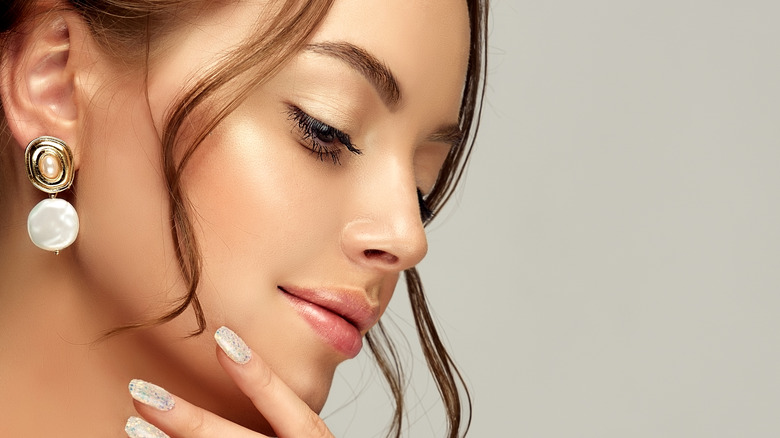 Sofia Zhuravetc/Shutterstock
2020 saw a rise in skinimalism where we shifted our priorities from the overdone makeup trends of previous years to simplicity with a focus on showcasing our real skin. People didn't want to spend hours applying layers and layers of makeup to change how they looked; instead, they focused on multitasking makeup products with skincare benefits. Beauty lovers prioritized showing their natural skin without the pressure to look flawless. Rather, they accepted flaws as beautiful.
"We want to look healthy with beautiful, natural skin. It isn't about covering up, but embracing self-love and self-acceptance," Too Faced co-founder and chief creative officer Jerrod Blandino told Refinery29. As a result of the trend, we saw a massive growth in products that allowed you to be the best version of yourself and promoted acknowledgment of self.
New Hope predicted natural beauty would be one of the biggest trends of 2021 because the ongoing pandemic impacted consumer shopping habits, and there was a rise in the sale of feel-good personal care products. Diversity and inclusion started to take precedence, which led to products that worked across all skin tones and could be personalized rather than specifically marketed to a limited population. The goal of beauty changed from hiding your skin under makeup and obsessing with looking young to letting yourself shine for who you really are (via Mind Body Green). That still holds true in 2022.
2022 will be all about the natural beauty trend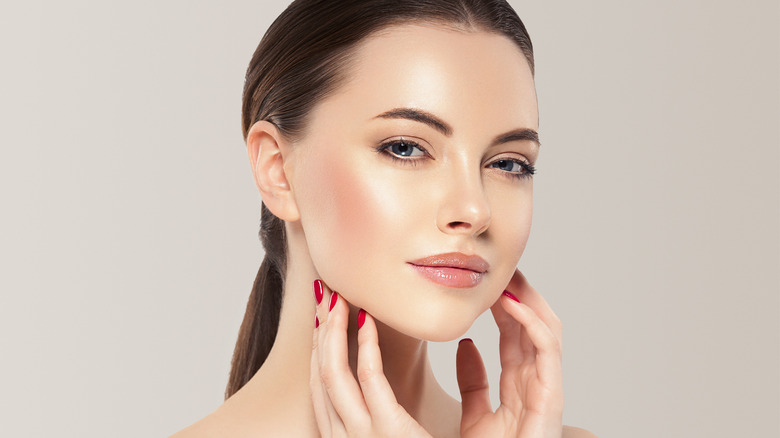 Irina Bg/Shutterstock
One of the best makeup trends of 2021 to carry over to 2022 is an appreciation for natural beauty with a radiant glow that is much easier to achieve than the cakey-contoured look often seen on Instagram (via InStyle). All you need is a sheer, dewy foundation or a skin tint like Huda Beauty's GloWish Multidew Skin Tint that can provide coverage without hiding your actual skin. 
Dubai-based, French makeup artist Laure Sejean told Cosmopolitan, "In terms of beauty trends in 2022, expect more simplicity with makeup and the encouragement to play along with your natural beauty." She added that sheer foundations will be big this year. We can see that from the incredible popularity of products like Ilia's Skin Tint (via Allure). When it comes to eyes, Sejean said the "elongated look with the help of a clean and thin eyeliner" will rule supreme. Her go-to liner to pull this off is Hindash's Heroline, which provides precise application without smudging. Here's another tip: Instead of dramatic fake lashes, consider adding a few individual lashes at the outer corner of your upper lash line. 
This highly sought-after makeup artist's favorite foundation pick is Sisley's Phyto Teint Nude Foundation. It has a luminous finish and hydrates skin while leaving it looking plump all day. Glamour seconded the growing popularity of this modern yet reliable trend because it encourages breathable skin instead of hiding it under layers of makeup.
The best products for 2022's natural beauty makeup trend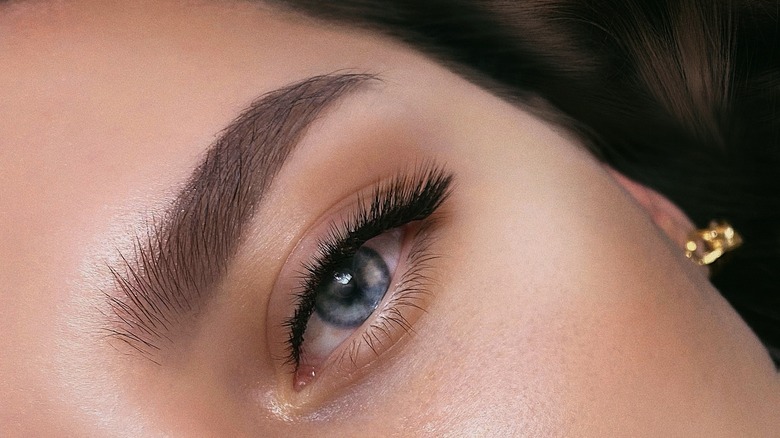 nastyakislinska/Shutterstock
Laure Sejean listed two of her favorite products to pull off a natural beauty look. Still, there are other alternatives you can pick up to create an equally on-trend look with that dewy skin and subtle cat eye. These products provide the same impact without looking too intense.
Allure recommends Chantecaille's Future Skin Foundation. Its innovative gel-cream texture and radiant finish are perfect for dewy looks and work well on mature skin, too. It has aloe, green tea, and chamomile to soothe and calm irritated skin. For a more affordable option, Byrdie suggests The Ordinary's Serum Foundation because it has a similar light and radiant finish without looking greasy. The only downside is its limited shade range.
To create those elongated eyes, The Cut loves Maybelline's Eyestudio Master Precise All Day Liquid Eyeliner. It is considered one of the sharpest liquid liners out there, and it is easy to grip, which helps draw the sharpest lines. If you don't mind splurging a bit, Good Housekeeping suggests Urban Decay's waterproof Perversion Liquid Eyeliner because it doesn't irritate sensitive eyes. The liner can draw the sleekest lines without any tugging, and it will last all day. You can also pick up any of The List's favorite eyeliners.
With dewy skin and that subtle yet dramatic eyeliner, you will be on the cutting edge of what is super chic and trendy.